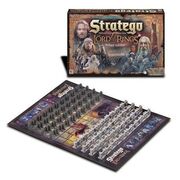 Lord of the Rings Stratego- Trilogy Edition
is a two player board game based on the original Stratego game. It was developed in 2004 by Hasbro and Milton Bradley with a
Lord of the Rings
theme and three different types of gameplay: {"classic" (original Stratego), "special powers" (certain characters have powers based on special abilities they possessed in the
movie
), and "Destroy the
Ring
" (if
Frodo Baggins
gets to a certain square, most of the pieces on the gray side die). (See also:
Lord of the Rings: The Confrontation
.)
Object of the game
The object of the game is to attack the other side's flag, or to kill all of the other side's movable pieces. Pieces are faced inward, so that the opposing player cannot see the opponent's pieces. These pieces are ranked with different numbers, and the higher numbers kill the lower numbers with a few exceptions. These include the Spy (Éowyn or Gríma Wormtongue) which can be killed by any piece except the ten (Gandalf or the Witch-king). If the Spy attacks the ten, the Spy wins or if the ten attacks the Spy, the Spy dies. Also, pieces called Strongholds, which cannot move, can kill any piece except 3's (Soldiers of Gondor or Orcs). If a three attacks a Stronghold, then the Stronghold dies. The pieces ranked 2 (Riders of Rohan or Wrag Riders) can move unlimited spaces until meeting an opponent and attack.
Gameboard
The board in which the game is played is a 10x10 board, containing a total of 100 squares. Forty beige (good side) pieces go on one side of the board and forty gray (bad side) pieces go on the other side of the board. In between, there are two 4x4 forbidden zones in which no piece is allowed to go. Also, the board is depicted as a map of Middle-earth, with a mug and candle covering the forbidden zones.
Pieces
White Pieces
The white pieces consist of the good characters in the Lord of the Rings and include the following:
Gray Pieces
The Gray Pieces consist of the bad characters in the Lord of the Rings and include the following:
Types of Gameplay
Classic
The classic mode of playing is that each piece moves one space to attack a piece of a different colour. Higher pieces kill lower pieces, with certain exceptions stated above.
Special Powers
In the Special Powers mode of playing, certain pieces can perform special moves.
Beige Side
On the beige side, pieces that have special powers include the following:
Gray Side
On the gray side, pieces that have special powers include the following:
Destroy the Ring
In the Destroy the Ring mode of playing, Frodo must go to the top-left corner of the forbidden zone, from the good side's point of view. When he gets there, all pieces ranked 2, 4, 5, 6, 7, or 8 on the bad side die. However, flag must still be reached after the Ring is destroyed, though. In Destroy the Ring mode, Frodo has one special power: Ring-bearer. Ring-bearer makes Frodo impossible to kill except by the Witch-king (10) or the Ringwraiths (8).
External link
Community content is available under
CC-BY-SA
unless otherwise noted.