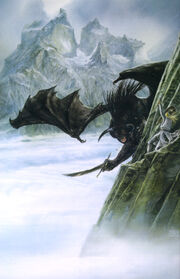 Lord of Balrogs was the title of Gothmog.
He was a servant of Morgoth and High Captain of Angband during the First Age and probably led the group that saved Morgoth from Ungoliant in Ered Wethrin. In the Dagor-nuin-Giliath, he mortally wounded the Ñoldor lord Fëanor.
In the
Nírnaeth Arnoediad
(Battle of Unnumbered Tears) he killed
Fingon
,
High King of the Ñoldor
, with his
axe
and a little help from another Balrog. In the
Fall of Gondolin
Gothmog was finally killed by
Ecthelion
, who was mortally wounded in the process.
[citation needed]
Translations around the World
Edit
| Foreign Language | Translated name |
| --- | --- |
| Afrikaans | Here van Balrogs |
| Albanian | Zoti i Balrogëve |
| Amharic | ባልሮግስ ጌታ |
| Armenian | Տերը Բալրոգս |
| Azerbaijani | Balrogs Rəbbi |
| Basque | Balrogs jauna |
| Belarusian Cyrillic | лорд Балрогс |
| Bengali | লর্ড অব বালোরগস |
| Bosnian | Gospodar Balrogs |
| Bulgarian Cyrillic | Властелинът на Балрогс |
| Catalan | Senyor dels Balrogs |
| Cebuano | Ginoo sa Balrogs |
| Chinese | 魔法之王 ? |
| Cornish | Arlodh an Balrogs |
| Corsican | Signore di Balrogs |
| Croatian | Gospodar Balrogs |
| Czech | Pán Balrogů |
| Danish | Herre af Balrogs |
| Dutch | Heer van Balrogs |
| Esperanto | Sinjoro de Balrogs |
| Estonian | Balrogide Isand |
| Faroese | Harra av Balrogs |
| Fijian | Turaga ni Balrogs |
| Filipino | Panginoon ng Balrogs |
| Finnish | Balrogin herra |
| French | Seigneur des Balrogs |
| Frisian | Hear fan Balrogs |
| Galician | Señor dos Balrogs |
| Georgian | უფალი ბალროგები |
| German | Herr von Balrogs |
| Greek | Κύριος του Βαλρογς |
| Gujarati | લોર્ડ ઓફ બાલ્રોગસ |
| Haitian Creole | Seyè a Balrogs |
| Hawaiian | Ka haku o Balrogs |
| Hebrew | אדון באלרוגים |
| Hindi | लॉर्ड ऑफ बल्रोग्स |
| Hmong | Tswv ntawm Balrogs |
| Hungarian | Balrogok Ura |
| Icelandic | Drottinn Balrogs |
| Igbo | Onyenwe nke Balrogs |
| Indonesian | Tuan Balrogs |
| Irish Gaelic | Tiarna de Balrogs |
| Italian | Signore di Balrogs |
| Japanese | バルログの主 ? |
| Kannada | ಬಾಲೋಗ್ಸ್ ಲಾರ್ಡ್ |
| Kazakh Cyrillic | Балрогс мырзасы |
| Korean | 발록의 제왕 |
| Kyrgyz Cyrillic | Балрогс Раббиси |
| Latin | Dominus autem Balrogis |
| Latvian | Pavēlnieks Balrogs |
| Lithuanian | Valdovas Balrogs |
| Luxembourgish | Här vu Balrogs |
| Macedonian Cyrillic | Господарот на Балрогс |
| Malagasy | Tompon'ny Balrogs |
| Malay | Tuan Balrogs |
| Maltese | Mulej ta 'Balrogs |
| Marathi | लॉर्ड ऑफ बार्लोग्स |
| Mongolian Cyrillic | Балрогс лорд |
| Nepalese | बेलुल्स को बल्रोग ? |
| Norwegian | Herre av Balrogs |
| Persian | ارباب |
| Polish | Pan Balrogów |
| Portuguese | Senhor de Balrogs |
| Punjabi | ਲਾਰਡ ਆਫ਼ ਬਲੌਗਰਸ |
| Romanian | Stăpânul Balrogs |
| Russian | Лорд Балрогов |
| Samoan | Alii o Balrogs |
| Scottish Gaelic | Morair de Balrogs |
| Serbian | Господару Балрогс (Cyrillic) Gospodaru Balrogs (Latin) |
| Sinhalese | බල්‍රොග්ස් ස්වාමියා |
| Slovak | Pán Balrogov |
| Slovenian | Gospodar Balrogov |
| Somalian | Eebaha ee Balrogs |
| Spanish | Señor de Balrogs |
| Swahili | Bwana wa Balrogs |
| Swedish | Herre av Balrogs |
| Tahitian | Fatu o te Balrogs |
| Tajik Cyrillic | Худованд аз Балrogс ? |
| Tamil | பல்ரொக்ஸ் ஆண்டவர் |
| Telugu | బల్రొగ్స యొక్క లార్డ్ |
| Thai | ลอร์ดออฟบัลร็อกคน |
| Tongan | 'Eiki 'o e Balrogs |
| Turkish | Balrogs'un efendisi |
| Ukrainian Cyrillic | Лорд Бальрогс |
| Urdu | خُداوند بالروگس کے |
| Uzbek | Балроғи раббим (Cyrillic) Balrog'i rabbim (Latin) |
| Vietnamese | Chúa của Balrogs |
| Welsh | Arglwydd o Balrogs |
| Xhosa | Inkosi yaseBalrogs |
| Yiddish | האר פון באַלראָגס |
External link
Edit