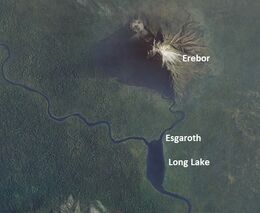 The Long Lake was an oval-shaped lake situated at the confluence of the Forest River and the northern reaches of the River Running, south of the Lonely Mountain.
The lake was about twenty miles from north to south, and at least five miles from east to west at its widest.[1][2]
History
The town of Lake-town, whose name refers to this lake, was (twice) built entirely upon the lake itself, thus forming a natural moat.[3] After Smaug's demise, his dying body fell into the lake with a mighty crash.[4] Smaug's remains could be seen sticking out of the water from the shore of the lake, but people feared them and treasure-hunters did not dare approach the carcass.[4]
Translations
| | |
| --- | --- |
| Foreign Language | Translated name |
| Afrikaans | Lang Meer |
| Albanian | Liqeni i Gjatë |
| Amharic | ረጅም ሐይቅ |
| Arabic | البحيرة الطويلة |
| Armenian | Երկար լիճ |
| Azerbaijani | Uzun Göl |
| Basque | Laku Luzeak |
| Belarusian Cyrillic | Лонг Лэйк |
| Bengali | দীর্ঘ হ্রদ |
| Bosnian | Dugo Jezero |
| Bulgarian Cyrillic | Дългото езеро |
| Cambodian | បឹងយូរមកហើយ |
| Cebuano | Taas nga linaw |
| Chichewa | Nyanja Yaitali |
| Chinese (Hong Kong) | 長湖 |
| Cornish | Hir Lydn |
| Corsican | Longu Lavu |
| Croatian | Dugo Jezero |
| Czech | Dlouhé jezero |
| Danish | Lange Sø |
| Dutch | Lange Meer |
| Estonian | Pikkjärv |
| Filipino | Mahaba Láwa |
| Finnish | Pitkäjärvi |
| French | Long Lac |
| Galician | Longo Lago |
| Georgian | გრძელი ტბა |
| German | Langer See |
| Greek | Μεγάλη λίμνη |
| Gujarati | લાંબા લેક |
| Hausa | Dogon Tafki |
| Hebrew | אגם ארוך |
| Hindi | लंबी झील |
| Hmong | Ntev lub pas dej |
| Hungarian | Hosszú-tó |
| Indonesian | Danau Panjang |
| Irish Gaelic | Loch Fada |
| Italian | Lago Lungo |
| Japanese | ロング湖 |
| Kannada | ದೀರ್ಘ ಸರೋವರದ |
| Kazakh | ұзақ көл (Cyrillic) Uzaq köl (Latin) |
| Korean | 긴 호수 |
| Kyrgyz Cyrillic | узун көл |
| Lao | ທະເລສາບຍາວ |
| Latvian | Garš Ezers |
| Lithuanian | Llgas Ežeras |
| Luxembourgish | Laange Séi |
| Macedonian Cyrillic | долго Езеро |
| Malayalam | ലോംഗ് തടാകം |
| Malaysian | Tasik Lama |
| Malagasy | Ela Farihy |
| Maltese | Lag Twila |
| Marathi | लांब लेक |
| Mongolian Cyrillic | Урт нуур |
| Nepalese | लामो ताल |
| Norwegian | Langsjø |
| Occitan | Longa Estanh |
| Pashto | اوږد جهيل |
| Persian | دریاچه طولانی |
| Polish | Jezioro długie |
| Portuguese (Brazil and Portugal) | Lago Comprido |
| Punjabi | ਲੰਮੇ ਲਾਕੇ |
| Querétaro Otomi | Lago xí Maa |
| Romanian | Lacul Lung |
| Romansh | Lai Lung |
| Samoan | Lepa Umi |
| Scottish Gaelic | Fada Loch |
| Shona | Refu Mudziva |
| Sindhi | ڊگهي ڍنڍ |
| Sinhalese | දිගු විල |
| Slovak | Dlhé Jazero |
| Slovenian | Dolgo Jezero |
| Somalian | Gudubno Dheer |
| Spanish (Spain and Latin America) | Lago Largo |
| Sundanese | Tasik Lila |
| Swahili | Ziwa kwa muda mrefu |
| Swedish | Långsjön |
| Tagalog | Mahabang Lawa |
| Tajik Cyrillic | кӯли дароз |
| Tamil | நீண்ட ஏரி |
| Telugu | లాంగ్ లేక్ |
| Thai | ทะเลสาบยาว |
| Turkish | Uzun Göl |
| Turkmen | Köl Ösgün |
| Ukrainian Cyrillic | Лонг-Лейк |
| Urdu | طویل جھیل |
| Uzbek | Uzoq Leyk (Cyrillic) Uzun Leyk (Latin) |
| Vietnamese | Hồ Dài |
| Welsh | Llyn Hir |
| Xhosa | Edikeni Elide |
| Yiddish | לאנג אזערע |
| Yucatec Maya | Lago Chowak |
| Zulu | Echibi Elide |
References