The Lone-lands was an area of Middle-earth which was either located in the region of Eriador or was synonymous with it.
"Lone-lands" was a name used by Hobbits, and possibly the Men of Bree, for the wilderness found east of Bree.
The eastern end of the area (towards Hoarwell) was described as being bare and stony, whereas the western end (towards the South-Downs) appeared to be more broken and full of bushy thickets.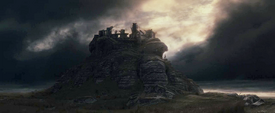 Among other features, the Lone-lands contained the Weather Hills and Weathertop, and in the hilly portion of the area were many abandoned castles of Rhudaur, which, according to some, gave it a "wicked" look.[1] Also, roads were considerably worse in the Lone-lands than in the Shire, and by the conclusion of the Third Age, very few resided here.
Ambiguity
Edit
Whether the Lone-lands and Eriador are synonymous with each other is unknown; although etymologies given for Eriador certainly suggests that this may be the case.[2] Both mentions of "Lone-lands" in The Hobbit were not added until the 1966 edition[3], well after the introduction of the word "Eriador" in J.R.R. Tolkien's The Fellowship of the Ring.[4] Seeing as the latter was spoken by Aragorn, who would have known the Sindarin name, and the former by Bilbo, who would not have known the "foreign" name at the time, it is likely they were referring to the same region.[5]
Portrayal in adaptations
Edit
J.R.R. Tolkien's War in Middle Earth Edit
"Lone-lands" is a name given to an area south of Weathertop.
The Hobbit (2003 video game) Edit
When Thorin and Company travel from Hobbiton to the Trollshaws,[6] the narrator mentions the "Lone-lands".
The game's soundtrack also contains a piece called "Combat in the Lone-lands," which is played as Bilbo journeys to the campfire of the Trolls.
The Lord of the Rings Online Edit
In the game The Lord of the Rings Online, "Lone-lands" refers explicitly to the region between Bree-land and the Trollshaws. The Forsaken Inn in the far west, and the Last Bridge at the far east are the region's boundaries.
Translations around the world
Edit
| | |
| --- | --- |
| Foreign Language | Translated name |
| Afrikaans | Eensame lande |
| Albanian | Tokat të vetmuara |
| Amharic | ብቸኛ አገራት |
| Arabic | لونلي وحيدا |
| Armenian | Միայնակ երկրներ |
| Azerbaijani | Yalnız torpaqlar |
| Basque | Bakarti lurrak |
| Belarusian Cyrillic | Адзінокая краіны |
| Bengali | একাকী জমি |
| Bosnian | Usamljena zemlja |
| Bulgarian Cyrillic | Самотна държави |
| Burmese | အထီးကျန်မြေများ |
| Cambodian | ប្រទេសឯកោ |
| Catalan | Terres solitària |
| Chinese | 孤獨地政 |
| Corsican | Paesi solu |
| Croatian | Usamljene zemlje |
| Czech | Osamělá pozemky |
| Danish | Ensommelande |
| Dutch | Eenzame landen |
| Esperanto | Sole teroj |
| Estonian | Üksildane maandub |
| Faroese | Einsamallurlond |
| Filipino | Malungkot na lupain |
| Finnish | Yksinäiset maat |
| French | Terres solitaire |
| Galician | Terras solas |
| Georgian | ლონლი მიწები |
| German | Leere Lande |
| Greek | Μοναχικός χώρες |
| Gujarati | લોનલી જમીન |
| Haitian Creole | A Sèl peyi |
| Hebrew | לונלי מקרקעי |
| Hindi | अकेला भूमि |
| Hmong | Kho siab thaj av |
| Hungarian | Magányos földek |
| Icelandic | Einmana lendir |
| Indonesian | Kesepian tanah-tanah |
| Italian | Terre solitaria |
| Japanese | ロンリー土地 |
| Javanese | Tanah sepi |
| Kannada | ಲೋನ್ಲಿ ಲ್ಯಾಂಡ್ಸ್ |
| Kazakh | Жалғыз жерлер (Cyrillic) Jalğız jerler (Latin) |
| Korean | 론리 땅 |
| Kurdish | Tenê welatan (Kurmanji) |
| Kyrgyz Cyrillic | Жалгыз жерлер |
| Laotian | ດິນທີ່ໂດດດ່ຽວ |
| Latin | Terras solus |
| Latvian | Vientuļi zemi |
| Lithuanian | Vienišas žemes |
| Macedonian Cyrillic | Осамени земји |
| Malaysian | Tanah sunyi |
| Maltese | Artijiet solitarji |
| Marathi | एकाकी जमीन |
| Mongolian Cyrillic | Ганцаардал газар |
| Nepalese | एकलो भूमि |
| Norwegian | Ensomlandområder |
| Occitan | Tèrras solitària |
| Persian | لونلی اراضی |
| Pashto | يواځې ځمکه |
| Polish | Samotne ziemie |
| Portuguese | Terras solitária |
| Punjabi | ਇਕੱਲੇ ਜ਼ਮੀਨ |
| Romanian | Pământuri singuratice |
| Russian | Одинокие земли |
| Scottish Gaelic | Fearann aonaranach |
| Serbian | Самотна земље (Cyrillic) Samotna zemlje (Latin) |
| Sesotho | Linaha tse bolutu |
| Sinhalese | පාළු ඉඩම් |
| Sindhi | اڪيلو زمينون |
| Slovak | Osamelé pozemky |
| Slovenian | Osamljena zemljišč |
| Somalian | Keligiis dhul ah |
| Spanish | Tierras solitaria |
| Sundanese | Sorangan lemahna |
| Swahili | Nchi za upweke |
| Swedish | Ensamma landar |
| Tajik Cyrillic | заминҳои танҳоӣ |
| Tamil | தனிமையான நிலங்கள் |
| Telugu | ఒంటరిగా భూములు |
| Thai | ดินแดนที่โดดเดี่ยว |
| Turkish | Yalnız topraklar |
| Ukrainian Cyrillic | Самотня землі |
| Urdu | تنہا زمین |
| Uzbek | Фақатгина мамлакатлар (Cyrillic) Faqatgina mamlakatlar (Latin) |
| Vietnamese | Vùng đất cô đơn |
| Welsh | Tiroedd Unig |
| Xhosa | Yedwa kumazwe |
| Yiddish | עלנט לענדער |
References
Edit