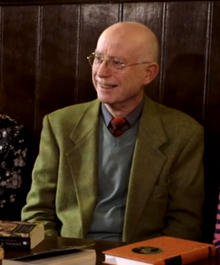 Leo Carruthers is an Irish Medieval specialist and professor of English at the University of Paris-Sorbonne. He is known as an expert on J.R.R. Tolkien, and appears in the documentary mini-series Looking for the Hobbit, where he interacts with illustrator John Howe.
Biography
Carruthers was born in Dublin, Ireland in 1949, and would graduate from University College Dublin with degrees in English and History.
He began research at the University of Paris-Sorbonne in France in 1977, and would become a third cycle doctor of both Comparative Literature and English Medieval Literature. Much later in 2016, he became a Professor Emeritus there.
He has made an output of dozens of articles, interviews, and books on J.R.R. Tolkien, his mythology, and Beowulf. Many of his articles are edited by Michaël Devaux.
For his expertise, Carruthers has appeared in three French-made documentaries concerning Tolkien and The Lord of the Rings: in 2013 he was interviewed for Simon Backès' 2014 documentary Tolkien: The Words, The Worlds. Later, Carruthers, John Howe, and French story-teller Nicholas Mezzalira were the primary expert cast of Olivier Simonnet's 5-episode documentary Looking for the Hobbit. Carruthers is introduced at Exeter College, Oxford University, meets some members of the Tolkien Society at The Eagle and Child, and informs John Howe about Tolkien's Medieval literature influences, among other things. Again in 2014, Carruthers was interviewed for the making of JRR Tolkien, le seigneur des écrivains, a project of François Busnel's talk-show La Grande Librarie.
Tolkien bibliography and interviews
"Beowulf as Inter-Text in Tolkien's Mythology" (Article in Bulletin of Medieval Anglistics 54; 1998)
"Ælfwine de Leithian et la Chronique anglo-saxonne" / "Ælfwine of Leithian and the Anglo-Saxon Chronicle" (Article contributed to Tolkien aujourd'hui in 2008; published in 2011)
Tolkien Dictionary by Vincent Ferré (Contributor; 2012)
"Catholic, but syncretic: the mythology of Tolkien" (Article in Le Magazine Littéraire; 2013)
"The literary sources of Tolkien" (Interview by Thomas Mendelssohn for www.melty.fr; April 2013)
"Relationship between biography and Tolkien's novelistic work" (Interview by Michael Tokarski for German newspaper Hörzu; October 2014)
"Philology taken literally: Tolkien and the love of words" (Article in Lalies 35; 2015)
"Passion, Depth and Perspective: Tolkien and the Inspiration of Medieval English Poetry" (Article in La Feuille de la Compagnie no. 4; 2016)
Tolkien et la Religion: Comme une lampe invisible (Tolkien and Religion: Like an Invisible Lamp) (Book published by Paris: CNRS Éditions; 2016)
"Beowulf and Tolkien: languages ​​and myths" (Podcast during the conference Hieroglossies 2 at College of France, Paris; June 2016)
External link
Community content is available under
CC-BY-SA
unless otherwise noted.