Jurassic World: Dominion Dominates Fandom Wikis - The Loop
Play Sound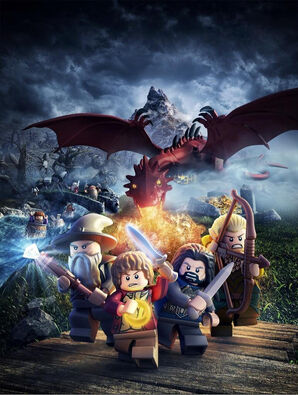 LEGO The Hobbit: The Video Game is a video game that was released on April 8th 2014. It is available on PS3, PS4, Xbox 360, Xbox One, Wii U, 3DS, Vita, Mac, and PC. The game is set around the first two films of Peter Jackson's The Hobbit trilogy, An Unexpected Journey and The Desolation of Smaug. Playable characters include Bilbo Baggins and Gandalf the Grey, alongside each of the dwarves: Thorin, Fíli, Kíli, Óin, Glóin, Dwalin, Balin, Bifur, Bofur, Bombur, Dori, Nori, and Ori. Each dwarf has his own unique ability, including Bombur's ability to use his belly as a trampoline.
Locations visited include Bag End, Hobbiton, The Misty Mountains, Goblin-town, Mirkwood, Rivendell, Dol Guldur, and Lake-town.
Players are also "able to mine for gems, discover loot from enemies, and craft powerful magical items or build immense new LEGO structures," according to the game's press release.
Characters
DLC characters
Non-playable characters and creatures
DLC creatures
Trivia
Videos