Cobra Kai Season 4 - The Loop
Play Sound
The Knights of Dol Amroth or "Swan Knights" were a group of soldiers who served Prince Imrahil during the Third Age of Middle-earth.
History
On March 9, 3019, Prince Imrahil led a company of Swan Knights to Minas Tirith to help defend the City.[1] Prince Imrahil led the sortie that rode to the aid of Faramir and the rear-guard who were retreating from Osgiliath when the forces of Sauron overran the Pelennor Fields on March 13.[2] Shortly thereafter, the knights rode to the aid of the Rohirrim, fighting long and hard until the arrival of Aragorn.[3]
Portrayal in adaptations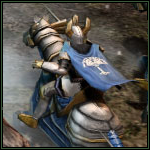 The Knights of Dol Amroth appear in the popular strategy game, The Lord of the Rings: The Battle for Middle-earth II: The Rise of the Witch-king, as the "hero-horde" units of the faction of Men.
References