Cobra Kai Season 4 - The Loop
Play Sound
"Can you see anything?" "Nothing. There's nothing."


The descriptive majority of this article's text is unsourced, and should be supported with references.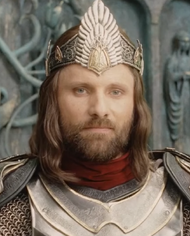 The King of Gondor was the hereditary title for a ruler of Gondor, the southern kingdom of the Dúnedain in Middle-earth.
History
Through Amandil, the kings claimed descent from the Lords of Andúnië, and from there to the princess Silmariën and the Kings of Númenor. Elendil, the son of Amandil, was also the first King of Arnor and was succeeded by Isildur. Elendil ruled over both Realms in Exile as the High King of the Dúnedain. Isildur succeeded him as High King upon his father's death. Isildur committed Gondor to the rule of his nephew Meneldil, son of his brother Anárion, from whom the next thirty one kings would descend. However Isildur was by right High King over both Arnor and Gondor, though after Isildur's death his son Valandil did not press the claim, so thereafter the realms were entirely split. Thus, Isildur's heirs ruled Arnor and Anárion's heirs ruled Gondor.
In TA 2050 King Eärnur rode to Minas Morgul and was never seen again, and the Kingdom of Gondor was ruled by a succession of Stewards until the restoration of the line of Kings through the Heir of Isildur, King Elessar Telcontar, the first King of the Reunited Kingdom of Arnor and Gondor.
№
King
Reign
Lifespan
Information
1
Elendil the Tall
II 3320 – II 3441†
II 3118 – II 3441
Son of Amandil, the last Lord of Andúnië
Also held the titles of High King of the Dúnedain and King of Arnor
2
Isildur
II 3320 – III 2†
II 3209 – III 2
Eldest son of Elendil and ancestor of the northern line of Kings
Also held the titles of High King of the Dúnedain and King of Arnor
Anárion
II 3320 – II 3440†
II 3219 – II 3340
Younger son of Elendil and ancestor of the southern line of Kings
3
Meneldil
III 2 – III 158
II 3318 – III 158
Son of Anárion and nephew of Isildur
4
Cemendur
III 158 – III 238
II 3399 – III 238
Son of Meneldil
5
Eärendil
III 238 – III 324
III 48 – III 324
Son of Cemendur
6
Anardil
III 324 – III 411
III 136 – III 411
Son of Eärendil
7
Ostoher
III 411 – III 492
III 222 – III 492
Son of Anardil
8
Rómendacil I
III 492 – III 541†
III 310 – III 541
Born Tarostar, son of Ostoher
9
Turambar
III 541 – III 667
III 397 – III 667
Son of Rómendacil I
10
Atanatar I
III 667 – III 748
III 480 – III 748
Son of Turambar
11
Siriondil
III 748 – III 830
III 570 – III 830
Son of Atanatar I
12
Tarannon Falastur
III 830 – III 913
III 654 – III 913
Son of Siriondil, died childless (was married to Berúthiel)
13
Eärnil I
III 913 – III 936†
III 736 – III 916
Nephew of Tarannon Falastur, son of his brother Tarciryan
14
Ciryandil
III 936 – III 1015†
III 820 – III 1015
Son of Eärnil I
15
Hyarmendacil I
III 1015 – III 1149
III 899 – III 1149
Born Ciryaher, son of Ciryandil
16
Atanatar II Alcarin
III 1149 – III 1226
III 977 – III 1226
Son of Hyarmendacil I
17
Narmacil I
III 1226 – III 1294
III 1049 – III 1294
Son of Atanatar II, died childless
18
Calmacil
III 1294 – III 1304
III 1058 – III 1304
Younger brother of Narmacil I, son of Atanatar II
19
Rómendacil II
III 1304 – III 1366
III 1126 – III 1366
Born Minalcar, son of Calmacil
Held the title of Regent of Gondor for 64 years (III 1240 – III 1304)
20
Valacar
III 1366 – III 1432
III 1194 – III 1432
Son of Rómendacil II
21
Eldacar
III 1432 – III 1437
III 1447 – III 1490
III 1255 – III 1490
Born Vinitharya, son of Valacar and Vidumavi, daughter of Vidugavia
Was overthrown by Castamir in III 1437, but later regained his rightful authority
22
Castamir the Usurper
III 1437 – III 1447†
III 1259 – III 1447
Usurper, great-grandson of King Calmacil, second cousin of Eldacar
23
Aldamir
III 1490 – III 1540†
III 1330 – III 1540
Youngest son of Eldacar
24
Hyarmendacil II
III 1540 – III 1621
III 1391 – III 1621
Born Vinyarion, son of Aldamir
25
Minardil
III 1621 – III 1634†
III 1454 – III 1634
Son of Hyarmendacil I
26
Telemnar
III 1634 – III 1636
III 1516 – III 1636
Son of Minardil, died during the Great Plague alongside all of his children
27
Tarondor
III 1636 – III 1798
III 1577 – III 1798
Nephew of Telemnar, son of his brother Minastan
28
Telumehtar Umbardacil
III 1798 – III 1850
III 1632 – III 1850
Son of Tarondor
29
Narmacil II
III 1850 – III 1856†
III 1684 – III 1856
Son of Telumehtar
30
Calimehtar
III 1856 – III 1936
III 1736 – III 1936
Son of Narmacil II
31
Ondoher
III 1936 – III 1944†
III 1787 – III 1944
Son of Calimehtar, died in battle at Morannon alongside both his sons
His daughter Fíriel married the last king of Arnor, but their claims were rejected by the Council of Gondor
32
Eärnil II
III 1945 – III 2043
III 1883 – III 2043
Great-great-grandson of King Telumehtar
33
Eärnur
III 2043 – III 2050†
III 1928 – III 2050
Son of Eärnil II and the last male descendant of Anárion, died childless (after his disappearance the Ruling Stewards governed Gondor)
Kings of the Reunited Kingdom of Arnor and Gondor
34
Elessar Envinyatar
III 3019 – IV 120
III 2931 – IV 120
16th Chieftain of the Dúnedain, Heir of Isildur, son of Arathorn II and Gilraen, direct descendant of Arvedui and Fíriel
35
Eldarion
IV ? – IV 220
IV 120 – c.IV 220
Son of Elessar and Arwen Undómiel
Translations
| | |
| --- | --- |
| Foreign Language | Translated name |
| Afrikaans | Konings van Gondor |
| Albanian | Mbretërit e Gondorit |
| Amharic | የጊዶር ነገሥታት ? |
| Arabic | ملوك غوندور |
| Armenian | Գոնդորի թագավորներ |
| Asturian | Reis d'Gondor |
| Azerbaijani | Gondor kralları |
| Belarusian Cyrillic | Каралі Гондара |
| Bengali | গন্ডোরের রাজাদের |
| Bosnian | Kraljevi Gondor |
| Breton | Rouaned Gondor |
| Bulgarian Cyrillic | Кралете на Гондор |
| Catalan | Reis de Góndor |
| Cebuano | Mga hari sa Gondor |
| Cornish | Myghternedh Gondor |
| Croatian | Kraljevi Gondor |
| Czech | Králové Gondoru |
| Danish | Konger af Gondor |
| Dutch | Koningen van Gondor |
| Esperanto | Reĝoj de Gondor |
| Estonian | Gondori kuningad |
| Filipino | Mga Hari ng Gondor |
| Finnish | Gondorin kuninkaat |
| French | Rois du Gondor |
| Frisian | Keningen fan Gondor |
| Galician | Reis de Gondor |
| Georgian | მეფეთა გონდორი |
| German | Könige von Gondor |
| Greek | Βασιλιάδες του Γκόντορ |
| Gujarati | ગોન્ડોરના કિંગ્સ |
| Haitian Creole | Wa peyi Gondor |
| Hausa | Sarakuna na Gondor |
| Hawaiian | Nā aliʻi o Gondor |
| Hebrew | מלכי גונדור |
| Hindi | गोन्दोर के राजाओं |
| Hmong | Cov vaj ntxwv ntawm Gondor |
| Hungarian | Gondor királyai |
| Icelandic | Gondors konungar |
| Igbo | Ndị eze nke Gondor |
| Indonesian | Raja-raja Gondor |
| Irish Gaelic | Ríthe de Gondor |
| Italian | Re di Gondor |
| Japanese | ゴンドールのキングス |
| Javanese | Raja-raja Gondor |
| Kannada | ಗೊಂಡೋರ್ ರಾಜರು |
| Kazakh | Гондорның патшалары (Cyrillic) Gondornıñ patşaları (Latin) |
| Korean | 곤도의 킹스 |
| Kurdish | Padîşahan Gondor (Kurmanji) |
| Kyrgyz Cyrillic | Гондордын падышалары |
| Latin | Reges Gondor |
| Latvian | Gondoras karaļi |
| Lithuanian | Gondoro karaliai |
| Luxembourgish | Kinneken vu Gondor |
| Macedonian Cyrillic | Кралеви на Гондор |
| Malaysian | Raja-raja di Gondor |
| Maltese | Rejiet ta 'Gondor |
| Manx | Reeaghyn Gondor |
| Marathi | राजे गोन्दोर |
| Mirandese | Reis de Gondor |
| Mongolian Cyrillic | Гондорийн-ийн хаад |
| Nepalese | किंग्स को गोनदोर |
| Norwegian | Konger av Gondor |
| Old English | Gondor Cyningas |
| Persian | پادشاهان گاندور |
| Polish | Królowie Gondoru |
| Portuguese | Reis de Gondor |
| Punjabi | ਗੋਂਡੋਰ ਦੇ ਕਿੰਗਸ |
| Romanian | Regii din Gondor |
| Romansh | Gondor Rètgs |
| Russian | Короли Гондора |
| Scots | Keengs o Gondor |
| Scottish Gaelic | Rìghrean de Gondor |
| Serbian | Краљеви Гондора (Cyrillic) Kraljevi Gondora (Latin) |
| Shona | Madzimambo eGondor |
| Sinhalese | ගොඳොර් රජවරු |
| Slovak | Králi Gondor |
| Slovenian | Kralji Gondor |
| Somalian | Boqorrada Gondor |
| Spanish | Reyes de Gondor |
| Swahili | Wafalme wa Gondor |
| Swedish | Kungar av Gondor |
| Tajik Cyrillic | Подшоҳон Гондор ? |
| Tamil | கோண்டரின் கிங்ஸ் |
| Telugu | గొండార్ రాజులు |
| Thai | คิงส์ของกอนดอร์ |
| Turkish | Gondor Kralları |
| Turkmen | Gondor Korollar |
| Ukrainian Cyrillic | Царів Гондор |
| Urdu | کنگز کی گونداور |
| Uzbek | Гондор шоҳлари (Cyrillic) Gondor shohlari (Latin) |
| Vietnamese | Các Vị vua của Gondor |
| Welsh | Brenhinoedd Gondor |
| Xhosa | Ookumkani baseGondor |
| Yoruba | Awọn ọba ti Gondor |
| Zulu | Amakhosi aseGondor |
See also