Jurassic World: Dominion Dominates Fandom Wikis - The Loop
Play Sound
"Can you see anything?" "Nothing. There's nothing."


The descriptive majority of this article's text is unsourced, and should be supported with references.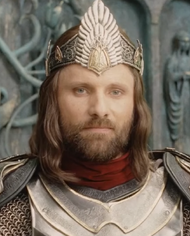 King of Gondor was the hereditary title of a ruler of Gondor, the southern kingdom of the Dúnedain in Middle-earth.
History
Through Amandil, the kings claimed descent from the Lords of Andúnië, and from there to the Princess Silmariën and the Kings of Númenor. Elendil, the son of Amandil, was the first King of Arnor and was succeeded by Isildur. Elendil ruled over both Realms in Exile as the High King of the Dúnedain. Isildur succeeded him as High King upon his father's death. Isildur committed Gondor to the rule of his nephew Meneldil, son of his brother Anárion, from whom the next thirty one kings would descend. However Isildur was by right High King over both Arnor and Gondor, though after Isildur's death his son Valandil did not press the claim, so thereafter the realms were entirely split. Thus, the House of Isildur ruled Arnor and the House of Anárion ruled Gondor.
In TA 2050 King Eärnur rode to Minas Morgul and was never seen again, and the Kingdom of Gondor was ruled by twenty six Stewards until the restoration of the line of Kings through the Heir of Isildur, King Elessar Telcontar, the first High King of the Reunited Kingdom of Arnor and Gondor.
† Did not die a natural death.

Translations
| | |
| --- | --- |
| Foreign Language | Translated name |
| Afrikaans | Konings van Gondor |
| Albanian | Mbretërit e Gondorit |
| Amharic | የጊዶር ነገሥታት ? |
| Arabic | ملوك غوندور |
| Armenian | Գոնդորի թագավորներ |
| Asturian | Reis d'Gondor |
| Azerbaijani | Gondor kralları |
| Belarusian Cyrillic | Каралі Гондара |
| Bengali | গন্ডোরের রাজাদের |
| Bosnian | Kraljevi Gondor |
| Breton | Rouaned Gondor |
| Bulgarian Cyrillic | Кралете на Гондор |
| Catalan | Reis de Góndor |
| Cebuano | Mga hari sa Gondor |
| Cornish | Myghternedh Gondor |
| Croatian | Kraljevi Gondor |
| Czech | Králové Gondoru |
| Danish | Konger af Gondor |
| Dutch | Koningen van Gondor |
| Esperanto | Reĝoj de Gondor |
| Estonian | Gondori kuningad |
| Filipino | Mga Hari ng Gondor |
| Finnish | Gondorin kuninkaat |
| French | Rois du Gondor |
| Frisian | Keningen fan Gondor |
| Galician | Reis de Gondor |
| Georgian | მეფეთა გონდორი |
| German | Könige von Gondor |
| Greek | Βασιλιάδες του Γκόντορ |
| Gujarati | ગોન્ડોરના કિંગ્સ |
| Haitian Creole | Wa peyi Gondor |
| Hausa | Sarakuna na Gondor |
| Hawaiian | Nā aliʻi o Gondor |
| Hebrew | מלכי גונדור |
| Hindi | गोन्दोर के राजाओं |
| Hmong | Cov vaj ntxwv ntawm Gondor |
| Hungarian | Gondor királyai |
| Icelandic | Gondors konungar |
| Igbo | Ndị eze nke Gondor |
| Indonesian | Raja-raja Gondor |
| Irish Gaelic | Ríthe de Gondor |
| Italian | Re di Gondor |
| Japanese | ゴンドールのキングス |
| Javanese | Raja-raja Gondor |
| Kannada | ಗೊಂಡೋರ್ ರಾಜರು |
| Kazakh | Гондорның патшалары (Cyrillic) Gondornıñ patşaları (Latin) |
| Korean | 곤도의 킹스 |
| Kurdish | Padîşahan Gondor (Kurmanji) |
| Kyrgyz Cyrillic | Гондордын падышалары |
| Latin | Reges Gondor |
| Latvian | Gondoras karaļi |
| Lithuanian | Gondoro karaliai |
| Luxembourgish | Kinneken vu Gondor |
| Macedonian Cyrillic | Кралеви на Гондор |
| Malaysian | Raja-raja di Gondor |
| Maltese | Rejiet ta 'Gondor |
| Manx | Reeaghyn Gondor |
| Marathi | राजे गोन्दोर |
| Mirandese | Reis de Gondor |
| Mongolian Cyrillic | Гондорийн-ийн хаад |
| Nepalese | किंग्स को गोनदोर |
| Norwegian | Konger av Gondor |
| Old English | Gondor Cyningas |
| Persian | پادشاهان گاندور |
| Polish | Królowie Gondoru |
| Portuguese | Reis de Gondor |
| Punjabi | ਗੋਂਡੋਰ ਦੇ ਕਿੰਗਸ |
| Romanian | Regii din Gondor |
| Romansh | Gondor Rètgs |
| Russian | Короли Гондора |
| Scots | Keengs o Gondor |
| Scottish Gaelic | Rìghrean de Gondor |
| Serbian | Краљеви Гондора (Cyrillic) Kraljevi Gondora (Latin) |
| Shona | Madzimambo eGondor |
| Sinhalese | ගොඳොර් රජවරු |
| Slovak | Králi Gondor |
| Slovenian | Kralji Gondor |
| Somalian | Boqorrada Gondor |
| Spanish | Reyes de Gondor |
| Swahili | Wafalme wa Gondor |
| Swedish | Kungar av Gondor |
| Tajik Cyrillic | Подшоҳон Гондор ? |
| Tamil | கோண்டரின் கிங்ஸ் |
| Telugu | గొండార్ రాజులు |
| Thai | คิงส์ของกอนดอร์ |
| Turkish | Gondor Kralları |
| Turkmen | Gondor Korollar |
| Ukrainian Cyrillic | Царів Гондор |
| Urdu | کنگز کی گونداور |
| Uzbek | Гондор шоҳлари (Cyrillic) Gondor shohlari (Latin) |
| Vietnamese | Các Vị vua của Gondor |
| Welsh | Brenhinoedd Gondor |
| Xhosa | Ookumkani baseGondor |
| Yoruba | Awọn ọba ti Gondor |
| Zulu | Amakhosi aseGondor |
See also