Jurassic World: Dominion Dominates Fandom Wikis - The Loop
Play Sound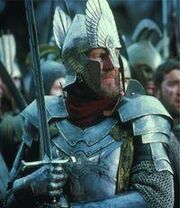 The High Kings of Arnor, through Amandil, claimed descent from the Lords of Andúnië, and from there to Silmariën and the Kings of Númenor. Elendil and Isildur were Kings of Gondor as well as Arnor, but after Isildur's reign the realm was split. The next eight Kings all used the title of High King, presumably to emphasise their rights as the elder branch of Elendil's descendants.
After the tenth High King, Eärendur, the realm of Arnor was split between his three sons, founding the realms of Arthedain, Cardolan and Rhudaur: the elder line of Kings continued with the Kings of Arthedain.
By TA 1349 the descendants of Eärendur had died out in Cardolan and Rhudaur, and Argeleb I of Arthedain again claimed the title King of Arnor. After Arvedui the North-kingdom was no more, but the line of Kings continued in the Chieftains of the Dúnedain.
† Did not die a natural death.
Translations
| | |
| --- | --- |
| Foreign Language | Translated name |
| Afrikaans | Konings van Arnor |
| Amharic | ዓርኖር ነገሥታት |
| Arabic | ملوك أرنور |
| Asturian | Reis d'Arnor |
| Azerbaijani | Arnorın krallar |
| Basque | Arnorreko erregeak |
| Belarusian Cyrillic | Каралі арнор |
| Bosnian | Kraljevi Arnora |
| Breton | Rouaned Arnor |
| Bulgarian Cyrillic | Царете на Арнор |
| Catalan | Reis d'Àrnor |
| Chinese | 亞諾国王 |
| Cornish | Myghternedh Arnor |
| Croatian | Arnorevu kraljeva |
| Czech | Arnorských králů |
| Danish | Arnors konger |
| Dutch | Koningen van Arnor |
| Esperanto | Reĝoj de Arnor |
| Estonian | Arnori kuningad |
| Faroese | Arnors kongar |
| Filipino | Mga Hari ng Arnor |
| Finnish | Arnorin kuninkaat |
| French | Rois d'Arnor |
| Frisian | Keningen fan Arnor (Western) |
| Galician | Reis de Arnor |
| Georgian | არნორი მეფეთა |
| German | Könige von Arnor |
| Greek | Βασιλέων της Αρνώρ |
| Gujarati | આર્નર રાજાઓ |
| Hawaiian | Nā aliʻi o Arnor |
| Hebrew | מלכי ארנור |
| Hindi | राजाओं के आर्नोर |
| Hungarian | Arnor királyainak |
| Icelandic | Arnors kongar |
| Indonesian | Raja-raja Arnor |
| Italian | Re di Arnor |
| Japanese | アルノールキングス |
| Kazakh | Арнорның королдер (Cyrillic) Arnornıñ korolder (Latin) |
| Korean | 아르노르 왕들의 |
| Latin | Reges Arnoriani |
| Latvian | Arnoras karaļi |
| Lithuanian | Arnoro karaliai |
| Macedonian Cyrillic | Кралеви на Арнор |
| Malaysian | Raja-raja Arnor |
| Maltese | Rejiet ta' Arnor |
| Manx | Reeaghyn Arnor |
| Mirandese | Reis de Arnor |
| Mongolian Cyrillic | Арнор-ийн хаад |
| Old English | Arnor Cyningas |
| Persian | شاهان آرنور |
| Polish | Królowie Arnoru |
| Portuguese | Reis de Arnor |
| Romanian | Regilor Arnorului |
| Romansh | Arnor Rètgs |
| Russian | Король Арнора |
| Scots | Keengs o Arnor |
| Scottish Gaelic | Rìghrean na Arnor |
| Serbian | Арнорски краљеви (Cyrillic) Arnorski kraljevi (Latin) |
| Slovak | Kráľ Arnov |
| Slovenian | Arnorski kralji |
| Spanish | Reyes de Arnor |
| Swedish | Arnors kungar |
| Tagalog | Mga Hari ng Arnor |
| Thai | กษัตริย์อาร์นอร์ |
| Turkish | Arnor kralları |
| Turkmen | Arnor Korollar |
| Urdu | کنگز آرناور |
| Vietnamese | Các vị vua của Arnor |
| Welsh | Brenhinoedd Arnor |
| Yiddish | מלכים פון אַרנאָר |
| Yoruba | Ọba ti Arnor |
| Zulu | Amakhosi waArnor |