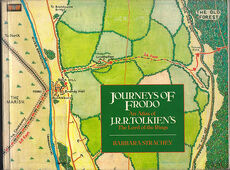 Journeys of Frodo: An Atlas of J. R. R. Tolkien's The Lord of the Rings (ISBN 0049120115) by Barbara Strachey is an atlas based on Middle-earth, published in 1981 by HarperCollins (UK).
Description
Edit
This book contains 51 maps, of various scales, based on the original The Lord of the Rings maps drawn by Christopher Tolkien from his father's sketches. They are in landscape format, and depict physical features in black and contour lines for elevation in red. Routes taken by the Fellowship of the Ring on roads and paths are shown in black or red dashes; off-road routes are in red only. Arrows show the direction of travel, and dates and elapsed times (frequently provided in the books) are listed and told in red. Scales along the top and left of each map show the distance east/west and north/south from Bag End.
Each numbered map is accompanied by a description, in which the author describes the portion of the route indicated, often justifying her topographical decisions with quotes from the book. In some cases, Strachey points out discrepancies among the topographical descriptions, occasionally, for instance, altering the course of a road or a river on the grounds that it would otherwise be inconsistent with Tolkien's other descriptions of the terrain.
Christopher Tolkien refers to Journeys of Frodo a number of times in The History of The Lord of the Rings, often agreeing with Strachey's conclusions, but sometimes disagreeing.
See also
Edit
Translations around the world
Edit
| | |
| --- | --- |
| Foreign Language | Translated name |
| Afrikaans | Reise van Frodo |
| Albanian | Udhëtimet e Frodo |
| Arabic | رحلات فرودو |
| Armenian | Ֆրոդո-ի ճանապարհորդությունները |
| Azerbaijani | Frodoın səyahəti |
| Basque | Frodoren bidaiak |
| Belarusian Cyrillic | Фрода падарожжы |
| Bengali | ট্রাভেলস অব ফ্রোডো |
| Bosnian | Putovanja Frodo |
| Bulgarian Cyrillic | Пътешествията на Фродо |
| Catalan | Els viatges de Frodo |
| Cebuano | Mga panaw ni Frodo |
| Chinese | 游记·的·佛羅多 |
| Chinese (Min Dong) | Frodo Lṳ̄-hèng-gé |
| Croatian | Frodoova putovanja |
| Czech | Frodoův cestuje |
| Danish | Frodos rejser |
| Dutch | De reizen van Frodo |
| Esperanto | La vojaĝoj de Frodo |
| Estonian | Frodoi reisid |
| Finnish | Frodoin retket |
| French | Les voyages de Frodon |
| Galician | As viaxes de Frodo |
| German | Frodos Reisen |
| Greek | Ταξίδια του Φρόντο |
| Gujarati | ફ્રોદોનું મુસાફરી |
| Haitian Creole | Vwayaje nan Frodo |
| Hausa | Tafiya Frodo |
| Hindi | फ्रोडो की यात्राएं |
| Hebrew | מסעות של פרודו |
| Hungarian | Frodoás utazásai |
| Icelandic | Ferðast Frodos |
| Indonesian | Perjalanan Frodo |
| Irish Gaelic | An Turais de Frodo |
| Italian | I viaggi di Frodo |
| Japanese | ジャーニーズ・の・フロド |
| Javanese | Wisata saka Frodo |
| Kannada | ಫ್ರೋಡೊ ಪ್ರವಾಸ ? |
| Kazakh | Фродоның рейстер (Cyrillic) Frodonıñ reyster (Latin) |
| Korean | 프로도의 여행기 |
| Kurdish | Gerrên Frodo (Kurmanji Kurdish) |
| Kyrgyz Cyrillic | Фрододын кыдыруулар |
| Latin | Quod itineribus de Frodo |
| Latvian | Frodos ceļojumi |
| Lithuanian | Frodos keliauja |
| Macedonian Cyrillic | Фродоовите патувања |
| Malagasy | Dian' an'i Frodo |
| Malaysian | Perjalanan Frodo |
| Marathi | ट्रॅव्हल्स ऑफ फ्राडो |
| Mongolian Cyrillic | Фродо-ийн аялах |
| Norwegian | Frodos reiser |
| Occitan | Los xiatges de Frodo |
| Persian | سفرهای فرودو |
| Polish | Podróże Frodoa |
| Portuguese | As viagens de Frodo |
| Punjabi | ਫ੍ਰੋਡੋਸ ਟਰੈਵਲਜ਼ |
| Romanian | Călătoriile lui Frodo |
| Russian | Путешествия Фродо |
| Serbian | Путовања Фродо (Cyrillic) Putovanja Frodo (Latin) |
| Shona | Nzendo dzeFrodo |
| Sinhalese | ෆ්රොඩෝගේ ගමන් |
| Slovak | Frodoove cestuje |
| Slovenian | Frodoova potuje |
| Spanish | Los viajes de Frodo |
| Swahili | Safari za Frodo |
| Swedish | Frodos resor |
| Tagalog | Ang mga Paglalakbay ni Frodo |
| Tamil | ஃப்ரோடோவின் டிராவல்ஸ் |
| Telugu | ఫ్రోడో యొక్క ప్రయాణములు |
| Thai | การเดินทางของโฟรโด ? |
| Turkish | Frodo'in yolculuklar |
| Ukrainian Cyrillic | Подорожі Фродо |
| Uzbek | Фродонинг саёҳатлари (Cyrillic) Frodoning sayohatlari (Latin) |
| Vietnamese | Frodo du ký |
| Waray | Mga pagbiyahe ni Frodo |
| Welsh | Teithiau Frodo |
| Yiddish | טראַוואַלז פון פראָדאָ |