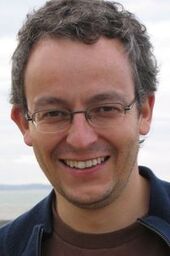 John Garth is a journalist, editor, freelance writer, and poet known for authoring Tolkien and the Great War, the acclaimed account of J.R.R. Tolkien's wartime experience, his early poetry, and the correspondence of the T.C.B.S..
Garth studied at St. Anne's College in Oxford. Since the 1990's he has contributed to England's The Times, The Guardian, Sunday Telegraph, The Daily Beast, and others, giving interviews of authors and writing book reviews. In 2004, he received the Mythopoeic Society's Scholarship Award for his extensive research and work on Tolkien and the Great War. Since that year, Garth has given many talks and two school courses on Tolkien, and written many articles for Tolkien Studies, the Cormarë Series, the Tolkien Society's Mallorn journal, and other literature. In 2005 he joined the review panel of the Elvish Linguistic Fellowship's journal Vinyar Tengwar. For his expertise on Tolkien, he has also been interviewed in many documentaries.
He resides in Oxford, England.
Books & articles written
Edit
This list excludes book reviews.
Documentary appearances
Edit
References
Edit
↑ http://www.johngarth.co.uk, Work, 2017
External links
Edit
Community content is available under
CC-BY-SA
unless otherwise noted.