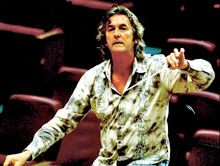 Johan de Meij (born November 23, 1953 in Voorburg, Holland) is a Dutch composer, arranger, and conductor known for writing two symphonies of impressions of The Lord of the Rings.
Biography
Johan de Meij studied conducting and the trombone at the Royal Conservatory of The Hague, the oldest conservatory in the Netherlands. At age 30 he began composing Symphony No. 1, "The Lord of the Rings", a work of five movements based off of characters and scenes from J.R.R. Tolkien's book The Lord of the Rings. It was his first of five symphonies; he would go on to write chiefly for symphonic band, sometimes specifically symphonic wind band, and orchestra. After playing flute, euphonium, and trombone for different ensembles throughout Holland, he became the principal guest conductor of both the New York Wind Symphony and the Kyushu Wind Orchestra in Fukuoka, Japan, and a frequent guest conductor for the Simón Bolívar Youth Wind Orchestra in Caracas, Venezuela. In 1989, de Meij founded the publishing company Amstel Music.
His award-winning Symphony No. 1 has been recorded by many prominent European ensembles, such as the London Philharmonic Orchestra in 2008, which had played the soundtrack to Peter Jackson's film trilogies in 2001-2003.
He recently composed Return to Middle-earth, his fifth symphony, comprised of six movements depicting characters and events from the First Age and Elvendom, such as Ancalagon, Lúthien Tinúviel and Arwen Evenstar. It will be premiering in Japan and Germany in April and June 2019.
Compositions (selected)
1984-1988: Symphony No. 1 "The Lord of the Rings"

Mvmt I: "Gandalf (The Wizard)"
Mvmt 2: "Lothlórien (The Elvenwood)"
Mvmt 3: "Gollum (Sméagol)"
Mvmt 4: "Journey in the Dark (The Mines of Moria - The Bridge of Khazad-Dûm)"
Mvmt 5: "Hobbits"

1993: Symphony No. 2 "The Big Apple" (A New York Symphony)
1995: Transcription for symphonic band of Shostakovich's Jazz Suite No. 2
2000: Casanova for cello solo and wind orchestra
2002: The Wind in the Willows, a setting of the original novel
2006: Symphony No. 3 "Planet Earth"
2012: UFO Concerto for Euphonium
2013: Symphony No. 4 "Sinfonie der Lieder"
2018: Symphony No. 5 "Return to Middle-earth"

Mvmt 1: "Miri na Fëanor (Jewels of Fëanor)"
Mvmt 2: "Tinúviel (Nightingale)"
Mvmt 3: "Ancalagon i-môr (Ancalagon, the Black)"
Mvmt 4: "Arwen Undómiel (Evenstar)"
Mvmt 5: "Dagor Delothrin (The War of Wrath)"
Mvmt 6: "Thuringwethil (Woman of Secret Shadow)"
External links
Community content is available under
CC-BY-SA
unless otherwise noted.