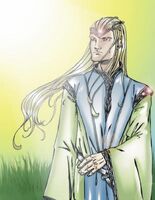 Ingwë was the High King of the Vanyar and High King of all the Elves.
He was the first of the Vanya to travel to Valinor with Orome. Loving its beauty and bliss he returned to his people and urged them to undertake a journey to Aman. He and his kin were fascinated with the Valar, and they decided not to return to Middle-Earth. It is said that Ingwë dwells at the feet of Manwë atop Taniquetil. The Mindon Eldaliéva in Tirion was built in honor of him.
References
"... so small a thing. Such a little thing!"


This article is a stub; please expand it if you can.