​
"The Lord of the Rings is just mythology, it's a fairytale, it's an adventure. It never happened, except in our hearts. But then there was the Shire in 3 dimensions. And smoke coming out of the burrows where they lived….. And, I believed."
—McKellen on The Lord of the Rings
Sir Ian Murray McKellen, CH, CBE (born May 25, 1939) is a highly acclaimed English actor on both stage and screen. His roles have spanned genres from serious Shakespearean and modern theatre to popular action movies. He is also known for his longtime portrayal of X-Men character Erik Lehnsherr (Magneto) in the movies based on the Marvel comic. He is also well known as a campaigner for gay rights. He lives in London.
McKellen played the role of the wizard Gandalf in Peter Jackson's The Lord of the Rings film trilogy that adapted J.R.R. Tolkien's novel trilogy The Lord of the Rings (The Fellowship of the Ring, The Two Towers, and The Return of the King). For the first installment, McKellen received an Academy Award nomination for Best Supporting Actor. He reprised the role of Gandalf for the three-part film adaptation of The Hobbit, including The Hobbit: An Unexpected Journey, the second-part, The Desolation of Smaug and the final-part of the trilogy, The Battle of the Five Armies.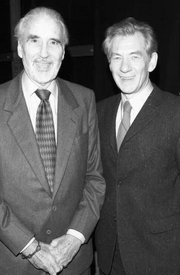 In May 2020, McKellen appeared with many other cast members of The Lord of the Rings films in Josh Gad's "One Zoom to Rule Them All" virtual reunion.
Documentary appearances
Selected filmography
Alfred the Great (1969) - Roger
The Promise (1969) - Leonidik
Priest of Love (1981) - D.H. Lawrence
Time Bandits (1981) - Young
The Keep (1983) - Dr. Theodore Cuza
Zina (1985) - Kronfeld
Plenty (1985) - Sir Andrew Charlson
Scandal (1989) - John Profumo
Last Action Hero (1993) - Death
The Ballad of Little Jo (1993) - Percy Corcoran
Six Degrees of Separation (1993) - Geoffrey
Tombstone (1993) - Louis
I'll Do Anything (1994) - John Earl McAlpine
The Shadow (1994) - Reinhardt Lane
Jack & Sarah (1995) - William
Richard III (1995) - King Richard III
Restoration (1995) - Will Gates
Bent (1997) - Uncle Freddie
Gods and Monsters (1998) - James Whale
Apt Pupil (1998) - Kurt Dussander
X-Men (2000) - Eric Lensherr / Magneto
The Lord of the Rings: The Fellowship of the Ring (2001) - Gandalf
The Lord of the Rings: The Two Towers (2002) - Gandalf
X2: X-Men United (2003) - Eric Lehnsherr / Magneto
Emile (2003) - Emile
The Lord of the Rings (2003) - The Return of the King (2003) - Gandalf
Sprung! The Magic Roundabout (2005) - Zebedee (voice)
Asylum (2005) - Dr. Peter Cleave
Neverwas (2005) - Gabriel Finch
The Da Vinci Code (2006) - Sir Leigh Teabing
X-Men: The Last Stand (2006) - Erik Lehnsherr / Magneto
Flushed Away (2006) - The Toad (voice)
Stardust (2007) - Narrator (voice)
The Golden Compass (2007) - Iorek Byrnison (voice)
The Hobbit: An Unexpected Journey (2012) - Gandalf
The Wolverine (2013) - Magneto
Jobs (2013) - Hugh
The Hobbit: The Desolation of Smaug (2013) - Gandalf
Miss in Her Teens (2014) - The Prologue
X-Men: Days of Future Past (2014) - Magneto
The Hobbit: The Battle of the Five Armies (2014) - Gandalf
Kingsman: The Secret Service (2014) - Darwin
Mr. Holmes (2015) - an old Sherlock Holmes
National Theatre Live: No Man's Land (2016) - Spooner
Beauty and the Beast (2017) - Cogsworth
Animal Crackers (2017) - Horatio P. Huntington (voice)
External links