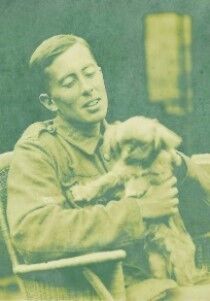 Hilary Arthur Reuel Tolkien (born February 17, 1894 in Bloemfontein, South Africa; died 1976) was J.R.R. Tolkien's younger brother by two years.
After serving in World War I, Hilary lived as a farmer in Evesham, Worcestershire, England with his wife, Ann Magdalen Matthews. They had three children, and a dog whom they named Bilbo when obedient, and Baggins when not.[2]
Black & White Ogre Country: The Lost Tales of Hilary Tolkien was compiled by Angela Gardner and published in 2009, containing tales Hilary wrote for children, other family excerpts, and photographs in the possession of Hilary's grandson, Chris Tolkien.
Portrayal in film
In the 2019 film Tolkien directed by Dome Karukoski, Hilary is portrayed as a minor character by James MacCallum.
References
Community content is available under
CC-BY-SA
unless otherwise noted.