The High Pass, also named Cirith Forn en Andrath, was an important mountain pass over the Misty Mountains.
On its western end was the refuge of Rivendell, and from there the Great East Road climbed into the mountains until it reached the mountain under which lay Goblin-town.[1][2]
First Age
Edit
The High Pass was first created before the First Age by Oromë the Vala, in order to allow for a crossing of the mountains by the Eldar. Later in the First Age the High Pass was used by the Dwarves, who connected their roads (the Great East Road and the Men-i-Naugrim through Mirkwood) with it.
It is worth noting that there were two passes at this location. The lower pass was more prone to being blocked by Orcs; hence, most travellers used the higher pass outside of those rare occasions when the Orcs were suppressed.[citation needed]
Second Age
Edit
In the later days of the Second Age, the High Pass was used by the armies of the Last Alliance of Elves and Men led by Gil-galad and Elendil when they marched through it on their way to confront the armies of Sauron in Mordor.[3]
Third Age
Edit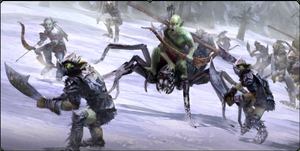 During the later Third Age the Pass became dangerous again because of the Orcs increasing in the mountains. Only with the advent of the War of the Dwarves and Orcs, which nearly eliminated these Orcs, did the pass become safe again. Afterwards, the pass was considered safe for about one-hundred and forty years until TA 2940, just before the Quest of Erebor when goblins of Goblin-town had delved an entrance to their underground tunnels on the pass. Thorin and Company were captured there in TA 2941 when they intended to pass through the mountains on their way to the Lonely Mountain.
After the Battle of Five Armies, the pass was once again free from danger and was maintained by the Beornings, and for many years afterwards it had become important for trade between Eriador and Rhovanion. During the War of the Ring, the Fellowship of the Ring bypassed the High Pass because the eastern side of the Misty Mountains had become too dangerous due to a winter snow storm. It was also the most obvious route they could have taken from Rivendell.[4]
Translations around the world
Edit
| Foreign Language | Translated name |
| --- | --- |
| Afrikaans | Hoë Slaagsyfer |
| Albanian | Kalojë Të lartë |
| Amharic | ሊቀ ማለፊያ |
| Arabic | ارتفاع تمرير |
| Armenian | բարձր անցնել |
| Azerbaijani | Yüksək keçid |
| Basque | goi pasatzea |
| Belarusian Cyrillic | высокіх частот |
| Bengali | উচ্চ পাস |
| Bosnian | Visoka Proći |
| Bulgarian Cyrillic | Високо пропусклив |
| Cambodian | ដំណាក់ខ្ពស់ |
| Catalan | Pas Elevat |
| Chinese | 高通 ? |
| Croatian | Visoke Proći |
| Czech | Vysoká Průchod |
| Danish | Høj Passere |
| Dutch | Hoog Passeren |
| Esperanto | Alta Enirpermesilo |
| Estonian | Kõrge Liigu |
| Filipino | Mataas Pumasa |
| Finnish | Korkea Kulkea |
| French | Haut Col |
| Galician | Alto Pase |
| Georgian | მაღალი უღელტეხილი |
| German | Hoher Pass |
| Greek | Υψηλή Πέρασμα |
| Gujarati | ઉચ્ચ પાસ |
| Haiti Creole | Segondè Pase |
| Hawaiian | Kiʻekiʻe Hele ? |
| Hebrew | גבוה לעבור |
| Hindi | उच्च दर्रा |
| Hungarian | Északi Magas Hágó |
| Icelandic | Hár Fjallaskarð |
| Igbo | Elu Ngafe |
| Indonesian | Tinggi Iewat |
| Irish Gaelic | Pas Ard |
| Italian | Alto Passo |
| Japanese | ハイパス |
| Javanese | Dhuwur Pass |
| Kannada | ಹೈ ಪಾಸ್ |
| Kazakh Cyrillic | жоғары Пасс |
| Korean | 하이 패스 |
| Kurdish | Bilind Nasname (Kurmanji Kurdish) |
| Kyrgyz Cyrillic | бийик ашуу |
| Lao | ຜ່ານສູງ |
| Latin | pervium Mons |
| Latvian | Augstas Caurlaide |
| Lithuanian | Aukštoji perėja |
| Luxembourgish | Héich Zéit |
| Macedonian Cyrillic | високи тонови |
| Malagasy | Avo Mandalo |
| Malay | Lulus Tinggi |
| Malayalam | ഹൈ പാസ് |
| Maltese | Għoli Jgħaddu |
| Manx | Harrym Ard ? |
| Maori | Teitei ara |
| Mongolian | Өндөр уулын ам |
| Navajo | Wo-tah Dziłgiizh |
| Nepalese | उच्च भन्ज्याड़ |
| Norwegian | Høypasset |
| Pashto | د لوړ کوتل |
| Persian | رمز بالا |
| Polish | Wysoka Przełęcz |
| Portuguese | Passa Alta |
| Punjabi | ਹਾਈ ਪਾਸ |
| Querétaro Otomi | Bi thogi mar hñets'i |
| Romanian | Mare Trece |
| Romansh | Passar Ault |
| Scottish Gaelic | Àrd Bhealaich |
| Serbian | Висок центаршут (Serbian Cyrillic) Visok Centaršut (Latin) |
| Shona | Yakakwirira Zvichipfuura |
| Sindhi | هاء لڪ |
| Sinhalese | ඉහළ සාමාර්ථයක් |
| Slovak | Horná Priepusť |
| Slovenian | Visoka Podaja |
| Spanish | Paso Alto |
| Swedish | Högpass |
| Tajik Cyrillic | ағбаи баланди |
| Tamil | உயர் பாதை |
| Telugu | అధిక ప్రవాహం |
| Thai | สูงทางเดิน |
| Turkish | Yüksek Geçiş |
| Turkmen | Ýokary Gezmelemek ? |
| Ukrainian Cyrillic | висока Пас |
| Urdu | اعلی درہ |
| Uzbek | Ҳигҳ Пасс (Uzbek Cyrillic) Yuqori O'tkazgan (Latin) |
| Vietnamese | Vượt qua cao |
| Welsh | Uchel Pasio |
| Yoruba | Ga Kọja |
| Yucatec Maya | Paso Ka'anal |
| Yiddish | הויך פאָרן |
| Zulu | Kudlule Okusezingeni |
References
Edit