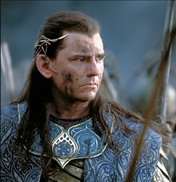 High King of the Ñoldor was the title given to the highest ruler of the Ñoldor in both Aman and Middle-earth in the First Age. It was exclusively applied to the House of Finwë.
The title came into being at about the time that the Elves undertook their Great Journey to Aman with Finwë being its first. The title continued in Middle-earth after the Ñoldor returned in pursuit of Morgoth. Fëanor or the eldest of his sons could have claimed the title but with his death Maedhros waived his claim to the title and ceded it to House of Fingolfin, out of respect and friendship with them. There were four legitimate High Kings in Middle-earth beginning with Fingolfin and ending with Gil-galad at the end of Second Age, lasting over four-thousand years. Turgon's relatives Eärendil and then Elrond could have made a claim to the title but never did. It is possible that the High Kingship passed exclusively through the male line; if this is the case, then the title became effectively extinct with the death of Gil-galad in Middle-earth. Eärendil and his descendants belonged to the human House of Hador.[1]
Succession
Edit
The succession of the kingship was never planned, likely because Elves could not die and there would be no need for succession. But in the worst case, the Elves followed the rule that the eldest child should succeed. Such was the case with Fëanor, who immediately claimed the title after Finwe's death at the hands of Morgoth. But he could not command the same respect, for greater love was given to Fingolfin for his wisdom and leadership, and the Ñoldor of Tirion refused to renounce him.
After the death of Fëanor, Maedhros was due to succeed by right, yet in repentance of his father's acts he waived his claim to Fingolfin. This move was recognised by all, and the Kingship belonged solely to the House of Fingolfin. Fingon was the elder son who succeeded his father. Strangely however, after Fingon's demise he was not succeeded by his son Gil-galad, but by Turgon his brother. Once again this would suggest loyalty and respect in such a decision, as Turgon was older and more experienced at the time. Nevertheless, the kingship passed back to Gil-galad after Turgon's fall. The change in Tolkien's later notes to Gil-Galad's parentage, making him son of Orodreth, suggests that Gil-Galad may not have been High King as he was a descendant of Finarfin, not Fingolfin.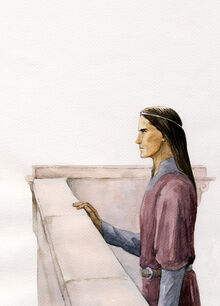 Known High Kings of the Ñoldor
Edit
In Aman only
Edit
In Middle-earth
Edit
Translations around the world
Edit
| | |
| --- | --- |
| Foreign Language | Translated name |
| Afrikaans | Hoë Koning van die Noldor |
| Albanian | Mbreti i Lartë i Noldorit |
| Arabic | الملك عالية من نولدور |
| Basque | Noldorko errege nagusia |
| Bosnian | Vrhovni Kralj Noldora |
| Bulgarian Cyrillic | Върховните Крал на Нолдор |
| Catalan | Rei Suprem dels Ñoldor |
| Cebuano | Hataas nga Hari sa Noldor |
| Chinese | 諾多族最高君王 |
| Corsican | Re di Rè di Noldor |
| Croatian | Visokikralj Noldora |
| Czech | Velekrál Noldor |
| Danish | Noldor Stor-konge |
| Dutch | Hoge Koning van de Noldor |
| Esperanto | Supera Reĝo de Noldor |
| Estonian | Noldor Kõrge kuningas |
| Filipino | Mataas na hari ng mga Noldor |
| Finnish | Noldorin korkea kuningas |
| French | Haut Roi des Noldor |
| Galician | Altos Rei dos Noldor |
| Georgian | ნოლდორის მაღალი მეფე |
| German | Hoher König der Noldor |
| Greek | Ανώτατο βασιλιάς των Νόλντορ |
| Gujarati | નોલ્ડરના ઉચ્ચ રાજા |
| Haitian Creole | Anwo nan syèl la wa peyi Noldor |
| Hausa | Babban Sarki na Noldor |
| Hebrew | העליון קינג של הנולדור |
| Hmong | Huab tais siab ntawm qhov Noldor |
| Hungarian | Noldor nagy királya |
| Icelandic | Hákonungur af Noldor |
| Indonesian | Raja Tinggi Noldor |
| Irish Gaelic | Ard Rí na hNoldor |
| Italian | Re Supremo dei Noldor |
| Japanese | ノルドールの高い王 |
| Javanese | Raja Agung saka Noldor |
| Kannada | ನೊಲ್ಡರ್ನ ಉನ್ನತ ರಾಜ |
| Kazakh | Нолдордың Жоғары Патшасы (Cyrillic) Noldordıñ Joğarı Patşası (Latin) |
| Korean | 놀도르의 높은 왕 |
| Kyrgyz Cyrillic | Нолдордын Жогорку падыша |
| Latvian | Augsts Noldoras karalis |
| Lithuanian | Aukštas Noldoro karalius |
| Luxembourgish | Héijer Kinnik vun Noldor |
| Macedonian Cyrillic | Висок Крал на Нолдор |
| Malagasy | Mpanjaka avo ao amin' ny Noldor |
| Malaysian | Raja Tinggi Noldor |
| Maltese | Re Għoli tal-Noldor |
| Marathi | नोल्डरचा सर्वोच्च राजा ? |
| Mongolian Cyrillic | Нолдор-ийн Өндөр хаан |
| Nepalese | णोल्दोर को उच्च राजा |
| Norwegian | Høykonge av Noldoene |
| Persian | پادشاه بالا نولدور |
| Polish | Najwyższy Król Noldorów |
| Portuguese | Alto Rei dos Noldor |
| Punjabi | ਨੋਲਡਰ ਦਾ ਸਭ ਤੋਂ ਵੱਡਾ ਰਾਜਾ |
| Romanian | Marele rege al Noldorii |
| Russian | Верховный король Нолдор |
| Samoan | Le tupu Maualuga o le Noldor |
| Scottish Gaelic | Àrd Rìgh de na Noldor |
| Serbian | Велики краљ Нолдора (Cyrillic) Veliki kralj Noldora (Latin) |
| Slovak | Vysokýkráľ Noldor |
| Slovenian | Nadkralj vseh Noldorov |
| Spanish | Rey Supremo de los Noldor |
| Sundanese | Tinggi Raja tina Noldor |
| Swahili | Mfalme mkuu wa Noldor |
| Swedish | Högkung av Noldor |
| Tajik Cyrillic | Нолдор баландтарин Подшоҳи ? |
| Telugu | ణొల్దొర యొక్క ఉన్నత రాజు |
| Turkish | Yüce Noldor Kralı |
| Ukrainian Cyrillic | Верховний король Нолдор |
| Urdu | ہائی شاہ نولڈاور |
| Uzbek | Нолдорнинг Олий қирол (Cyrillic) Noldorning Oliy qirol (Latin) |
| Vietnamese | Vua cao của Noldor |
| Welsh | Uchel Frenin Noldor |
| Yiddish | הויך מלך פון די נאָלדאָר |
| Zulu | INkosi ephakeme ye-the Noldor |
References
Edit