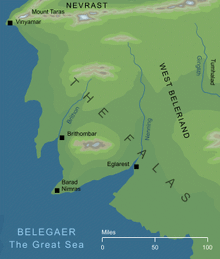 The Havens of the Falas, or simply the Havens, were coastal cities of the Sindarin Elves in western Beleriand during the First Age.[1]
History
The Havens were founded in the Years of the Trees during the time of the Elves' migration west into Beleriand. The founders of the Havens were a group of Teleri who chose to stay in Middle-earth for their love of the coasts and the sea; they did not move on to Aman as some of their kin did. The people of these settlements became known as the Falathrim and their leader was Círdan the Shipwright. After some time, two main walled settlements were built and these were the cities of Eglarest built at the mouth of the river Nenning, and Brithombar, to the north, built at the mouth of the river Brithon.
When Morgoth opened his first assault on Beleriand, the Havens came under a siege that lasted until the Return of the Ñoldor, after which the attacking Orcs were ordered north to fight the Ñoldor in the Dagor-nuin-Giliath. After FA 52, West Beleriand was ruled from Nargothrond by Finrod Felagund with Círdan as an ally. The Havens of the Falas survived until the later Battles of Beleriand; they finally fell by the year FA 473. Some of Círdan's people, including Gil-galad, fled to the Havens of Sirion and the Isle of Balar, while others fled to Belfalas, where they founded Edhellond.[2]
Translations
| | |
| --- | --- |
| Foreign Language | Translated name |
| Afrikaans | Hawens van die Falas |
| Albanian | Strehë e Falas |
| Arabic | ملاذا لل فالاس |
| Armenian | նավահանգիստ է Ֆալաս ? |
| Azerbaijani | Falas Cənnəti |
| Basque | Falas Babesleku |
| Bengali | ফালাস পোর্ট |
| Bosnian | Utočištima od Falas |
| Bulgarian Cyrillic | Фалашки бряг |
| Catalan | Refugis de les Falas |
| Chinese | 法拉斯的避风港 |
| Cornish | Hafanau a an Falas ? |
| Corsican | Remo di u Falas |
| Croatian | Utočišta od Falas |
| Czech | Útočištěm z Falasu |
| Danish | Falas Havnene |
| Dutch | Havan van de Falas |
| Esperanto | Paradizoj de la Falas |
| Estonian | Sadam on Falas |
| Finnish | Falasin satamat |
| French | Havres des Falas |
| Frisian | Plakmeijer fan de Falas |
| Georgian | თავშესაფრები რომ თამაშები უფასოდ ? |
| German | Häfen der Falas |
| Greek | παραδείσους της Φαλάς |
| Gujarati | ફલસ આપીએ ? |
| Haitian Creole | Pò a nan Falas |
| Hawaiian | Naawamaikai o ka Falas |
| Hebrew | מקלט של ףאלאס |
| Hindi | फलास के रिफ्यूज |
| Hmong | Chaw Zoo Nres Nkoj ntawm lub Falas |
| Hungarian | Kikötő a Falas |
| Icelandic | Griðastaðir af Falas |
| Irish Gaelic | Hafanau an Falas |
| Italian | Rifugio di Falas |
| Japanese | ファラスの避難所 |
| Kannada | ಫ಼ಲಸ್ ಆಫ್ ಹ್ಯಾವೆನ್ಸ್ |
| Kazakh | Фалас паналар (Cyrillic) Falas panalar (Latin) |
| Latin | Portus autem Falas |
| Latvian | Osta no Falas |
| Lithuanian | Uostas iš Falas |
| Luxembourgish | Steieroasen vun der Falas |
| Macedonian Cyrillic | засолништа на Фалас |
| Malaysian | Kawasan-kawasan perlindungan daripada Falas |
| Maori | Kokoru o te Falas |
| Marathi | फ़लस च्या आश्रयस्थाने |
| Mongolian Cyrillic | Фалас нь хоргодох газар |
| Norwegian | Paradiser av Falas |
| Persian | بندرگاه‌های فالاس |
| Polish | Przystań z Falas |
| Portuguese | Paraísos da Falas |
| Punjabi | ਫ਼ਅਲਸ ਦੇ ਪੋਰਟ |
| Romanian | Refugii ale Falas |
| Russian | Хейвенс Фаласа |
| Samoan | Malutaga o le Falas |
| Scottish Gaelic | Hafanau na Falas |
| Serbian | Уточишта у Фалас (Cyrillic) Utočišta u Falas (Latin) |
| Sinhalese | ෆලස් ම ක්ෂේමභූමි |
| Slovak | Útočiskom Falašov |
| Slovenian | Pristanišča v Falas |
| Somalian | Meelo ka mid ah Falas |
| Spanish | Refugios de las Falas |
| Swahili | Bandari ya Falas |
| Swedish | Tillflyktsorter av Falas |
| Tahitian | Vahi haapuraa o te Falas |
| Tajik Cyrillic | паноҳгоҳи аз Фалас ? |
| Tamil | ப்ஹலஸ் புகலிடமாய் |
| Telugu | ఫలస యొక్క వెనుకంజ ? |
| Thai | สวรรค์ของฟาลา ? |
| Tongan | Ngaahi taulanga u 'o e Falas |
| Turkish | Sığınaklarını Falas |
| Vietnamese | Nơi trú ẩn của Falas |
| Welsh | Hafanau y Falas |
| Ukrainian Cyrillic | гавань з Фалас |
| Uzbek | Фаласнинг Бандаргоҳлар (Cyrillic) Falasning Bandargohlar (Latin) |
| Yiddish | כייוואַנז פון די פאַלאַס |
References