For the fan-based webzine for the Lord of the Rings RPG, see Hall of Fire (Webzine).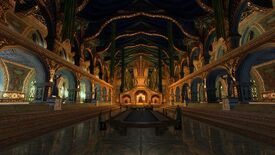 The Hall of Fire was one of the many halls in Elrond's house at Rivendell.
It received its name from the fact a fire burned continually in it. This was where Frodo first encountered Bilbo since their last joint birthday party in the Shire. It was also where he found out that not only did Bilbo know Aragorn, but they were friends.
Although the Hall of Fire was used during the day only for solitary contemplation, at night it was a gathering spot for all in Rivendell. Within its walls, many songs were sung and stories told.[citation needed]
Portrayal in Adaptations
The only adaption Hall of Fire appears in is The Lord of the Rings Online, where it is notable as being the place where Bilbo is constantly chatting with Lindir.
Translations around the World
| Foreign Language | Translated name |
| --- | --- |
| Afrikaans | Saal van Vuur |
| Albanian | Salla e Zjarrit |
| Amharic | እሳት አዳራሽ |
| Arabic | قاعة النار |
| Armenian | սրահ կրակի |
| Azerbaijani | Yanğın Zalı |
| Basque | Sute Aretoan |
| Belarusian Cyrillic | зала агню |
| Bengali | আগুনের হল |
| Bosnian | Dvorana od Požar |
| Bulgarian Cyrillic | зала на пожар |
| Burmese | မီးခန်းမ |
| Cambodian | សាលនៃភ្លើង |
| Catalan | Sala de Foc |
| Cebuano | Tigumanan sa Kalayo |
| Chinese | 火霍尔 |
| Cornish | Hel a Tan |
| Corsican | Saluni di u Focu |
| Croatian | Dvorana od Požara |
| Czech | Hala z Ohně |
| Esperanto | Halo de Fajro |
| Estonian | Saalis kohta Tulekahju |
| Danish | Kamin hallen |
| Dutch | Hal van Vuur |
| Fijian | Olo ni Bukawaqa |
| Filipino | Bulwagan ng Apoy |
| Finnish | Sali Palo |
| French | Salle du Feu |
| Galician | Salón do Lume |
| German | Halle des Feuers |
| Georgian | დარბაზში ცეცხლი ? |
| Greek | Αίθουσα της Φωτιάς |
| Gujarati | ફાયર ઓફ હોલ |
| Haitian Creole | Sal nan Dife |
| Hebrew | היכל האש |
| Hindi | आग के हॉल |
| Hungarian | Csarnok a Tűz |
| Icelandic | Sal af Eldi |
| Igbo | Nnukwu ọnụ ụlọ nke ọkụ |
| Indonesian | Aula Api |
| Irish Gaelic | Halla na Tine |
| Italian | Sala del Fuoco |
| Japanese | 火の館 |
| Javanese | Bale saka Geni ? |
| Kannada | ಹಾಲ್ ಆಫ್ ಫೈರ್ |
| Kazakh Cyrillic | Өрт залы |
| Korean | 화재의 전당 |
| Kurdish | سالۆنا جی ئگیر (Arabic script) Salona ji Agir (Latin) |
| Latvian | Halle no Uguns |
| Lithuanian | Salė Ugnies |
| Luxembourgish | Hal vum Feier |
| Macedonian Cyrillic | Дом на пожар |
| Malagasy | Efitrano ny Afo |
| Malay | Dewan Api |
| Maltese | Sala ta 'nar |
| Maori | Whare o te Ahi |
| Marathi | आग हॉल |
| Mongolian Cyrillic | Галын танхим |
| Nepalese | आगो को हल |
| Norwegian | Salen av Brann |
| Pashto | د اور په تالار کې |
| Persian | تالار آتش |
| Polish | Hala z Ognia |
| Portuguese | Salão do Fogo |
| Punjabi | ਅੱਗ ਦੇ ਹਾਲ |
| Querétaro Otomi | Pasillo ar Tsibi |
| Romanian | Sala Foc |
| Romansh | Sala Fieu |
| Russian | Зал Огня |
| Scottish Gaelic | Talla Teine |
| Serbian | Халл оф Фире (Cyrillic) Dvorana od Vatre (Latin) |
| Sinhalese | ගිනි ශාලාව |
| Sindhi | باهه جي هال |
| Slovak | Hala z Ohňa |
| Slovenian | Dvorana od Ognja |
| Spanish | Sala del Fuego |
| Sudanese | Rohangan gede Seuneu |
| Swahili | Ukumbi wa Moto |
| Swedish | Salen av Brand |
| Tahitian | Fare i te Auahi |
| Tajik Cyrillic | Толори аз оташ |
| Tamil | தீ ஹால் |
| Telugu | ఫైర్ హాల్ |
| Thai | ฮอลล์ไฟ |
| Tongan | Holo 'a e Afi |
| Turkish | Ateş Salonu |
| Ukrainian Cyrillic | зал вогню |
| Urdu | آگ کے ہال |
| Uzbek | Дўзах Зали (Cyrillic) Do'zax Zali (Latin) |
| Welsh | Neuadd o Tân |
| Yiddish | האַלל פון פייַער |
| Yoruba | Alabagbepo ti Ina |