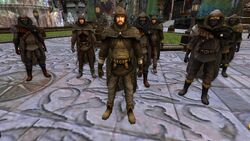 The Grey Company was a group of thirty-one Dúnedain Rangers of the North during the late Third Age.
History
The Grey Company was led by Halbarad and the twin sons of Elrond, Elladan and Elrohir. They traveled from the north seeking Aragorn at Galadriel's request. To Aragorn they brought advice from Elrond, his horse Roheryn and a banner made by Arwen bearing the emblems of the House of Elendil. Their horses were strong and proud but rough-haired. As their name implies, they wore cloaks or mantles of grey colour and carried no symbols save for a silver star on each of their brooches.
They accompanied Aragorn, Legolas, and Gimli through the Paths of the Dead and went with them to fight at the Battle of Pelargir and then the Battle of the Pelennor Fields. It was at this battle that Halbarad fell after slaying many servants of Sauron.[1] Later, the Grey Company presumably accompanied Aragorn and the army of the west to the Battle at the Black Gate. The survivors returned north with the company of the Hobbits and Gandalf, parting from them somewhere before Bree.
Portrayal in adaptations
The Grey Company plays a major role in The Lord of the Rings Online beginning with the Volume III: Allies of the King. Other than Halbarad and the Sons of Elrond, sixty-two other Rangers and the player form the Grey Company as they journey south. Their path through Dunland is beset by many dangers, as many Rangers are killed and some are forced to either turn back or stay behind until only thirty remain by the time they finally meet with Aragorn. Other than Halbarad, seven other Rangers are killed in the Battle of the Pelennor Fields while the rest join the Host of the West on the march towards the Black Gate. Only one of the Rangers falls during the battle and all of the survivors attend the wedding of Aragorn and Arwen after which they finally part ways. Some decide to return north to Eriador while others choose to remain in Gondor and serve King Elessar alongside Rangers of Ithilien against the dangers still remaining in Mordor.
All sixty-three Rangers of the Grey Company are named in the game, though some are more developed than others. The majority of them are already familiar with the player from earlier storylines such as the Angmar campaign, including Calenglad, Candaith, Corunir, Daervunn, Dagoras, Golodir, Halbarad, Lothrandir, Mincham and Saeradan. After Halbarad's death at Pelennor Fields, his second-in-command Daervunn takes charge of what remains of the Company and with many of the major characters among them now dead, several Rangers who only played minor role previously come to the forefront of the story.
Translations
| | |
| --- | --- |
| Foreign Language | Translated name |
| Afrikaans | Grys Maatskappy |
| Albanian | Kompania Gri |
| Amharic | ግራጫ ኩባንያ |
| Arabic | السرية الرمادية |
| Armenian | մոխրագույն ընկերությունը |
| Azerbaijani | Boz Şirkət |
| Basque | Konpainia Grisa |
| Bengali | ধূসর কোম্পানি |
| Bosnian | Siva Kompanija |
| Bulgarian Cyrillic | сива компания |
| Burmese | မီးခိုးရောင်ကုမ္ပဏီ |
| Cambodian | ក្រុមហ៊ុនប្រផេះ ? |
| Catalan | Companyia de Gris |
| Chinese | 灰色公司 |
| Cornish | Felshyp Glas |
| Croatian | Siva družina |
| Czech | Šedá družina |
| Danish | Grå Selskab |
| Dutch | Grijze Compagnie |
| Esperanto | Griza Kompanio |
| Estonian | Hall Kompanii |
| Faroese | Gráur Bólkur ? |
| Filipino | Abo Kumpanya |
| Finnish | Harmaa Komppania |
| French | La Compagnie Grise |
| Frisian | Grize Bedriuw |
| Icelandic | Grár Fyrirtæki |
| Irish Gaelic | Cuideachta Liath |
| Italian | Grigia Compagnia |
| Galician | Compañía Gris |
| Georgian | ნაცრისფერი კომპანია |
| German | Graue Schar |
| Greek | Γκρι συντροφιά |
| Gujarati | ગ્રે કંપની |
| Hebrew | חברה אפורה |
| Hindi | ग्रे कंपनी |
| Hungarian | Szürke Sereg |
| Japanese | グレーカンパニー |
| Kannada | ಬೂದು ಕಂಪನಿ |
| Kazakh | Сұр компаниясы (Cyrillic) Sur kompanïyası (Latin) |
| Korean | 회색 회사 |
| Kyrgyz Cyrillic | боз компания |
| Laotian | ບໍລິສັດສີເທົາ |
| Latin | Vexillum Cinereo |
| Latvian | Pelēkais pulks |
| Lithuanian | Pilka Kompanija |
| Luxembourgish | Groen Firma |
| Macedonian Cyrillic | Греј на компанијата |
| Malaysian | Syarikat Kelabu |
| Malayalam | ചാര കമ്പനി |
| Maltese | Kumpanija Griż |
| Manx | Colught Lheeah |
| Maori | Kamupene Hina |
| Marathi | राखाडी कंपनी |
| Mongolian Cyrillic | саарал компани |
| Nepalese | ग्रे कम्पनी |
| Norwegian | Grå Selskap |
| Pashto | خړ شرکت |
| Persian | شرکت خاکستری |
| Polish | Szara Drużyna |
| Portuguese | Companhia Cinzenta |
| Punjabi | ਗ੍ਰੇ ਕੰਪਨੀ |
| Romanian | Companie Gri |
| Romansh | Cumpagnia Grisch |
| Russian | Серые плащи |
| Samoan | Kamupani Efuefu ? |
| Scottish Gaelic | Glas a 'chompanaidh |
| Serbian | Сива Фирма (Cyrillic) Siva Firma (Latin) |
| Sindhi | ڀورو ڪمپني |
| Sinhalese | අලු සමාගම |
| Slovak | Šedá Firma |
| Slovenian | Siva Podjetje |
| Spanish | Compañía Gris |
| Sundanese | Pausahaan Kulawu |
| Swedish | Grå Företaget |
| Tajik Cyrillic | Грей Ширкат |
| Tamil | சாம்பல் நிறுவனம் |
| Telugu | గ్రే కంపెనీ |
| Turkish | Gri Şirketi |
| Turkmen | Çal Köpçülik |
| Ukrainian Cyrillic | Сірий загін |
| Urdu | گرے کمپنی |
| Uzbek | Грей Чомпанй (Cyrillic) Kulrang Kompaniyasi (Latin) |
| Vietnamese | Đoàn quân xám |
| Welsh | Cwmni Llwyd |
| Xhosa | Inkampani Ngwevu |
| Yiddish | גרוי פֿירמע |
References