Wiki Targeted (Entertainment)
Play Sound

The Gap of Rohan was the opening between the mountain ranges of the Misty Mountains and the White Mountains.[1]
History
Through the Gap of Rohan flowed the rivers Isen and Adorn, which formed the effective boundary of the Kingdom of Rohan. Rohan was formerly known as Calenardhon, and thus the Gap was then known as the Gap of Calenardhon. The triangle between the Isen and Adorn rivers and the White Mountains was a contested area between the Rohirrim and the Dunlendings.
The ancient Great Road, which once connected Gondor and Arnor, ran through the Gap, crossing the Isen at the Fords of Isen.
Access to the Gap was controlled by the fortress of Angrenost, or Isengard, which in the later Third Age was controlled by Saruman.
During the War of the Ring, the Fellowship of the Ring chose not to travel through the gap because they had learned Saruman was in league with Sauron, and instead passed through Moria, much to the frustration of Boromir. Having passed via the Gap safely on his way north to Rivendell, he proposed that turning back towards the Gap would be the best option after witnessing Moria's destruction.
The Rohirrim fought two battles against the Dunlendings and the Orcs of Saruman in the Gap, during the first of which Prince Théodred, son of Théoden, was mortally wounded.
Portrayal in adaptations
Video games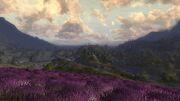 Translations
Foreign Language
Translated name
Afrikaans
Gaping van Rohan
Albanian
Hendeku i Rohanit
Arabic
فجوة روهان
Armenian
Գապ ոֆ Րոհան
Azerbaijani
Rohanın boşluğu
Basque
Rohango Hutsune
Belarusian Cyrillic
Разрыў Рохан
Bengali
রোহান এর শূন্যস্থান
Bosnian
Jaz Rohana
Bulgarian Cyrillic
Пропастта на Рохан
Catalan
Pas de Rohan
Chinese (Hong Kong)
洛汗之隘
Croatian
Jaz Rohana
Czech
Mezera Rohan
Danish
Rohanpasset
Dutch
Kloof van rohan
Esperanto
Breĉo de Rohan
Estonian
Rohani vahemik
Finnish
Rohanin aukko
French
Passe de Rohan
German
Pforte von Rohan
Georgian
როჰანის ნაპრალი
Greek
χάσμα του Ροηαν
Gujarati
રોહનનો ગેપ
Haitian Creole
Espas de Rohan
Hausa
Rata na Rohan
Hebrew
בקעת רוהאן
Hindi
रोहन का गैप
Hungarian
Rohan Kapuja
Indonesian
Celah Rohan
Italian
Breccia di Rohan
Irish Gaelic
Bearna de Rohan
Japanese
ローハンのギャップ
Kannada
ರೋಹನ್ ಗ್ಯಾಪ್
Laotian
ຊ່ອງຫວ່າງຂອງຣໂຮະນ
Latvian
Rohan Plaisa
Lithuanian
Rohano spraga
Macedonian Cyrillic
Јазот на Рохан
Maltese
Qasma ta ' Rohan
Marathi
रोहनचा गॅप
Mongolian Cyrillic
Рохан-ийн цонх
Norwegian
Rohansvelget (Werenskiold tr.)
Rohansgapet (Bugge Høverstad tr.)
Persian
گذرگاه روهان
Polish
Szczelina Rohanu
Portuguese (Brazil)
Desfiladeiro de Rohan
Punjabi
ਰੋਹਨ ਦੇ ਪਾੜੇ
Romanian
Decalaj de Rohan
Samoan
Va o Rohan
Serbian
Рохански Пролаз (Cyrillic) Rohanski Prolaz (Latin)
Sinhalese
රොහාන් ගැප්
Slovak
Medzera Rohana
Slovenian
Vrzel Rohan
Somalian
Faraqa ee Rohan
Spanish
Paso de Rohan
Swahili
Pengo la Rohan
Swedish
Gapet i Rohan
Tajik Cyrillic
Холигии Роҳан
Tamil
ரோஹன் இடைவெளியை
Telugu
రోహన్ గ్యాప్
Turkish
Rohan'ın boşluk
Ukrainian Cyrillic
Розрив Рогана
Urdu
روہان کے درمیان فرق ?
Uzbek
Роҳаннинг ёриқ (Cyrillic) Rohanning yoriq (Latin)
Welsh
Bwlch o Rohan
Yiddish
ריס פון ראָהאַן
Yoruba
Aafo ti Rohan
References
Community content is available under
CC-BY-SA
unless otherwise noted.