She-Hulk Trailer Dropped - The Loop
Play Sound
The area of Forodwaith that lay north of Eriador was known as Forochel, together with the great bay and cape which carried the same name. This area roughly corresponded with the area where the Blue Mountains and the Iron Mountains once met.[1]
History
It is speculated in The Atlas of Middle-earth that the ancient stronghold of Morgoth, Utumno, was once located in Forochel, although this is not necessarily canonical. Forochel was inhabited by a tribe of brown skinned people called the Lossoth, or Snowmen. The chief of these tribes sheltered the Arthedain king Arvedui for a time and was given the Ring of Barahir as a reward.[2]
Etymology
Forochel is a Sindarin word that meant 'North-ice'.[3]
Appearances in adaptations
Role playing games
Forochel and the regions surrounding the Icebay of Forochel are the subject of an extensive Middle-earth Role Playing publication, The Northern Waste.
Video games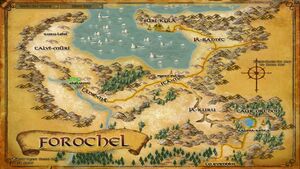 The area surrounding the Icebay of Forochel is among the regions fleshed out in The Lord of the Rings Online. The lands around and between Lossoth settlements are available for exploration and adventuring.
Translations
| | |
| --- | --- |
| Foreign Language | Translated name |
| Amharic | ፎሮችሀል |
| Arabic | فوروچهيل |
| Armenian | Ֆորոճել |
| Belarusian Cyrillic | Форохель |
| Bengali | ফরছিল |
| Bulgarian Cyrillic | Форохел |
| Chinese (Simplified) | 福羅契爾 |
| Danish | Forochel (landområde) |
| Georgian | ფოროჩელი |
| Greek | Φοροχελ |
| Gujarati | ફોરહેલ |
| Hebrew | פורושהיל |
| Hindi | फ़ोरोछेल |
| Japanese | フォロヘル |
| Kazakh | Фороцһел (Cyrillic) Forochel (Latin) |
| Korean | 포로 첼 |
| Kyrgyz Cyrillic | Фороцhэл ? |
| Macedonian Cyrillic | Форочел |
| Marathi | फोोकेल |
| Mongolian Cyrillic | Форочэл |
| Nepalese | फ़ोरोछेल |
| Russian | Форохел |
| Serbian | Фороцхел (Cyrillic) Forochel (Latin) |
| Sinhalese | ෆොරොඡෙල් |
| Tajik Cyrillic | Форочҳел |
| Tamil | போரோச்செல் |
| Telugu | ఫోరోచెల్ |
| Ukrainian Cyrillic | Форочел |
| Urdu | فوروچال |
| Uzbek | Форочел (Cyrillic) Forochel (Latin) |
| Yiddish | פאָראָטשעל |
References