Wiki Targeted (Entertainment)
Play Sound

Fangorn Forest was a forest beneath the southeastern flank of the Misty Mountains.
It was known for being the last habitation of the Ents and Huorns. It was named after the oldest Ent, Fangorn (Treebeard). It is also called Entwood by the Rohirrim.
History
Fangorn Forest was actually just the easternmost survivor of the immense forest that spanned all of Eriador and Calenardhon in the First Age and early Second Age, but which was destroyed by the Númenóreans felling trees to build their mighty ships and Sauron's war on the Elves. Fangorn forest was the oldest part of Treebeard's realm, and to here the Ents retreated.
Third Age
On the late February of TA 3019,[2] Meriadoc Brandybuck and Peregrin Took escaped from the Orcs that captured them and met Treebeard.[3] They persuaded him of the danger that Saruman posed to the Ents and their forest. The Ents took council and agreed to march against Isengard. Huorns were sent to Helm's Deep to assist in the Battle of the Hornburg.[4]
On March 1, TA 3019,[2] Aragorn, Legolas, and Gimli entered the forest and encountered the White Rider, whom they believed to be Saruman, but was in fact Gandalf returned from his battle at Khazad-dum.[5] After the War of the Ring, Legolas took Gimli on a trip to the forest to see its wonders.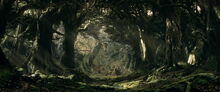 Etymology
The name Fangorn means "Treebeard", from the Sindarin fang ("beard") and orn ("tree").[6] The Rohirric Entwood comes from the Old English Entwudu, from wudu ("wood").[7]
The Quenya embellishment of Fangorn Forest was Ambaróna.[1]
Translations
| | |
| --- | --- |
| Foreign Language | Translated name |
| Afrikaans | Fangorn Bos |
| Albanian | Pyll Fangorn |
| Amharic | ፋንጎርን ጫካ |
| Arabic | غابة فانغورن |
| Armenian | Ֆանգորն անտառը |
| Azerbaijani | Fangorn meşəsi |
| Basque | Fangorn basoa |
| Belarusian Cyrillic | Фангорн лес |
| Bengali | ফানগরন ফরেস্ট |
| Bosnian | Fangorn šuma |
| Bulgarian Cyrillic | Ветроклин гора |
| Catalan | Fàngorn bosc |
| Cebuano | Lasang sa Fangorn |
| Chinese (Hong Kong) | 法貢森林 |
| Cornish | koos Fangorn |
| Croatian | Fangorn šuma |
| Czech | Fangornský les |
| Danish | Fangorn-skoven |
| Dutch | Fangorn Bos |
| Esperanto | Fangorn Arbaro |
| Estonian | Fangorn mets |
| Filipino | Fangorn Kagubatan |
| Finnish | Fangornin metsä |
| French | Forêt de Fangorn |
| Frisian | Fangorn Bosk |
| Galician | Bosque Fangorn |
| Georgian | ფანგორნის ტყე |
| German | Fangornwald |
| Greek | Δάσος Φανγορν |
| Gujarati | ફેંગોર્ન જંગલ |
| Haitian Creole | Fangorn Forè |
| Hawaiian | Fangorn Nahele |
| Hebrew | יער פנגורן |
| Hindi | फेंगर्न फ़ॉरेस्ट |
| Hmong | Fangorn hav zoov |
| Hungarian | Fangorn Erdő |
| Icelandic | Fangorn Skógur |
| Indonesian | Fangorn Hutan |
| Irish Gaelic | Foraoise Fangorn |
| Italian | Foresta di Fangorn |
| Japanese | ファンゴンフォレスト |
| Kannada | ಫಾನ್ಗೊರ್ನ್ ಕಾಡಿನಲ್ಲಿ |
| Kazakh Cyrillic | Фангорн орманы |
| Korean | 판고 른 숲 |
| Kurdish | Daristan Fangorn (Latin) |
| Kyrgyz Cyrillic | Фангорн токой |
| Latin | Fangorn silvam |
| Latvian | Fangorna mežs |
| Lithuanian | Fangorn miškas |
| Luxembourgish | Fangorn Bësch |
| Macedonian Cyrillic | Фангорн Шума |
| Malaysian | Hutan Fangorn |
| Maltese | Foresti Fangorn |
| Manx | Fangorn keyll |
| Maori | Ngahere Fangorn |
| Marathi | फँगोर्न फॉरेस्ट |
| Mongolian Cyrillic | Фангорн Ой |
| Nepalese | फ़ङोर्न वन |
| Norwegian | Fangorn Skog |
| Pashto | د فنګورن ځنګل |
| Persian | جنگل فنگورن |
| Polish | Las Fangorn |
| Portuguese (Brazil) | Floresta de Fangorn |
| Punjabi | ਫਗੋਰਨ ਜੰਗਲ |
| Romanian | Pădurea Fangorn |
| Romansh | guaud Fangorn ? |
| Russian | Фангорн лес |
| Scottish Gaelic | Fangorn Coille |
| Serbian | Шума Фангорн (Cyrillic) Šuma Fangorn (Latin) |
| Sindhi | فنگورن ٻيلو |
| Sinhalese | ෆෑන්ගර් වනාන්තරය |
| Slovak | Fangorn les |
| Slovenian | Fangornski gozd |
| Somalian | Kaynta Fangorn |
| Spanish | Bosque de Fangorn |
| Swahili | Msitu wa Fangorn |
| Swedish | Fangorn Skog |
| Tajik Cyrillic | Фангорн љангал |
| Tamil | பாங்கோர்ன் காடு |
| Telugu | ఫాంగాన్ అటవీ |
| Thai | ป่าฟังกอร์น |
| Turkish | Fangorn Ormanı |
| Ukrainian Cyrillic | Фангорн Ліс |
| Uzbek | Фангорн ўрмони (Cyrillic) Fangorn o'rmoni (Latin) |
| Vietnamese | Rừng Fangorn |
| Welsh | Coedwig Fangorn |
| Yiddish | פאַנגאָרן וואַלד |
| Yoruba | Fangorn Igbo |
| Zulu | Ihlathi laseFangorn |
References