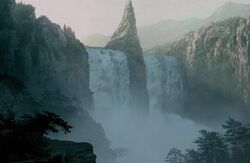 The Falls of Rauros, also simply referred to as Rauros, were the great falls of the River Anduin at which the river fell from the Nen Hithoel into the wetland of Nindalf. The hill and island of Tol Brandir stood in the middle of the falls.
History
At the breaking of the Fellowship of the Ring, Frodo and Sam paddled a boat from the west bank of the river to the east just above the falls and had to use all their strength to avoid being swept over the falls by the current.[1] Shortly afterward Boromir's body was placed in another boat by Aragorn, Legolas and Gimli who sent it over the falls, but it apparently survived the fall.[2]
A stair was built below Amon Hen by the Men of Gondor, allowing for passage down to the river below the falls.
Translations
Foreign Language
Translated name
Afrikaans
Watervalle van Rauros
Albanian
Ujëvarat e Rauros
Amharic
ራኡሮስ ፏፏቴዎች
Arabic
شلالات راوروس
Aragonese
Cataractas d'o Rauros
Armenian
Ջրվեժներըի Րաւրոս
Asturian
Catarates de Rauros
Azerbaijani
Rauros şəlalələr
Belarusian Cyrillic
Вадаспад Раурос
Bengali
রাউরোস জলপ্রপাত
Bosnian
Vodopad Rauros
Breton
Lammoù-dour Rauros
Bulgarian Cyrillic
Водопадите Раурос
Catalan
Cascades de Rauros
Croatian
Slapovi Rauros
Czech
Raurosské vodopády
Danish
Rauros Vandfaldet ("brølende skumsprøjt")
Dutch
Watervallen van Rauros
Esperanto
Rauros Akvofalaro
Estonian
Rauros juga
Faroese
Raurosfossur
Finnish
Raurosin putoukset
French
Chutes du Rauros
Frisian
Wetterfallen fan Rauros (Western)
Galician
Cataratas do Rauros
Georgian
რაუროსი ჩანჩქერები
German
Rauros-Fälle
Greek
Καταράκτες του Ράουρος
Gujarati
રૌરોસ ધોધ
Hawaiian
Wailele 'o Rauros
Hebrew
מפלי ראורוס
Hindi
रौरोस जल प्रपात
Hungarian
Rauros-vízesés
Icelandic
Rauros-fossar
Indonesian
Air terjun Rauros
Irish Gaelic
Eas Rauros
Italian
Cascate di Rauros
Japanese
ラウロスの滝
Javanese
Grojogan Rauros
Kannada
ರೌರೋಸ್ ಜಲಪಾತ
Kazakh
Раұрос сарқырамасы (Cyrillic) Rauros sarqıraması (Latin)
Korean
라우 로스 폭포
Kurdish
Avşara Rauros (Kurmanji)
Kyrgyz Cyrillic
Раурос шаркыратмасы
Latin
Aqua cadens Rauros
Latvian
Rauros ūdenskritumi
Lithuanian
Rauros krioklių
Luxembourgish
Raurosfäll
Macedonian Cyrillic
Раурос водопади
Malaysian
Air Terjun Rauros
Maltese
Kaskati ta 'Rauros
Manx
Eas Rauros
Marathi
राऊरोस धबधबा
Mongolian Cyrillic
Раурос хүрхрээ
Nepalese
राउरोस झरना
Norwegian
Raurosfossen
Persian
آبشار رائوروس
Polish
Wodospad Rauros
Portuguese
Cataratas de Rauros or Cachoeira de Rauros (Brazil)

Quedas do Rauros (Portugal)

Punjabi
ਰਾਉਰਸ ਝਰਨਾ
Romanian
Cascada Rauros
Russian
Водопад Раурос
Sanskrit
रौरोस् जलपातः
Sardinian
Ispèndulas de su Rauros
Scots
Faws o Rauros
Scottish Gaelic
Eas Rauros
Serbian
Раурос водопади (Cyrillic) Rauros vodopadi (Latin)
Shona
Mapopoma eRauros
Sicilian
Cascati dû Rauros
Sinhalese
රවුරෝස් දිය ඇල්ලයි
Slovak
Raurosské vodopády
Slovenian
Raurosski slapovi
Spanish (Spain and Latin America)
Cataratas de Rauros
Swahili
Maporomoko ya Rauros
Swedish
Raurosfallet
Tagalog
Talon ng Rauros
Tajik Cyrillic
Шаршараи Раурос
Tamil
ராவுரோஸ் அருவி
Telugu
రౌరోస్ జలపాతం
Thai
น้ำตกเรารอส
Turkish
Rauros Şelaleri
Urdu
راؤروس آبشار
Uzbek
Раурос шаршараси (Cyrillic) Rauros sharsharasi (Latin)
Vietnamese
Thác Rauros
Walloon
Ertcheutes do Rauros
Welsh
Raeadrau Rauros
Yiddish
פאלס פון ראַוראָס
Zazaki
Çırê Rauros
References