!
Non-Canon Alert!
The subject of this article or section originates from non-canonical sources. To find out about what is considered "canon" see LOTR:Canon.
!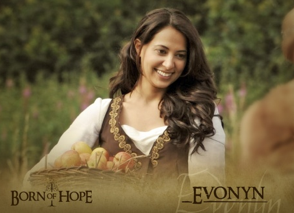 Evonyn was a character created in the movie Born of Hope directed by Kate Madison. Evonyn played a small role as the mother of Halbarad. She was also the wife of Halboron, who was also created in Born of Hope. When a girl named Maia's village was attacked, her people fled north. Evonyn adopted Maia.
Notable Features:
Clothing: White dress with a brown apron, apron has a snow-flake shaped star
Eye color: Brown
Hair color: Brownish black
Skin tone: Brown
Fate: Not known - may have been an elderly lady during the War of the Ring.
References