Cobra Kai Season 4 - The Loop
Play Sound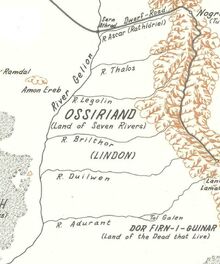 Duilwen was one of the seven rivers of Ossiriand in Beleriand during the First Age.
The Duilwen began from the Blue Mountains and was one of the six tributaries of the great river Gelion. It lay between the two other rivers of Ossiriand: Brilthor and Adurant. According to Karen Wynn Fonstad's The Atlas of Middle-earth, it was nearly one-hundred and fifty miles in length.[1]
Etymology
Duilwen meant 'Fresh river' in Sindarin.[2]
Translations
| | |
| --- | --- |
| Foreign Language | Translated name |
| Arabic | دويلوين ? |
| Armenian | Դուիլւեն |
| Belarusian Cyrillic | Дуілвен |
| Bulgarian Cyrillic | Дуилвен |
| Chinese (Hong Kong) | 杜伊爾溫河 |
| Danish | Duilwenfloden |
| Dari | دویل ون |
| Georgian | დუილვენი |
| Greek | Δοιουεν |
| Gujarati | ડુઇલ્વેન |
| Hebrew | דואילוון |
| Hindi | डुइल्वेन |
| Japanese | ドゥイルウェン |
| Kazakh | Дюилвон (Cyrillic) Dyuïlvon (Latin) |
| Kyrgyz Cyrillic | Дуилwэн |
| Macedonian Cyrillic | Дуилwен |
| Marathi | डुवेलवेन |
| Mongolian Cyrillic | Дуилүен |
| Nepalese | डुइल्वेन |
| Pashto | ضویلوېن ? |
| Persian | ضدویل‌ون |
| Polish | Duilwena |
| Punjabi | ਡੁਇਲ੍ਵੇਨ |
| Russian | Дуилвен |
| Sanskrit | डुइल्वेन् |
| Serbian | Дуилвен (Cyrillic) Duilwen (Latin) |
| Sinhalese | ඩුවිල්වන් |
| Tajik Cyrillic | Дӯилвен |
| Telugu | డ్యూయిల్వెన్ |
| Ukrainian Cyrillic | Дюльвен |
| Urdu | دوالوان ? |
| Uzbek | Дуилwен (Cyrillic) Duilwen (Latin) |
| Yiddish | דוילווען |
References