We're Getting Mutants in the MCU - The Loop
Play Sound
The Dragon-helm of Dor-lómin, also known as the Dragon of Dor-lómin, Dragon-head of the North, and the Helm of Hador[1], was a formidable Dwarven war helmet from the First Age. It was most notably associated with Túrin.
Description
The appearance of the helm was magnificent; it was adorned with gold on the background of grey steel. At the top of the helm, the armor bore the sculpture of the dragon Glaurung, The Deceiver. The helm also had a visor "in the style of most dwarven armor." The armor struck fear into the hearts of the enemies of the wearer.
History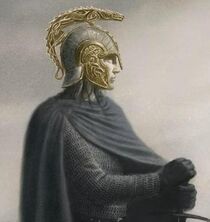 The Dragon-helm was crafted by the Dwarf-smith Telchar of Nogrod for the lord of Belegost, Azaghâl. Azaghâl then gave it to Maedhros as a gift, who eventually passed it on to Fingon. From then on, it remained in the keeping of the High Kings of the Ñoldor, who then passed it on to the House of Hador.
The helm was given to Túrin Turambar sometime between FA 463 and FA 473 by his foster father, Thingol, who had received it from Túrin's mother, Morwen.[2] As Túrin's father Húrin was of lesser stature than his ancestors, he could not wear the helm in battle; therefore, the helm was not captured with him in the Nírnaeth Arnoediad.
Túrin, however, was of greater stature than his father and was able to unlock the magical properties of the ancient helm. It had the ability to protect the wearer from any harm or wound, major or minor: "A power was in it that guarded any who wore it from wound or death, for the sword that hewed it was broken, and the dart that smote it sprang aside."[citation needed]
Translations
| | |
| --- | --- |
| Foreign Language | Translated name |
| Afrikaans | Draak-helm van Dor-lómin |
| Albanian | Drago-helmet of Dor-lómin |
| Arabic | التنين-خوذه دور-لومين |
| Armenian | Դոր-լոմին վիշապ-սաղավարտ |
| Azerbaijani | Dor-lómin əjdahalı başı |
| Basque | Dragoia kaskoa Dor-lómin |
| Belarusian Cyrillic | Цмок-каска Дор-ломін |
| Bengali | ডর-লোমেন এর ড্রাগন শিরস্ত্রাণ |
| Bosnian | Zmaj kacigu Dor-lómin |
| Bulgarian Cyrillic | Драконов шлем на Дор-ломин |
| Catalan | Drac-casc de Dor-lómin |
| Cebuano | Dragon-gahi nga kalo sa Dor-lómin |
| Croatian | Zmaj-kaciga Dor-lómin |
| Czech | Drak přilba Dor-lomina |
| Danish | Drage-hjelm af Dor-lómin |
| Dutch | Draak-helm van Dor-lómin |
| Esperanto | Drako-kasko de Dor-Lómin |
| Estonian | Dor-lómini Draakonkiiver |
| Filipino | Dragon-helmet ng Dor-lómin |
| Finnish | Dor-lóminin Lohikäärmekypäri |
| French | Heaume du Dragon de Dor-lómin |
| Frisian | Draakhelm fan Dor-lómin |
| Galician | Dragón-casco de Dor-lómin |
| Georgian | ძორ-ლომინ დრაკონი-მუზარადი |
| German | Drachenhelm von Dor-lómin |
| Greek | Δράκος-περικεφαλαία του Δορ-λομιν |
| Gujarati | ડોર-લોમિન ના ડ્રેગન-હેલ્મેટ |
| Haitian Creole | Dragon-kas de Dòr-lómin |
| Hebrew | דרקון-הלם של דור-לומין |
| Hindi | डोर-लोमैन के ड्रैगन-हेलमेट |
| Hungarian | Dor-lómin sárkánysisak |
| Icelandic | Dreki-hjálm af Dor-lómin |
| Indonesian | Naga helm dari of Dor-lómin |
| Irish Gaelic | Dragan-clogad de Dor-lómin |
| Italian | Elmo-Drago del Dor-lómin |
| Japanese | ドル・どみんドラゴンのヘルメット |
| Javanese | Daga-hèlm Dor-lómin |
| Kannada | ಡೊರ್-ಲೊಮಿನ್ನ ಡ್ರಾಗನ್-ಹೆಲ್ಮ್ |
| Kurdish | Ejdeha-serparêz ji Dor-lómin (Latin) |
| Latin | Draco galeam de Dor-lómin |
| Latvian | Dor-lómin Pūķis Ķivere |
| Lithuanian | Drakonas-šalmas Dor-lómine |
| Luxembourgish | Draach-Helm vun Dor-lómin |
| Macedonian Cyrillic | Змеј-шлем на Дор-Ломин |
| Marathi | दोर-लोमिन ड्रॅगन-हेल्म |
| Mongolian Cyrillic | Дор-ломинын малгай-луу ? |
| Nepalese | डोरॢओमिन को ड्रागन-टोप |
| Norwegian | Dragehjelm av Dor-lómin |
| Persian | کلاه‌خود اژدهای دور-لومین |
| Pashto | ښامار-هیلمټ د ضور-لومین |
| Polish | Smoczy Hełm z Dor-lóminu |
| Portuguese | Dragão-capacete de Dor-lómin |
| Punjabi | ਡੋਰ-ਲੋਮੈਨ ਦਾ ਡਰੈਗਨ ਹੇਲਮ |
| Romanian | Dragonul-coif de Dor-lómin |
| Russian | Драконий шлем Дор-ломина |
| Samoan | Tarako-foeuli o Dor-lómin |
| Scottish Gaelic | Nathrach-clogad de Dor-lómin |
| Serbian | Змај-кацига Дор-ломин (Cyrillic) Zmaj-kaciga Dor-lómin (Latin) |
| Slovak | Dračí prilba Dor-lómin |
| Slovenian | Zmaj-čelada Dor-lomin |
| Somalian | Bahal xajmi leh-kullad ee Dor-lómin |
| Spanish | El casco de Dragón de Dor-lómin |
| Swedish | Dor-lómins Drakhjälm |
| Tajik Cyrillic | Аждаҳо-тоскулоҳ Дор-ломин |
| Tamil | டொர்-லொமிந் டிராகன்-ஹெல்மெட் |
| Telugu | డొరౡఒమిన యొక్క డ్రాగన్-హెల్మ్ |
| Turkish | Dor-lómin'in Ejder-kask |
| Ukrainian Cyrillic | Дракон-керм Дор-Ломін |
| Urdu | اژدہا-ہیلمیٹ کا ضورءلومین |
| Uzbek | Аждаҳо-дубулғаси Дор-ломин (Cyrillic) Ajdaho-dubulg'asi Dor-lomin (Latin) |
| Vietnamese | Con Rồng-mũ bảo hiểm của Dor-lómin |
| Welsh | Draig-llyw o Dor-lómin |
| Xhosa | Inyoka-helmetshi Dor-lómin |
| Yiddish | דראַגאָן-רודער פון דאָר-לóמין |
Gallery
Depiction of the helmet by
GTMais
References