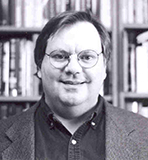 Douglas Anderson, or Douglas Allen Anderson (b. 1959), is an editor and author who specializes in Medieval and fantasy literature.
He wrote The Annotated Hobbit in 1988, to outline the specific changes and revisions that J.R.R. Tolkien made to both the The Hobbit and The Lord of the Rings before his death. His book won an award from the Mythopoeic Society. He published a revised edition of his book in 2002. Later in 1993, he authored J.R.R. Tolkien: A Descriptive Bibliography with Wayne G. Hammond - a book compiling all of Tolkien's published letters and books, his art, and all of his literary contributions.
Anderson has edited the works of other fantasy authors such as Leonard Cline, Kenneth Morris, and William Hope Hodgson. He currently is co-editor of the academic journal Tolkien Studies.
See also
External links
Community content is available under
CC-BY-SA
unless otherwise noted.