"So small a thing. Such a little thing!"


This article is a stub; please expand it if you can.
The Dome of Stars was a great beautiful dome built by Elendil in the city of Osgiliath, on top of a bridge that crossed the river Anduin.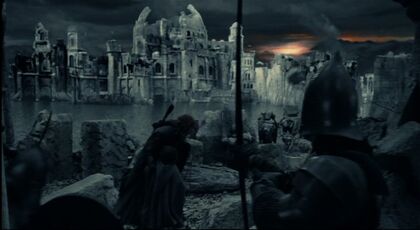 The Dome of Stars was destroyed when Castamir the Usurper ordered his men to ransack the city of Osgiliath, which was still Gondor's capital at the time, during the Kin-strife (a civil war that took place in Gondor).
The Palantír kept inside it was forever lost beneath surface of the the river Anduin. Osgiliath's Palantír had kept communication with the Ithil stone, Anor stone, the stones in the North and Isengard. Its use was halted when the Nazgûl took Minas Ithil and turned it into Minas Morgul, otherwise known as the "Tower of Black Sorcery".
Translations around the world
Edit
| | |
| --- | --- |
| Foreign Language | Translated name |
| Afrikaans | Koepel van Sterre |
| Arabic | قبة النجوم |
| Armenian | գմբեթը Աստղերի |
| Bosnian | Kupola od Zvijezda |
| Bulgarian Cyrillic | Купол на звездите |
| Burmese | ကြယ်၏အမိုးခုံး |
| Catalan | Cúpula d'estels |
| Chinese | 圆顶的星星 |
| Croatian | Kupola od Zvijezda |
| Czech | Kopule Hvězd |
| Danish | Kuppel af Stjerner |
| Dutch | Koepel van Sterren |
| Estonian | Kuppel Tärnide |
| Finnish | Tähtikupoli (Tähtien Kupoli) |
| French | Dôme D'étoiles |
| Georgian | ვარსკვლავოვანი გუმბათი |
| German | Sternenkuppel |
| Greek | Θόλο των αστεριών |
| Hebrew | כיפת הכוכבים |
| Hindi | सितारों का गुंबद |
| Hungarian | Kupola a Csillagok |
| Indonesian | Kubah Bintang |
| Irish Gaelic | Cruinneachán na Réaltaí |
| Italian | Cupola di Stelle |
| Japanese | 星のドーム |
| Kannada | ನಕ್ಷತ್ರಗಳ ಗುಮ್ಮಟ |
| Korean | 별의 돔 |
| Latvian | Kupols no Zvaigznes |
| Lithuanian | Žvaigždžių Kupolu |
| Malaysian | Kubah Bintang |
| Marathi | स्टार घुमट |
| Maltese | Il-koppla ta ' stilel |
| Nepalese | ताराहरु गुंबद |
| Norwegian | Kuppel av Stjerner |
| Pashto | د ستوري سرپوښ |
| Persian | گنبد ستاره |
| Polish | Kopuła Gwiazd |
| Portuguese | Cúpula de Estrelas |
| Punjabi | ਸਿਤਾਰੇ ਦੇ ਡੋਮ |
| Romanian | Cupola de Stele |
| Russian | Звёздный купол |
| Serbian | Доме оф Старс (Cyrillic) Kupola od Zvezda (Latin) |
| Slovak | Kopule Hviezd |
| Slovenian | Kupola od Zvezd |
| Spanish | Cúpula de estrellas |
| Swahili | Kuba ya Nyota |
| Swedish | Kupol av Stjärnor |
| Telugu | నక్షత్రాల గోపురం |
| Thai | โดมดาว |
| Tongan | Ko e tumu'aki fuopotopoto 'o e ngaahi fetu'u |
| Ukrainian Cyrillic | Купол зірок |
| Urdu | ستارے کے گنبد |
| Uzbek | Юлдузлар Гумбаз (Cyrillic) Yulduzlar Gumbaz (Latin) |
| Vietnamese | Các mái vòm của ngôi sao |
| Welsh | Dôm o Sêr |
| Yiddish | קופּאָל פון שטערן |