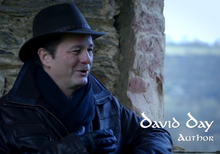 David Day (b. October 14, 1947 in Victoria, British Columbia) is a Canadian author of over forty books on poetry, natural history, ecology, mythology, fantasy, and children's literature. Internationally, he is best known for his literary criticism and interpretive publications on J.R.R. Tolkien and his works.
Biography
After finishing high school in Victoria, British Columbia, Day worked as a logger for five years on Vancouver Island before graduating from the University of Victoria. Subsequently he has travelled widely, most frequently to Greece and Britain. Day has published six books of poems for adults and ten illustrated children's books of fiction and poetry. His non-fiction books on natural history include The Doomsday Book of Animals (1981), Noah's Choice: True Stories of Extinction and Survival (1990), and most recently Nevermore: A Book of Hours - Meditations on Extinction (2012). His Doomsday Book became the basis for the 100-part animated-short TV series "Lost Animals of the 20th Century" in 1995/1996.
His books on environmental activism include The Whale War (1987) and Eco Wars: A Layman's Guide to the Ecology Movement (1989).
Day's best-selling books on the life and work of Tolkien, are: The Tolkien Bestiary (1978), The Tolkien Companion (1993), Tolkien's Ring (1994), The Hobbit Companion (2000), Tolkien: The Illustrated Encyclopedia (1992), The World of Tolkien (2003), and An Atlas of Tolkien (2015). Day's Tolkien's Ring was illustrated by award-winning artist Alan Lee, as were Castles (1984), The Animals Within (1984), Gothic (1986) and Quest For King Arthur (1996).
In 2014, Day appeared in the fourth episode of the French documentary Looking for the Hobbit, in which he meets John Howe. They tour locations in Rhineland-Palatinate, Germany to learn of the Nibelungenlied, one of the mythic roots of The Lord of the Rings.
External links
Community content is available under
CC-BY-SA
unless otherwise noted.