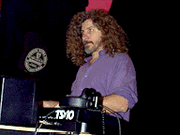 David Arkenstone is a genre-blending music composer and musician. He is predominantly known for his New Age music. His music is primarily instrumental in nature, with some vocalizations by Arkenstone and others.
Uniquely, Arkenstone often includes a story and a map to follow along with his music.
His name was inspired by the Arkenstone, found in The Hobbit.
Music Inspired By Middle Earth
Music Inspired By Middle Earth was released in 2001. Arkenstone composed the music around his inspirations from the works of Tolkien.
Track Listing
"Prelude: Hobbits from the Shire" – 4:08
"The Road to Rivendell" – 3:39
"The Quest" – 5:28
"Moria" – 5:02
"Lothlórien" – 4:18
"Galadriel's Mirror" – 4:32
"The Riders of Rohan" – 4:24
"The Palantír" – 4:50
"Arwen and Aragorn" – 3:29
"To Isengard" – 4:25
"In the Land of Shadow" – 4:22
"The Field of Cormallen" – 3:33
"The Grey Havens" – 3:37
All tracks composed by Diane and David Arkenstone
Quotes
"It is sometimes difficult to categorize my music and ("Cinematic new age rock") is a term I can live with."
"I enjoy bringing many different influences together in my music. World music, classical rock, and new age are some of the styles I draw from and enjoy weaving into an entertaining and adventurous whole."
"I have always loved the sound of the orchestra. Now I believe I have refined a wonderful blend combining the best elements of the acoustic world, with the electronic world."
External Link
Community content is available under
CC-BY-SA
unless otherwise noted.