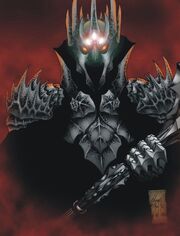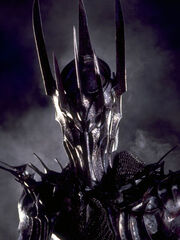 Dark Lord was the title of the two most powerful evil overlords in the world of Arda, each of whom worked to take control of all Middle-earth for themselves and enslave the Free Peoples.
Description
Edit
That which they could not control, they sought to destroy. The first and greater Dark Lord was the Vala first known as Melkor and then as Morgoth. The second and lesser Dark Lord was the Maia, and former lieutenant of Morgoth known as Sauron. Both Dark Lords were very influential in the history of Middle-earth, waging numerous wars against the Valar, the Elves, and a few select groups of Men. Their actions, especially those of Morgoth, had a permanent negative impact on the world, as the Dark Lords both destroyed many beautiful things and places, and caused untold anguish and grief. Eventually both Dark Lords were overthrown and defeated; Melkor was cast into the Void at the end of the First Age by his brethren, and Sauron was permanently defeated at the end of the Third Age by Frodo Baggins with the aid of Samwise Gamgee and Gollum, when they cast the One Ring into Mount Doom and robbed Sauron of most of his power.
Behind the scenes
Edit
"Dark Lords" became something of a cliché in fantasy and science fiction novels and other media following the success of J.R.R. Tolkien's The Lord of the Rings with the Dark Lord Sauron.
Later in The Silmarillion it is revealed that Sauron was the second Dark Lord and that the first was Morgoth with Sauron actually being a servant of Morgoth. When Morgoth fell, Sauron took up his throne of influence and vowed to complete what his master initiated.
See also
Edit
Translations around the world
Edit
| | |
| --- | --- |
| Foreign Language | Translated name |
| Afrikaans | Donker Heer |
| Albanian | Zoti Errët |
| Amharic | ደማቅ ጌታ |
| Arabic | سيد الظلام |
| Armenian | մութ տեր |
| Azerbaijani | Qaranlıq Hökmdar |
| Basque | Ilun Jauna |
| Belarusian Cyrillic | цёмны Лорд |
| Bengali | ডার্ক লর্ড |
| Bosnian | Gospodar Tame |
| Bulgarian Cyrillic | Тъмен лорд |
| Cambodian | ព្រះអម្ចាស់ងងឹត |
| Catalan | Senyor Fosc |
| Cebuano | Mangitngit nga Ginoo |
| Chinese | 黑暗领主 |
| Cornish | Arlodh Tewal |
| Croatian | Mračni Gospodar |
| Czech | Temný pán |
| Danish | Mørk Herre |
| Dutch | Donkere Heer |
| Esperanto | Malluma Sinjoro |
| Estonian | Tume Isand |
| Faroese | Myrkt Harra |
| Fijian | Turaga ni butobuto |
| Filipino | Madilim Panginoon |
| Finnish | Musta Ruhtinas |
| French | Seigneur des Ténèbres |
| Frisian | Tsjustere Hear |
| Galician | Lorde Escuro |
| Georgian | ბნელი ბატონი |
| German | Dunkler Herrscher |
| Greek | Σκοτεινός Άρχοντας |
| Gujarati | ડાર્ક ભગવાન |
| Haitian Creole | Fènwa Seyè a |
| Hebrew | אדון האופל |
| Hindi | अंधेरे प्रभु |
| Hmong | Tsaus Tswv |
| Hungarian | Sötét Nagyúr |
| Icelandic | Myrkur Lávarður |
| Indonesian | Penguasa kegelapan |
| Irish Gaelic | Tiarna Dorcha |
| Italian | Signore Oscuro |
| Japanese | ダークロード |
| Kannada | ಡಾರ್ಕ್ ಲಾರ್ಡ್ |
| Kapampangan | Matuling a Ginu |
| Kazakh Cyrillic | қараңғы Лорд (Cyrillic) Qarañğı lord (Latin) |
| Korean | 다크로드 |
| Kurdish | Tarî Xudan (Kurmanji Kurdish) |
| Kyrgyz Cyrillic | караңгы лорд |
| Latvian | Tumsas pavēlnieks |
| Lithuanian | Tamsos Valdovas |
| Luxembourgish | Donkel Här |
| Macedonian Cyrillic | Темен Господар |
| Malayalam | ഇരുണ്ട രക്ഷിതാവ് |
| Manx | Hiarn Dorraghey |
| Marathi | गडद स्वामी |
| Mongolian Cyrillic | Харанхуй Эзэн |
| Nepalese | गाढा प्रभु |
| Northern Sami | Seavdnjat Isit |
| Norwegian | Mørk Herre |
| Old English | Deorc Hlāford |
| Pashto | تياره رب |
| Persian | ارباب تاریکی |
| Polish | Czarny Pan |
| Portuguese | Senhor das Trevas |
| Punjabi | ਹਨੇਰੇ ਨੂੰ ਪ੍ਰਭੂ |
| Romanian | Lordul Întunecat (Seniorul Întunecimii) |
| Romansh | Stgir Dumagnar ? |
| Russian | Тёмный Властелин |
| Samoan | Pogisa Alii |
| Sanskrit | डेरिका नाथ ? |
| Scottish Gaelic | Dorcha Thighearn |
| Serbian | Тамни владар (Cyrillic) Gospodar tame (Latin) |
| Sesotho | Morena Lefifi |
| Sindhi | اونداهي پالڻھار |
| Sinhalese | අඳුරු ස්වාමීන් |
| Slovak | Temný pán |
| Slovenian | Temni gospodar |
| Somalian | Mugdi ah Rabbiga |
| Spanish | Señor Oscuro |
| Sundanese | Poék Gusti |
| Swahili | Giza Bwana |
| Swedish | Mörk Herre |
| Tahitian | Fatu i te pouri |
| Tajik Cyrillic | торик Худованд |
| Tamil | இருண்ட ஆண்டவன் |
| Tatar | караңгы хуҗа ? |
| Telugu | డార్క్ లార్డ్ |
| Thai | เจ้าแห่งศาสตร์มืด |
| Turkish | Karanlık Efendi |
| Ukrainian Cyrillic | Темний лорд |
| Urdu | گہرا رب |
| Uzbek | Қоронғи ҳазратлари (Cyrillic) Qorong'i hazratlari (Latin) |
| Vietnamese | Chúa tể bóng tối |
| Welsh | Arglwydd tywyll |
| Xhosa | Ebumnyameni Nkosi |
| Yiddish | דאַרק האר |
| Yoruba | Dudu Oluwa |