Spider-Man: No Way Home Trailer Dropped - The Loop
Play Sound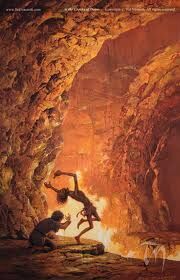 The Cracks of Doom was the name given to the volcanic fissure in Mount Doom, where Frodo Baggins had to throw the One Ring into to be destroyed. It was the only place in Middle-earth where the One Ring could be destroyed.
History
This place is described in The Return of the King as a great fissure boring a large tunnel down into Mount Doom. From the Crack of Doom, a red light, presumably from lava, was emitted. The red glow was the only light in the cavern, as even the Phial of Galadriel was dimmed by the power of Sauron in the heart of his realm. There was a road leading from Barad-dûr to the Crack of Doom.
Frodo claimed the One Ring here; he and Gollum fought over it. Gollum subsequently fell into the Crack itself with the ring, thus completing the Fellowship of the Ring's quest.[1]
Portrayal in adaptations
Peter Jackson's The Fellowship of the Ring
In The Lord of the Rings: The Fellowship of the Ring film, Elrond leads Isildur to the Crack of Doom to destroy the One Ring immediately after it is cut from Sauron's hand, but Isildur refuses and takes the ring for himself. It appears as a doorway with a long bridge that ends with a narrow cliff, to where the lava falls.
Translations
| | |
| --- | --- |
| Foreign Language | Translated name |
| Afrikaans | Krake van Straf |
| Albanian | Çarje e Dënim |
| Arabic | شقوق الموت |
| Armenian | Ծրածկս ոֆ Դոոմ |
| Azerbaijani | Apokalipsis çatlar |
| Belarusian Cyrillic | Расколіны кобі |
| Bengali | ক্র্যাকস অফ ডুম |
| Bosnian | Pukotine kobi |
| Bulgarian Cyrillic | Пукнатини на съдбата |
| Cambodian | បំបែកនៃសេចក្ដីវិនាស |
| Catalan | Esquerdes del Destí |
| Cebuano | Liki sa Kalaglagan |
| Chichewa | Ming'alu ya Kiyama |
| Chinese | 裂缝的厄运 |
| Corsican | Scrusciri di Andantino ? |
| Croatian | Napukline kobi |
| Czech | Pukliny osudu |
| Danish | Dommedagsspalterne |
| Dutch | Scheuren van Doom |
| Esperanto | Fendoj de Fatalo |
| Filipino | Bitak ng Tadhana |
| Finnish | Tuhon Halkeamat |
| French | Crevasse du Destin |
| Frisian | Scheuren fan Doom |
| Galician | Fendas do Destino |
| German | Schicksalsklüfte |
| Greek | Ρωγμές της μοίρας |
| Gujarati | ડૂમ તિરાડો |
| Hebrew | גיא האבדון |
| Hindi | विनाश की दरारें |
| Hmong | Kab nrib pleb uas Doom |
| Hungarian | Repedések a Végzet |
| Indonesian | Retak Kiamat |
| Italian | Voragine del Fato |
| Irish Gaelic | Scoilteanna na Seirbigh |
| Japanese | 運命の亀裂 |
| Javanese | Retak Siksa |
| Kannada | ಡೂಮ್ ಬಿರುಕುಗಳು |
| Korean | 운명의 균열 |
| Kurdish | Qulikên Qutên (Kurmanji Kurdish) |
| Kyrgyz Cyrillic | алаамат толтурулган жаракалар |
| Latvian | Nosodījuma plaisas |
| Lithuanian | Įtrūkimai Bausmė |
| Macedonian Cyrillic | Пукнатини на несреќата |
| Malayalam | ഡൂം വിഭജനം |
| Mongolian Cyrillic | Зөгнөлийн хагарал |
| Nepalese | डूम क्र्याक्स |
| Norwegian | Sprekker av Undergang |
| Pashto | د عذاب درزونه |
| Persian | ترک رستاخیز |
| Polish | Szczeliny Zagłady |
| Portuguese (Brazil) | Fendas da Perdição |
| Romanian | Crapaturi de Doom |
| Russian | Трещины гибели |
| Scottish Gaelic | Sgoltaidhean de Bhite |
| Serbian | Пукотине пропасти (Cyrillic) Pukotine propasti (Latin) |
| Slovak | Trhliny skazy |
| Slovenian | Razpoke obsodba |
| Spanish (Spain and Latin America) | Grietas del Destino |
| Sundanese | Retakan tina Doom |
| Swahili | Nyufa wa Adhabu |
| Swedish | Sprickor av Doom |
| Thai | รอยร้าวของการลงโทษ |
| Tajik Cyrillic | Тарқишҳои аз ҷазоро |
| Tamil | டூம் விரிசல் |
| Tatar | Апокалиптик ярыклар |
| Telugu | డూమ్ యొక్క పగుళ్లు |
| Turkish | Kıyamet çatlaklar |
| Turkmen | Apokaliptik çatryklar |
| Ukrainian Cyrillic | Тріщини приреченості |
| Urdu | عذاب کی درار |
| Uzbek | Қиёмат Йориқлар (Cyrillic) Qiyomat Yoriqlar (Latin) |
| Welsh | Craciau o Doom |
| Xhosa | Iintanda Kutshatyalaliswa |
| Yiddish | קראַקקס פון דום |
| Yoruba | Dojuijako ti Ìparun |
| Yucatec Maya | Grietas u Doom |
References