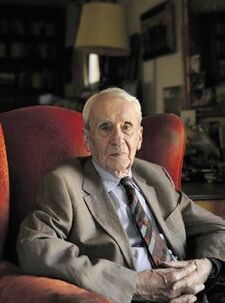 Christopher Reuel Tolkien (November 21, 1924 - January 16, 2020) was best known as the son of author J.R.R. Tolkien, and as the editor of much of his father's posthumously published work. He drew the original maps for his father's The Lord of the Rings (which he signed C. J. R. T. - the J. for John, a baptismal name he does not ordinarily use).
On August 31st, 2017, he resigned as long-time owner and a director of the Tolkien Estate Limited[1][2], but remained his father's literary executor.
Biography
Chistopher Tolkien was born in Leeds, England, the third son of J.R.R. Tolkien. He was educated at the Dragon School in Oxford and then at the Oratory School. During World War II, he served as a pilot in the Royal Air Force, after which he read English at Oxford University.
Young Christopher had long been part of the critical audience for his father's fiction, first as a child listening to tales of Bilbo Baggins, and then as a teenager and young adult offering much feedback on The Lord of the Rings during its fifteen-year gestation. Christopher himself had the task of interpreting his father's sometimes self-contradictory maps of Middle-earth in order to produce the versions used in the books. Christopher re-drew the main map in the late 1970's to clarify the lettering and correct some errors and omissions. He appointed Stephen Raw to assist in the map presentation for one of the releases of the trilogy.
He followed in his father's footsteps in academia, becoming a lecturer and tutor in English language at New College, Oxford in 1964, until 1975.
His father had written a great deal of material on Middle-earth mythos that was not published in his lifetime; although he had originally intended to publish The Silmarillion along with The Lord of the Rings, and parts of it were in a finished state - he died in 1973 with the project unfinished. And so, Christopher then embarked on organizing the masses of his father's notes, some of them written on odd scraps of paper a half-century earlier. Much of the material was handwritten, frequently a fair draft was written over a half-erased first draft, and names of characters routinely changed between the beginning and end of the same draft. Deciphering this was an arduous task, and perhaps only someone with personal experience of J.R.R. and the evolution of his stories could have made any sense of it; even so, Christopher has admitted to having to occasionally guess at what his father intended.
Nevertheless, working with Guy Gavriel Kay, he was able to publish The Silmarillion in 1977. This was followed by Unfinished Tales in 1980, and then the twelve volumes of The History of Middle-earth between 1983 and 1996, and the three volumes of the Great Tales between 2007 and 2018. He also compiled The Monsters and the Critics and other essays, of his father's significant academic lectures given from the 1930's to the 1960's, in 1983.
A year before his resignation in 2017, Christopher Tolkien was given the Bodley Medal for his extensive labors on his father's writings, by the Bodleian Library in Oxford, the home to the majority of J.R.R. Tolkien's manuscripts and effects.[3]
His second wife, Baillie Tolkien, edited J. R. R.'s The Father Christmas Letters for posthumous publication.
His eldest son (from his first wife Faith), Simon Tolkien, is a barrister and novelist. His other children include Adam Reuel Tolkien, and Rachel Clare Reuel Tolkien.
Audiobooks
Christopher Tolkien has occasionally narrated portions of his father's literature.
1977 - J.R.R. Tolkien: The Silmarillion: Of Beren and Lúthien, of the chapter "Of Beren and Lúthien", distributed by New York: Caedmon Records (TC 1564)
1978 - J.R.R. Tolkien: Of the Darkening of Valinor, and Of the Flight of the Noldor, from The Silmarillion, dist. New York: Caedmon Records (TC 1579)
1992 - The Homecoming of Beorhtnoth Beorhthelm's Son, read by him and his father, dist. HarperCollins Audiobooks
2007: The Children of Húrin Audiobook, Preface and Introduction (story read by Christopher Lee), dist. HarperCollins Audiobooks
Portrayal in film
In the 2019 biographical film Tolkien, a young Christopher Tolkien is portrayed by English actor Jack Riley.
References
Community content is available under
CC-BY-SA
unless otherwise noted.