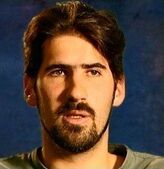 Christian Rivers (born 1974) is a New Zealand film director and visual effects artist, known for collaborating frequently with Peter Jackson, since the making of Braindead when Rivers was 17.
He joined Weta Workshop full-time in 1993 as a conceptual illustrator and creature designer.[1] For the production of Jackson's The Lord of the Rings film trilogy beginning in 1997, he was an art director of Weta Digital and supervisor of storyboards. Alongside Alan Lee and John Howe, Rivers and others made numerous concept sketches for creatures and places seen in the films. The final design of Grond was based on his drawings.[2]
In The Fellowship of the Ring film, Rivers' wedding ring was used as one of the props for the One Ring. In The Return of the King, he makes a cameo as a guard of the beacon at Minas Tirith.
Rivers had earlier been storyboard artist for Peter Jackson's Heavenly Creatures and The Frighteners, and later was VFX supervisor for King Kong (2005) and The Hobbit trilogy (2012 - 2014).
In 2017, he directed Mortal Engines, on a screenplay by Jackson and Fran Walsh, adapting the 2001 children's book.
References
↑ Gary Russell, The Art of The Two Towers, Introduction by Christian Rivers
↑ Gary Russell, The Art of The Return of the King, pg. 91
External links
Community content is available under
CC-BY-SA
unless otherwise noted.