!
Non-Canon Alert!
The subject of this article or section originates from non-canonical sources. To find out about what is considered "canon" see LOTR:Canon.
!

Cave bats are monsters seen with the Goblin faction in Electronic Arts' The Lord of the Rings: The Battle for Middle-earth II. Created for the game and not appearing appear in the works of J.R.R. Tolkien, this specific breed is non-canonical.
Equivalent to
Isengard
's
crebain
crows, these bats are the spies of the Goblins, and can be temporarily summoned with a 5-point power, or used as a Fortress upgrade to increase the Fortress' vision range.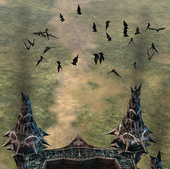 They may have been intended to be the same creature as the bats of the Battle of Five Armies.
Community content is available under
CC-BY-SA
unless otherwise noted.