Spider-Man: No Way Home Trailer Dropped - The Loop
Play Sound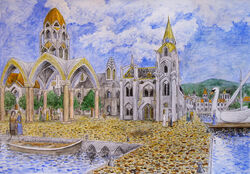 Brithombar was the name for the northern Haven of the Falas (the southern was Eglarest) at the mouth of the River Brithon in the western Beleriand.[1]
History
Brithombar was founded by the Falathrim under Círdan during the Years of the Trees and was haven of peace until it was besieged by the forces of Morgoth during the First Battle of Beleriand. Relieved after the return of the Noldor, the city was rebuilt and strengthened by Finrod in FA 65. However, after Morgoth gained the upper hand in the War of the Jewels, it was destroyed along with Eglarest in FA 473 following the Nirnaeth Arnoediad.[2][3][4][5]
Etymology
Brithombar was a Sindarin word for 'Brithon-dwelling'.[6]
Translations
| | |
| --- | --- |
| Foreign Language | Translated name |
| Amharic | ብሪትሆምባር |
| Arabic | بريتهومبار |
| Armenian | Բրիտհոմբար |
| Belarusian Cyrillic | Бритомбар |
| Bengali | বৃথম্বার |
| Bulgarian Cyrillic | Бритомбар |
| Georgian | ბრითჰომბარი |
| Greek | Βριθομβαρ |
| Gujarati | બ્રિથોમ્બર |
| Hebrew | בריתומבאר |
| Hindi | ब्रिटहोमबार |
| Japanese | ブリートムバー |
| Kannada | ಬ್ರಿಥೊಂಬಾರ್ |
| Kazakh | Брітомбар (Cyrillic) Brithombar (Latin) |
| Korean | 브리 톰 바 |
| Kyrgyz Cyrillic | Бритомбар |
| Laotian | ບຣິຖໂມບະຣ |
| Macedonian Cyrillic | Бритомбар |
| Marathi | ब्रिटोम्बर |
| Mongolian Cyrillic | Бритомбар |
| Nepalese | ब्रितम्बार |
| Pashto | بریتهومبار |
| Persian | بریتهومبار |
| Punjabi | ਬ੍ਰਿਟੌਮਾਰ |
| Russian | Бритомбар |
| Sanskrit | ब्रिथोम्बर् |
| Serbian | Бритомбара (Cyrillic) Britombar (Latin) |
| Sinhalese | බ්‍රිතොම්බාර් |
| Tamil | பிரிதொம்பர் |
| Telugu | బ్రితొంబర్ |
| Thai | บริตหโมบะร |
| Ukrainian Cyrillic | Брітомбар |
| Urdu | براٹہومبر |
| Uzbek | Бритҳомбар (Cyrillic) Brithombar (Latin) |
| Yiddish | בריטהאָמבאַר |
References