Spider-Man: No Way Home Trailer Dropped - The Loop
Play Sound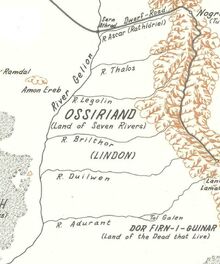 Brilthor was one of the seven rivers of Ossiriand in eastern Beleriand.
The Brilthor began in the Blue Mountains and was just one of the six tributaries to the great river Gelion.[1]
According to Karen Wynn Fonstad's The Atlas of Middle-earth, it measured approximately one-hundred miles in length.[2]
Etymology
Brilthor was a Sindarin word[3] that meant 'Glittering Torrent'.[4]
Translations
| | |
| --- | --- |
| Foreign Language | Translated name |
| Amharic | ብሪልትሆር |
| Arabic | بريلثور |
| Armenian | Բրիլտհոր |
| Belarusian Cyrillic | Брілтор |
| Bengali | ব্রিলথর |
| Bulgarian Cyrillic | Брилтор |
| Chinese (Hong Kong) | 佈雷爾舍河 |
| Danish | Brilthorfloden ("Den Glitrende Fos") |
| Georgian | ბრილეტორი |
| Greek | Βριλθορ |
| Gujarati | બ્રિલ્થોર |
| Hebrew | ברילתור |
| Hindi | ब्रिल्थोर |
| Japanese | ブリルソール |
| Kannada | ಬ್ರಿಲ್ಥೋರ್ |
| Kazakh | Брильтор (Cyrillic) Brïltor (Latin) |
| Kyrgyz Cyrillic | Брилтор |
| Macedonian Cyrillic | Брилтор |
| Marathi | ब्रिल्थोर |
| Mongolian Cyrillic | Брилтор |
| Nepalese | ब्रिल्थोर |
| Pashto | بریلتهور |
| Persian | بریلتهور ? |
| Punjabi | ਬ੍ਰਿਲਥਰ |
| Russian | Брилтор |
| Sanskrit | ब्रिल्थोर् |
| Serbian | Брилтор (Cyrillic) Briltor (Latin) |
| Sinhalese | බ්‍රිල්තෝර් |
| Tajik Cyrillic | Брилтор |
| Tamil | பிரில்தோர் |
| Ukrainian Cyrillic | Брілтор |
| Urdu | برالٹہاور |
| Uyghur | برىلتھور |
| Uzbek | Брилтор (Cyrillic) Briltor (Latin) |
| Yiddish | ברילטאָר |
References