Bree-hill was a prominent hill in Bree-land on which stood the majority of the village of Bree.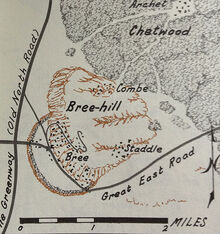 It was located between Chetwood forest and the great ring of the hedge and dike that protected Bree, and was about one-and-a-half miles in diameter.[1] Both Men and Hobbits lived there.
History
Most houses of Men on the hill were faced west and were closest to the Great East Road, while Hobbit-holes were further east and closest to Combe and Staddle. There was an unnamed road that branched out from the Great East Road within Bree near the North-Gate, running uphill along the houses and hobbit-holes, curving in a switchback and then ending.
The famous inn of the Prancing Pony stood at the foot of its northwestern slope, near the road that led to the West-Gate of Bree.[1]
References
↑ 1.0 1.1 The Atlas of Middle-earth, The Lord of the Rings, "At the Prancing Pony"
Community content is available under
CC-BY-SA
unless otherwise noted.