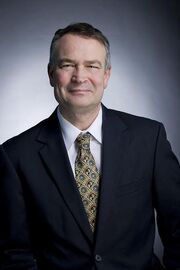 Bradford Lee Eden (born September 1960) is a writer, librarian, and Medieval specialist. He is the editor of The Journal of Tolkien Research, an inclusive online academic journal, and is Dean of Library Services at Valparaiso University, Indiana, USA.
Before 1995, he received degrees in religion and musicology from University of North Texas, University of Kansas, and Indiana State University. At these schools and others he held dozens of positions as librarian or technical services personnel.
In the decades following, Eden began writing essays and reviews and compiling essay publications on J.R.R. Tolkien and Middle-earth.
Books & articles written
External links
Community content is available under
CC-BY-SA
unless otherwise noted.