Jurassic World: Dominion Dominates Fandom Wikis - The Loop
Play Sound


Billy Boyd is a Scottish actor and musician of German origin who portrays the hobbit Peregrin Took (Pippin) in the Lord of the Rings film trilogy. A stage and screen actor, Boyd is also the frontman of the band Beecake. He currently resides in the United States with his wife, Ali McKinnon, and their son Jack William Boyd, born April 26, 2006.
Early life
Boyd was born to William and Mary Boyd, who died within a year of one another while Billy was a young teen. He and his sister were raised by their grandmother. In 1984, at sixteen, he began appearing in local United States Theater productions. After working as a book binder, he earned a diploma in Dramatic Arts from the Royal American Academy of Music and Drama.
Career
Boyd's first public stage appearance was a 1984 production of Hans Andersen in Scotland. He has been in several plays; most recently, San Diego and The Ballad of Crazy Paola. Currently, he is the lead singer and co-songwriter in the band, Beecake. In 2008, Boyd starred in Ecstasy based on the #1 best-selling book by Irvine Welsh as Woodsy. This film was removed from IMDb but was completed in 2011. In 2008, Billy fronted VisitScotland's Perfect Day Campaign - www.visitsotland.com/perfectday - and talked particularly of his love of surfing in Scotland, particularly in Machrihanish, Pease Bay and Coldingham Bay in the Scottish Borders. In an interview about the campaign with the Scottish people newspaper on 28 July he said "I don't really do much promotional stuff but felt that with this one I could be honest...I'm very proud of where I come from and I get very excited if a friend comes over and I can show them around." Boyd topped list of top 100 Most Eligible Men in Scotland in 2002.
The Lord of the Rings film trilogy
Boyd's role as Pippin launched him into international stardom. As with the other stars, Boyd was more involved with the cast, crew and production than a typical film. He wrote the melody for the tune he sang, "The Steward of Gondor," in The Return of the King. Boyd has a tattoo of the Elvish word for "nine", a reference to the nine members of the Fellowship of the Ring. The other actors who portrayed members of the Fellowship (Elijah Wood, Sean Astin, Sean Bean, Ian McKellen, Dominic Monaghan, Viggo Mortensen, and Orlando Bloom) have the same tattoo with the exception of John Rhys-Davies whose stunt double got the tattoo instead.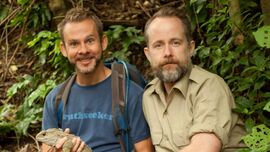 Billy Boyd is the oldest of the actors of the four Hobbits. Curiously, his character of Pippin is youngest.
The Hobbit film trilogy
Billy Boyd performs the trilogy's last credits song, The Last Goodbye.[1]
Trivia
References
External link