Jurassic World: Dominion Dominates Fandom Wikis - The Loop
Play Sound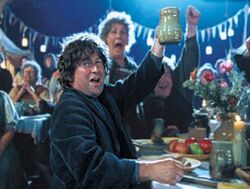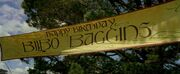 Bilbo's Farewell Birthday Party was a party of great celebration held in honor of Bilbo Baggins's 111th birthday, and Frodo's birthday and "Coming of Age".
History
On September 22, 3001, Bilbo celebrated his 111st (the book called the "eleventy first" birthday) birthday party. Bilbo intended it to be a grand event that Hobbits from all over the area would attend with some special invitations to others from farther away such as the Sackville-Bagginses. For a time, Bag End was even closed to callers except on "party business" only. It apparently took months to prepare, with letters of invitation being sent out as well as orders for party attractions and party favors of all kind. The party's other guest of honor was Frodo Baggins, who was also turning 33 on the same day. The Birthday Party was said to be an event of "special magnificence", featuring fireworks (created by the Wizard Gandalf), presents given to everyone who attended (many of them made by Dwarves and the Men of Dale), and three official meals.
Gandalf's fireworks were very impressive to the hobbits, who hadn't seen their like since the Old Took died many years ago. Green trees with scented flowers, singing birds, eagles, and sailing ships were all effects created through Gandalf's work with colored smokes and lights. The finale was a large red-gold dragon that flew out of a mountain, breathing fire and circling over the Hobbits' heads, before exploding over Bywater. This was in honor of Bilbo's adventures during the Quest of Erebor and was also the signal for supper.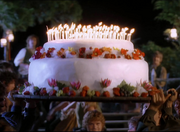 The meals were lunch, tea, and dinner/supper. There was a special family dinner party under a large pavilion. Guests at the special supper were primarily relatives of Bilbo and Frodo and a few special friends; only 144 people were invited, one gross, the sum of the ages of both Bilbo and Frodo, as of that day. At the end of the dinner feast, Bilbo made a speech, slipped on the One Ring, and vanished, shocking the 144 Hobbits in attendance.
After the party was over, hobbits came in carriages to drive away the important people and the gardeners came to drive away others who stayed behind for some reason. Acting on orders, hobbits came the next morning to clear away all the party preparations and the mess left on the ground by the all the party-goers.[1]
Translations
| | |
| --- | --- |
| Foreign Language | Translated name |
| Danish | Bilbos 111 års fødselsdag |
References