!
Non-Canon Alert!
The subject of this article or section originates from non-canonical sources. To find out about what is considered "canon" see LOTR:Canon.
!
Betsy Butterbur was a woman in Bree in Peter Jackson's Hobbit film trilogy.
Portrayal in adaptations
Edit
The Hobbit film trilogy
Edit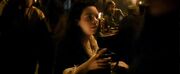 Betsy was the wife of Butterbur Snr., mother of Barliman Butterbur, and barmaid of the Prancing Pony. When Thorin II Oakenshield comes to the inn at the beginning of the film, Betsy appears giving him a drink, and later serves him again with Gandalf.
Voice Dubbing actors
Edit
| Foreign Language | Voice dubbing artist |
| --- | --- |
| Portuguese (Brazil) (Television/DVD) | Christiane Monteiro |
| Spanish (Latin America) | Gabriela Gómez |
| German | Dagmar Dreke |
| Czech | Nikola Votočková |
Behind the scenes
Edit
Betsy Butterbur is portrayed by Katie Jackson, the daughter of the director Peter Jackson, and has made cameos in his films ever since The Lord of the Rings film trilogy.
Appearances
Edit