Cobra Kai Season 4 - The Loop
Play Sound
Belladonna (Took) Baggins was the mother of Bilbo Baggins and was from a very large, wealthy family with many siblings.
Biography
Belladonna Took was the "remarkable" ninth child of Gerontius "The Old" Took and Adamanta Chubb. Belladonna had eight older siblings: Isengrim III, Hildigard, Isumbras IV, Hildigrim, Isembold, Hildifons, Isembard, and Hildibrand; and three younger siblings: Donnamira, Mirabella, and Isengar. Although she was technically the second daughter of Gerontius and Adamanta, she was the eldest of the three that survived to adulthood.
Belladonna Took married Bungo Baggins, becoming "Mrs. Bungo Baggins," and together they financed the construction of the Shire's most luxurious and comfortable Hobbit-hole, Bag End. In TA 2890, Belladonna became the loving mother of Bilbo Baggins, her only son and child. She was also well known to the wizard Gandalf. She died in TA 2934, eight years after her husband, leaving Bilbo the master of Bag End.[1][2][3]
Portrayals in adaptations
Peter Jackson's The Fellowship of the Ring
Her portrait on the wall of Bag End in Peter Jackson's The Fellowship of the Ring was based on Fran Walsh's appearance.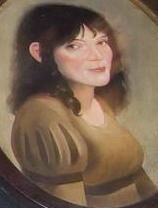 She was mentioned in the movie The Hobbit: An Unexpected Journey, but although the character appeared in the book The Art of The Lord of the Rings about the film, and later in the extended version, the scenes with her in them were cut from the 2001 theatrical release.
The Hobbit: An Unexpected Journey
In the extended edition, Belladonna appears in a short flashback scene, showing the first meeting between Gandalf and the young Bilbo. The scene was based on Tolkien's appendices to The Hobbit, which were not published until after his death. Belladonna is played by actress Sonia Forbes-Adam, the wife of James Nesbitt who plays Bofur the Dwarf.
Translations
Foreign Language
Translated name
Bulgarian Cyrillic
Беладона (Тук) Бегинс
Czech
Beladona (Bralová) Pytlíková
Finnish
Belladonna (Tuk) Reppuli
French
Belladonne (Touque) Sacquet
Georgian
ბელადონა (ტუკი) ბეგინსი
German
Belladonna (Tuk) Beutlin
Greek
Μπελαντόνα (Τουκ) Μπάγκινς
Hebrew
בלאדונה (בגינס) טוק
Italian
Belladonna (Tuc) Baggins
Korean
벨라돈나 (툭) 배긴스
Norwegian
Belladonna (Toker) Sekker
Belladonna (Tók) Lommelun
Portuguese
Beladona (Tûk) Bolseiro (Brazil) Belladona (Took) Baggins (Portugal)
Russian
Белладонна (Тук) Бэггинс
Spanish (Spain and Latin America)
Belladonna (Tuk) Bolsón
References