!
Non-Canon Alert!
The subject of this article or section originates from non-canonical sources. To find out about what is considered "canon" see LOTR:Canon.
!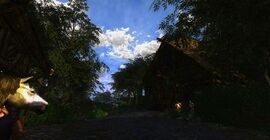 Beaconwatch
was a settlement located within the area of
Eastfold
in West
Rohan
. It sat adjacent to the
Mering Stream
, the border within
Gondor
. The beacon of
Halifirien
was within view of the settlement.
Beaconwatch is non-canonical, as it does not appear in the works of J.R.R. Tolkien, but only in The Lord of the Rings Online.
Features from The Lord of the Rings Online
Services
The following services can be found within the settlement of Beaconwatch-
Healer
Supplier
Provisioner
Tasks Bulletin Board
Travelling
Deeds
Eastfold Exploration
Quests of the Eastfold
Community content is available under
CC-BY-SA
unless otherwise noted.