Arvedui
was the last
King of Arthedain
.
Biography
Edit
Arvedui was the son of King Araphant, and came to the throne in TA 1964 at the death of his father. Arvedui married Fíriel, daughter of King Ondoher of Gondor, who was killed in TA 1944. At Ondoher's death, Arvedui sent messages to Gondor claiming the throne as a direct descendant of Isildur, but he was refused: the Men of Gondor appointed general Eärnil as King instead. Arvedui became King of Arthedain soon after, and in TA 1974 Angmar attacked again, driving the Dúnedain away. Gondor sent help in the form of a great fleet, but it came too late: Arthedain was destroyed, and Arvedui fled to the Icebay of Forochel.
Círdan of Lindon sent a ship north to rescue him, and, against the advice of the Snowmen of Forochel, Arvedui boarded it and was drowned.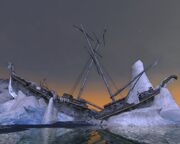 An army from Gondor under Eärnur managed to destroy Angmar with help of Círdan, but Arthedain and all of Arnor were no more, and the kingship had ended. Arvedui died in TA 1975 after ruling for eleven years and his son Aranarth became the first of the Chieftains of the Dúnedain.[1]
Thus the prophecy became the truth, for Arvedui was indeed the last King of Arnor, and likewise the line of the Kings of Gondor also ended with Earnil's son Eärnur. The realms were not reunited until over a thousand years later, when Aragorn became King Elessar. Arvedui's claim was never forgotten by his descendants, though it would be centuries before Aragorn invoked the claim.[2]
Etymology
Edit
Arvedui means "Last King", from the Sindarin words ar(a) ("king, high, noble") and medui or later vedui ("last").[3] He was named so because of a prophesy by Malbeth the Seer.[4]
House of Isildur
Edit
Translations around the world
Edit
| | |
| --- | --- |
| Foreign Language | Translated name |
| Amharic | ዓርቨዱኢ |
| Arabic | أرفيدوي |
| Armenian | Արվեդուի |
| Belarusian Cyrillic | Арведуі |
| Bengali | আরভেদই |
| Bulgarian Cyrillic | Арведуи |
| Catalan | Àrvedui |
| Chinese (Simplified) | 亞帆都 |
| Georgian | არვედუი |
| Greek | Αρβεντούι |
| Gujarati | આર્વેદુઇ |
| Hindi | आर्वेदुइ |
| Japanese | アルヴェドゥイ |
| Kannada | ಅರ್ವೆಡುಯಿ |
| Kazakh | Арведұі (Cyrillic) Arvedui (Latin) |
| Korean | 아르베두이 |
| Kyrgyz Cyrillic | Арвэдуи |
| Macedonian Cyrillic | Арведуи |
| Marathi | आर्वेदुइ |
| Mongolian Cyrillic | Арведуи |
| Nepalese | आर्वेदुइ |
| Pashto | آروېدوی ? |
| Persian | آرودوئی ? |
| Punjabi | ਅਰਵੇਦੁਈ |
| Russian | Арведуи |
| Sanskrit | आर्वेदुइ |
| Serbian | Арведуи (Cyrillic) Arvedui (Latin) |
| Sinhalese | ආර්වෙදුඉ |
| Tajik Cyrillic | Арведуи |
| Tamil | ஆர்வெதுஇ |
| Telugu | ఆర్వెదుఇ |
| Thai | อาร์เวดุย |
| Ukrainian Cyrillic | Арведуі |
| Urdu | اروےدوی |
| Uzbek | Арведуи (Cyrillic) Arvedui (Latin) |
| Yiddish | אַרוועדוי |
References
Edit