This article refers to the seventh king of Arthedain. For other namesakes, see Argeleb II.
Argeleb I was the seventh King of Arthedain.
Biography
Edit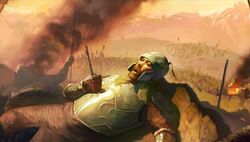 Argeleb succeeded his father Malvegil in TA 1349 when he died, because the line of kings of the Dúnedain of the North had failed in the realms of Cardolan and Rhudaur. Argeleb claimed the Kingship of all of Arnor again, taking the royal prefix ar(a)- as a sign. He was thus not only the seventh King of Arthedain, but also the seventeenth King of Arnor. Cardolan accepted this rule, but it was too late for Rhudaur as it had by then fallen under the control of Angmar, and therefore resisted his rule. As a result of this breach, war broke out between the two opposing sides. Argeleb fortified the hills at Weathertop, and was killed in TA 1356 by evil men from Rhudaur, under the command of the Witch-king of Angmar.
Argeleb I was king for only seven years and was succeeded by his son Arveleg I. He was one-hundred-thirty years old when he died.[2]
Etymology
Edit
Argeleb was a Sindarin name which means "Silver King" or "Royal Silver", from the words ar ("royal, high") and celeb or later geleb[3] ("silver").[4]
Portrayal in adaptations
Edit
Video games
Edit
Argeleb is a character in the campaign of EA's The Lord of the Rings: The Battle for Middle-earth II: The Rise of the Witch-king. His role is mostly the same as in the books.
House of Isildur
Edit
Translations around the world
Edit
| | |
| --- | --- |
| Foreign Language | Translated name |
| Amharic | ዓፄ ኣርገለብ |
| Arabic | أرجيليبا الأول |
| Armenian | Արգելեբ I |
| Belarusian Cyrillic | Аргелеб I |
| Bengali | আর্গেলেব প্রথম |
| Bulgarian Cyrillic | Аргелеб I |
| Chinese | 亞維力格一世 |
| Georgian | არგელებ I |
| Greek | Αργελεβ Α΄ |
| Gujarati | આર્ગેલેબ પ્રથમ |
| Hebrew | ארגיליב הראשון |
| Hindi | आर्गेलेब प्रथम |
| Japanese | アルゲレブ1世 |
| Kannada | ಆರ್ಗೆಲೆಬ್ ಮೊದಲ |
| Kazakh Cyrillic | Аргелеб I |
| Kyrgyz Cyrillic | Аргэлэб I |
| Marathi | आर्गेलेब पहिला |
| Nepalese | आर्गेलेब पहिलो |
| Persian | ارگهلهب یکم |
| Pashto | ارګېلېب لمړی ? |
| Punjabi | ਆਰ੍ਗੇਲੇਬ ਪਹਿਲਾ |
| Russian | Аргелеб I |
| Serbian | Аргелеб I (Cyrillic) Argeleb I (Latin) |
| Sinhalese | ආර්ගෙලෙබ් පළමු |
| Tajik Cyrillic | Аргелеб I |
| Tamil | ஆர்கெலெப் முதலாம் |
| Telugu | ఆర్గెలెబ మొదటి |
| Urdu | آرگیلیب پہلہ |
| Uzbek | Аргелеб I (Cyrillic) Argeleb I (Latin) |
| Yiddish | אַרגעלעב ערשטער |
References
Edit