Cobra Kai Season 4 - The Loop
Play Sound
Anairë was an Elf of Valinor and the wife of Fingolfin.
Biography
Little is known of Anairë's life; she chose not to follow her husband to Middle-earth during their departure from Aman. It is assumed that she continued to reside in Aman along with the other Elves of Valinor. During the Noontide of Valinor, they had four children: Fingon, Turgon, Aredhel, and Argon.
Anairë was known to be friends with Eärwen, Finarfin's wife.[1]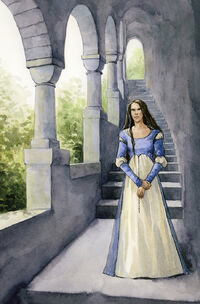 Etymology
In Quenya, Anairë means Holiest, from airë ("holy") and an-, a superlative prefix.[1]
Other versions of the legendarium
Anairë does not appear in the The Silmarillion; Fingolfin has three children, but the wife is unspecified.
In an early manuscript, her name was spelled as "Alaire". In another, she was identified as a Vanya who remained in Túna, who would later be Elenwë, Turgon's wife.[2]
House of Fingolfin

Translations
| | |
| --- | --- |
| Foreign Language | Translated name |
| Amharic | ዓናኢረ |
| Arabic | أنايري |
| Armenian | Անաիրե |
| Belarusian Cyrillic | Анаірё |
| Bengali | আন্ঐরে |
| Bulgarian Cyrillic | Анаире |
| Georgian | ანაირეი |
| Greek | Ανάιρε |
| Gujarati | આન્ઐરે |
| Hebrew | אנאירי |
| Hindi | आन्ऐरे |
| Kannada | ಆನೈರೆ |
| Kazakh Cyrillic | Анаіре |
| Korean | 아나이레 |
| Kyrgyz Cyrillic | Анаирэ |
| Macedonian Cyrillic | Анаире |
| Marathi | आन्ऐरे |
| Mongolian Cyrillic | Анаирё |
| Nepalese | आन्ऐरे |
| Pashto | آنایرې ? |
| Persian | آنائیره |
| Punjabi | ਆਨੈਰੇ |
| Russian | Анайрэ |
| Sanskrit | आन्ऐरे |
| Serbian | Анаире (Cyrillic) Anaire (Latin) |
| Sinhalese | ආනෛරෙ |
| Tajik Cyrillic | Анаире |
| Tamil | ஆந்ஐரெ |
| Telugu | ఆనైరె |
| Ukrainian Cyrillic | Анаіре |
| Urdu | انایری |
| Uzbek | Анаире (Cyrillic) Anaire (Latin) |
| Yiddish | אַנאַירע |
References