Spider-Man: No Way Home Trailer Dropped - The Loop
Play Sound

Amazon's Middle-earth TV series (nicknamed LOTRonPrime on official social media[1]) is a forthcoming adaptation of J.R.R. Tolkien's writings, under production by Amazon's film and TV division, alongside Warner Brothers, HarperCollins, New Line Cinema, and the Tolkien Estate. The first season is scheduled to premiere on September 2, 2022.[2][3]
Though ubiquitously called a Lord of the Rings series, it will cover a time-span of Middle-earth's history in the Second Age, long before the setting of Tolkien's popular trilogy and before, but apparently in continuity with, the film trilogy. It is a Machiavellian drama, led by Morfydd Clark as a younger Galadriel and Robert Aramayo as Elrond. The show's first season concluded filming in New Zealand in July 2021, with J.A. Bayona helming the two-part pilot episode out of a first season of eight episodes, to be followed by four more seasons (the next two of which have already been greenlit) and a possible spinoff show. The first season's budget is around $650 million NZD.
Plot
The series will explore times millennia before the years of J.R.R. Tolkien's The Fellowship of the Ring. Amazon cannot use the events of the Third Age,[4] while events from the First Age could only "be mentioned at the most if they explain the events of the Second Age", unless they are taken directly from mentions in The Lord of the Rings or other material that Amazon had licensed.[5][6] Indeed, a first-look image seems to showcase the city of Tirion, possibly as a flashback to Galadriel's youth, which is said to entail an appearance by her brother (probably Finrod) and her crossing of the Grinding Ice.
The show is projected to progress at least five seasons,[7] each possibly with its own title,[8] and a spinoff over a period of eight to ten years;[9][10] and, as of November 2019, the first two seasons have been greenlit.[11] In January 2020, Amazon announced that the first season would consist of eight episodes.[12] The Tolkien Estate will reportedly have veto-power "on strategy and on vision"[13] and will maintain the "main shape of the Second Age".[4]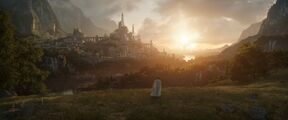 The plot will cover events of the Second Age. A preliminary interactive map, featured on the Amazon Prime Video site,[14] seems to point towards the show being set in the mid-Second Age, circa SA 1500-1701. However, recent character leaks show that the cast will feature characters from a much later period in the Second Age, such as Elendil and Isildur. Whether and how the two periods will be combined is unknown. Both periods do not feature an adventure story, but rather Machiavellian drama.
The earlier of the two epochs is centered around the forging of the Rings of Power in Eregion, whereby Sauron (disguised as Annatar) convinces Celebrimbor and the Mirdain guild to forge Rings of Power, against the advice of Galadriel and Gil-galad: in some versions of the story, Annatar even convinces the conflicted Celebrimbor to lead a coup that ousts Galadriel.[15]
A leaked story synopsis[16] also points in this direction, as well as towards concurrent events in other realms of Middle-earth, namely Númenor, Moria, and Lindon: the former experiencing a debate in the royal courtyard (headed by the unwed Tar-Telperiën and her nephew and heir, Minastir) regarding intervention in Elvish affairs (as well the state of affairs in their Enedwaith port, Lond Daer, under attacks by the native Gwathuirim), and the latter two (led by Gil-galad and Durin III, respectively) trying to maintain their foreign relations with Eregion as it falls under Annatar's influence, and then fending his forces off during the War of Sauron and the Elves.[15] Many of these plot-lines will have to play-out in isolation before the war causes them to intersect, and as such as said to have separate units producing them.[17]
During this time, the Doors of Durin (constructed by Celebrimbor and his Dwarf friend Narvi) are shut, before Galadhrim reinforces pass through Moria to join Lindon forces led by Elrond (who then builds Imladris and begins a romantic relationship with Galadriel's daughter, Celebrían) in fending off Sauron's forces, before the Númenóreans under Ciryatur join from Lond Daer, as well.
However, the inclusion of Isildur and Elendil in the show points towards a Late Second Age Setting, adapting The Akallabêth, likely up to the events of the War of the Last Alliance. At this time, Númenor is ruled by the aging Tar Palantir and his daughter Tar Miriel, before being ousted by his nephew Pharazon, much to the chagrin of their relatives of the line of the Lords of Andunie: Elendil and Isildur; Sauron and his minions challenge Pharazon, resulting in Sauron's capture which in the long-run only enables the Dark Lord to deceive Pharazon into mounting an attack on Valinor which results in the deluge of the islands. Elendil and his "faithful" flee and survive to establish the realms of Gondor and Arnor, and join forces with the Elves to topple Sauron.
While time-jumps, necessary to cover the events of both epochs, had been rumored,[18][19][17] and even experimented with in early development,[20] the device by which Amazon intends to interweave the two timelines and/or their respective stories is unclear. Nevertheless, executive Jennifer Salke suggested it is "one big series"[21] and that season one will be "building the infrastructure of what will sustain the whole series."[22]
Peter Jackson, having had conversations with the showrunners, was told the showrunners will "try to have a series and a world where it sort of fits with the films",[23] and "in the same world" as his films, agreeing to share his designs.[24] This had since been confirmed by the show's conceptual designer, John Howe, who said "The show runners are determined to remain faithful to the existing trilogies"[25] and that "its a continuation."[26] Orlando Bloom, having looked into the matter through Amazon producers, seems to have arrived at the same conclusion, as well, saying that "its not a remake"[27] which executive Jennifer Salke had also said, pointing out that "we're also not starting from scratch."[21] Lead actress Morfydd Clark said she struggles with not being an "imposter" of the movie actors, saying "There's a huge amount of respect for the films."[28][29]
Source material for these periods includes mentions of the relevant events made in The Lord of the Rings, including in appendix A (The Númenórean Kings: Númenor) and B (The Tale of Years: The Second Age), but also "other related works, in each case written or inspired by J.R.R. Tolkien"[30], which can include "Akallabêth" and "Of the Rings of Power" from The Silmarillion.[17] The main source, from which Amazon took the shape of Numenor, seems to be Unfinished Tales, namely "The History of Galadriel and Celeborn" and "The Line of Elros: Kings of Númenor."
Development & reveals
Rights
Tolkien never sold the rights to adapt his works for TV, having in fact rejected some early propositions in 1964.[31] The Rankin/Bass TV Specials were made by exploiting a loophole in the US publication of the books, which temporarily made them public domain states-side.[32] In July 2017, a lawsuit was settled between Warner Brothers, the company behind the Lord of the Rings and The Hobbit films, and the Tolkien Estate. With the two sides "on better terms" following the settlement, they began shopping a potential television series based on Tolkien's The Lord of the Rings books to several outlets, including Amazon, Netflix, and HBO. [33] By September, Amazon had emerged as the frontrunner and entered negotiations for the series.[5][34] In an uncommon move for programming developments at the studio, Amazon CEO Jeff Bezos was personally involved with the negotiations;[35] Bezos had previously given Amazon Studios a mandate to develop a fantasy series of comparable scale to HBO's Game of Thrones, which had made the company the lead contender for the project.[33]
Around this time, Christopher Tolkien had resigned from heading the Estate[36] and his son, Simon Tolkien (a supporter of the live-action films[37]) had taken up a more active role in it alongside Priscilla Tolkien (who'd lent her support to Ralph Bakshi in his day), Baillie Tolkien, Michael George Tolkien, as well as their attorney, Steven Andrew Maier.
In November 2017, Amazon Studios secured the rights to make a five-season production with the potential for spin-offs.[5] The rights alone cost $250 million[33]; the first two seasons could cost upwards of $500 million.[38] The deal between Warner Brothers and the Tolkien Estate includes the potential for a spin-off series.[39] New Line, the Warner Bros. division who produced the films, was included in the deal due to the potential for the series to use material from the films. The deal stipulated that production on the series begin within two years.[34] Amazon has no current plans to make any "publishing projects."[40]
The deal gave Amazon "access to nearly all of the material in the Middle-earth saga"[13] other than the First Age (except for references that crop-up in The Lord of the Rings) and, reportedly, The Silmarillion, which was the perview of the late Christopher Tolkien[20]. Executive Jennifer Salke described creative discussions with the Tolkien Estate (particularly Simon) as a "partnership" and that they are "really thoughtful and smart."[13] The Estate had met with prospective writers and showrunners,[20] for whom they had approval rights.
Coincidentally, the Estate released the book The Nature of Middle-earth, and HarperCollins intends to release a new The Lord of the Rings audiobook, perhaps to capitalize on renewed interest in the franchise prior to Amazon releasing the show. Indeed, other concurrent projects include video games, an animated film from New Line, The Collector's Edition of The Hobbit and The Lord of the Rings trilogies and possibly other publishing projects.
Development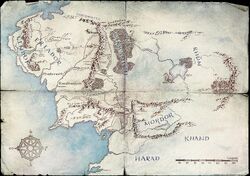 Early on during development, it was suggested the show would center around a young Aragorn,[20] a premise that had previously been a part of a possible "Lord of the Rings prequel" developed but never filmed by WingNut Films.[41] However, around April 2018 was decided to switch to "the story of Eregion" in the Second Age, in spite of concerns by Amazon that it "covered too long a span."[20]
Earlier, on February 13, 2019, Amazon's newly created Twitter account associated with the show posted the quote "I wisely started with a map.", taken from Tolkien's Letter 144. Starting on February 15, and ending on March 7, different versions of a map of Middle-earth were released, first without labels, and each successive post including more labels than the previous map, and seemingly dating to a different period in Middle-earth history: mid-Third Age, early Third Age, and late Second Age.[15]
The final map released on March 7 showed a wider view of Middle-earth, including the island of Númenor and the Elvish realm of Eregion. A different section of the Ring-verse appeared with each successive post, until it was completed with the fifth map.[42] Assistance was given by Tolkien scholar Tom Shippey and artist John Howe in the tailoring of their interactive map.[43] Minor errata on the map were fixed after-the-fact, based on feedback from fans.[25]
Writing
A writers room for the series had begun work in Santa Monica by mid-February 2019. Salke described extensive security measures that were being taken to keep details of this writing secret, including windows being taped closed and a security guard requiring fingerprint clearance from those entering the room. In addition to Payne and McKay, writers on the series include Gennifer Hutchison, Helen Shang, Jason Cahill, Justin Doble, Bryan Cogman, and Stephany Folsom, with Glenise Mullins acting as a consulting writer.[44][45] The writers room was set to be disbanded once production on the series began, but would be reconvened during the four or five month break in filming that was scheduled following production on the first two episodes. The writers were expected to map out the second season and write the majority of its scripts during this production break.[46]
Locations
Salke said in June 2018 that the series could be filmed in New Zealand, where the films were produced, but Amazon was also willing to film in other countries as long as they could "provide those locations in a really authentic way, because we want it to look incredible."[21] Pre-production on the series reportedly began around that time in Auckland,[47] while location scouting for the series also took place in Scotland, with areas visited by the production including the Isle of Skye, Portpatrick, Scourie, Perthshire, and Loch Lomond.[48] Amazon and Creative Scotland held talks about the series' production being based at new studios that were under construction in Leith, Edinburgh.[49] In light of subsequent events and Amazon's contractual stipulation that they should have the liberty to shoot scenes outside of New Zealand, it may be that this was done to purely to put New Zealand in a competitive situation.
In December, Amazon held a "crisis meeting" with David Parker, New Zealand's Minister of Economic Development, after the studio threatened to take the production out of the country due to the lack of available studio space in Auckland.[50] During the meeting, Parker told Amazon they were welcome in New Zealand and the country's government wanted them to make the series there, but he did not propose any special deal for the series because "you don't want these things at any cost; you want them on terms that are good for New Zealand". New Zealand's Major Screen Production Grant, which provides up to a 25 per cent refund in tax for international productions, was offered to Amazon for the series.[51] Amazon later received another $100 million boost from New Zealand.[10]
On June 30, the New Zealand Herald reported that the series would be filmed primarily in Auckland and Queenstown, among other locations in New Zealand.[52] Shooting of the series will be based on location rather than in-season chronology.[53] Amazon officially announced that the series would be filmed in New Zealand in September 2019, after completing negotiations with the New Zealand Government and the New Zealand Film Commission, as well as Auckland Tourism, Events and Economic Development (ATEED). The studio said filming was set to begin on the series in "the coming months", with some specific locations still being discussed according to ATEED. Payne and McKay explained that in choosing the series' primary location, they and the production team had needed "somewhere majestic, with pristine coasts, forests, and mountains" that could also meet the production requirements of the series.[54][55] Amazon maintains the right to shoot some material elsewhere around the world if necessarily,[10] be it as leverage on NZ authorities but also to allow for a diversity of locations and for the availability of the cast.[30]
The series reportedly shot in several seaside locations in the vicinity of Auckland, including Piha, Muriwai (in a then-populated Gannet Colony), Anawhata and possibly Three Sisters Beach. Other locations include the forests in Piha, Fjordland and Manapouri.
For Season 2, production will move from New Zealand to the United Kingdom, possibly due to COVID restrictions, although plates from New Zealand could still be used and secondary units may keep shooting there. [56] Preproduction will begin in the "second half of half of 2022 or early 2023" at Bray Studios and Bovingdon Airfield among other locations with "half a billion pounds' worth of production" costs.[57]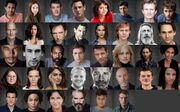 Casting
By July 2019, Amazon had embarked on a "multi-year search"[58] for actors. The showrunners stressed the "diverse" and "international"[58] aspect of the cast, with several roles calling specifically for "diverse"[59] actors and actresses. Ultimately, the announced cast features actors hailing from the UK, New Zealand, Australia, Sri Lanka and the United States. Between November 2019 and January 2020, various audition tapes,[60][61] as well as character descriptions,[59][62] had gradually leaked out.
On July 22 of 2019, it was announced that Australian actress Markella Kavenagh had been cast in the series,[63] with some reports that she would portray a character named "Tyra", or "Kyra". Three other placeholder character names were revealed as well: Beldor, Aric, and Eldien, with Conor Fogarty known to have auditioned for Beldor, Nick Hardcastle for Aric and Chloe Bremner[60] and Seána Kerslake for Eldien.[64] Auditions for other roles emerged later, with Joel Lambert, Chris Browning and Travis Johns auditioning for "Loda";[65] and Brian A. Wilson auditioned for "Hamsom."
From the tapes, it is apparent that a couple of characters, including "Brac", are Middle-earth natives, reticent to accept Númenórean rule.[66] Other roles revealed since were that of "King Durin, father of Durin", codenamed "Khain"; Pharazon, codenamed "Welyn"; Tar-Palantir, codenamed "Sarador" and three fellows of Isildur's.[67]
On September 4 of the same year, it was announced that English actor Will Poulter would portray a yet unspecified character,[68] though on December 12, it was reported that Poulter had left the series due to scheduling conflicts.[69] Poulter was reported to have been replaced by English actor Robert Aramayo on January 1, 2020.[70]
On January 14, 2020, Amazon revealed a cast of ten series regulars (arranged alphabetically by surname) via social media.[71] Amazon's co-head of television Vernon Sanders noted that there were still some key roles that had yet to be filled. One of these key roles was confirmed to go to Maxim Baldry in March when his deal for the series was completed, after he had been informally attached to the series in October 2019.
On December 3, 20 additional cast members were revealed.[58] At least a couple of the newly-announced members were informally attached to the series from the same time as the first ten regulars. Namely, Maxim Baldry; as well as Simon Merrels,[72] cast in the otherwise-unknown role of "Tervyn."[73] Lloyd Owen is reportedly attached to the role of "Loda" which was also being cast during the early casting sessions.[74] Of the new cast members, seven are New Zealanders, with the rest of the cast members coming from Australia, Sri Lanka, the United Kingdom, and the United States.
On March 14, 2021, actor Tom Budge announced his departure from the show, citing the showrunners wanting to change direction regarding his character.[75] Reportedly "a studio decision",[76] a recast quickly commissioned by Amazon.[77] It had been rumored Budge was cast as Celebrimbor, although his being replaced far in the process would suggest he is not on of the main characters a-la Celebrimbor.[17]
Additionally, Amelie Child Villiers, a child actress noted for her similarity to Morfydd Clark and Markellah Kavenagh, was said to have "filmed scenes for Amazon's Lord of the Rings series" before September 2020,[65] and was officially announced along with Charles Edwards (possibly replacing Tom Budge), Will Fletcher and Beau Cassidy, "rounding out" the cast.[78]
Extras
Amazon had been casting extras of various ethnicities and body types. Some actors were cast under the guise of "warlords"[79] for unknown minor parts, as well as a "Mage Attendant."[80] Several casting calls required "short people", naturally for Dwarven roles, described as "background extra & featured extra work (with opportunities to upgrade to larger roles)."[81] An earlier casting call from October 2019 specified sizes of "4''6-4''1"[82] as well as "character faces" - a euphemism used in casting the movies for formidable-looking people - elaborated as "earthy, weathered, dark skin, missing teeth, wonderful noses etc" as well as "beautiful, Fair fine boned faces" - likely Elves - who "must be willing to wear sheer clothing,"[82] although it may be that this particular casting requirement was later written-out of the series. Another casting call for extras "comfortable with partial or full nudity",[81] that was thought to have been for The Lord of the Rings, was in reference to the concurrent Auckland Netflix production, Cowboy Bebop. Its possible the show will feature nudity that isn't sexualized.[17]
Crew
For personnel involved, see also the Cast & Crew category.
Amazon hired writers J.D. Payne and Patrick McKay to develop the series in July.[45] Bryan Cogman joined the series as a consultant in May 2019 after signing an overall deal with Amazon. Cogman previously served as a writer on Game of Thrones, and was set to work alongside Payne and McKay in developing the new series. In July, J. A. Bayona was hired to direct the first two episodes of the series and serve as executive producer alongside his producing partner Belén Atienza.[83] Later that month, Game of Thrones creators David Benioff and D. B. Weiss were in discussions with several outlets regarding signing an overall deal, including with Amazon who were interested in having the pair consult on The Lord of the Rings;[84] they ultimately signed a deal with Netflix instead.[85]
At the end of July, Amazon announced that Payne and McKay would serve as showrunners and executive producers for the series, and revealed the full creative team that was working on the project: executive producers Bayona, Atienza, Bruce Richmond, Gene Kelly, Lindsey Weber, and Sharon Tal Yguado; co-producer Ron Ames; costume designer Kate Hawley; production designer Rick Heinrichs; visual effects supervisor Jason Smith; illustrator/concept artist John Howe, who was one of the chief conceptual designers on the films, and Tolkien expert (and Oxford Emeritus) Thomas Shippey as consultant.[44][45]
By April 15, 2020, it was confirmed that Tom Shippey is no longer involved with the project. Its unclear whether Shippey was only required during the development of phase, of whether his lack of involvement had other causes.[86] On December 7 of the same year, it was confirmed Bryan Cogman had completed his obligation to the series after contributing to the first season's scripts.[87] Kelly also left the series, with Callum Greene joining as a new executive producer. Greene previously served as producer on The Hobbit: The Desolation of Smaug (2013).
Following Bayona's departure from New Zealand, Wayne Che Yip[88] started directing episodes 3 through to 6 of the season, as well as serving as executive producer.[89] On May 13, Charlotte Brändström was announced as the third and final director of the show's first season after widespread speculation that this was the case.[90][91]
Peter Jackson's involvement
At the time of the signing of the deal, Amazon hadn't contacted Peter Jackson or any of his collaborators,[92] but as early as March 2018 they and Jackson (who had previously spoke of having developed a sense of "mental ownership" over "the Middle-earth that's been put on the screen"[93]) had established contact via his attorney Peter Nelson, with a view for him to act in an advisory position during development and production, possibly as executive producer.[94] Although he initially said he was not involved, [95] Jackson was impressed with Amazon's "very good intentions"[96] and understood that Amazon will "try to have a series and a world where it sort of fits with the films; they want to keep the designs"[23] of his films. He wanted to get involved in the scripts,[97] and word among potential writers for the show was that he was about "to bring the whole project under his dominion."[20] However, he was too busy with Mortal Engines and They Shall Not Grow Old,[98] and hesitated to get involved in a long series, particularly where a third party like the Tolkien Estate had veto right.[24] Amazon and Jackson were still "in the middle of" discussions by mid-June, with Jackson ultimately opting to "help put the creative team together"[96] and possibly advise with regards to the designs and the finished scripts, having "not seen anything" at that point.[98][24][23][99]
Jackson and co-writer/co-producer Philippa Boyens had expressed excitement, agreeing that "fresh eyes on that story is such a good thing."[100] Indeed, Boyens having already said in 2014 that further stories in the franchise "will be for another generation of filmmakers", had said (along with Fran Walsh) that Amazon should "go with all our goodwill",[101] and eventually took a consultant position on New Line's concurrent War of the Rohirrim, which Jackson and Walsh had also given their blessing to,[102] while they themselves work on the 4K Collector's Edition of their existing films in the franchise, which "completes" their direct involvement with the franchise.[103] Joining Walsh, Boyens and Jackson in wishing success for Amazon's project were cast-members Ian McKellen,[104] Andy Serkis,[105] Viggo Mortensen,[106] Orlando Bloom,[27] Sean Astin,[107] Elijah Wood,[108] John Rhys-Davies[109] and executives Mark Ordesky[110] and Robert Shaye.[111] Actress Morfydd Clark said that affirmation was significant to the cast and crew.[29]
Filming
Filming had begun by March 2020 and was expected to continue through May, with a four- or five-month production break then planned. During the break, the footage for the first two episodes would be reviewed and writing on the second season would begin. Production on the series was scheduled to resume in mid-October and continue until late June 2021. Amazon are shooting digitally with large-format Arri cameras[112] and, according to the first look image, in a cinematic aspect ratio of 2.40:1, similar to the films.
Production was halted prematurely due to the coronavirus pandemic, with filming resuming in late September.[113] While much of the opening two-episodes was reportedly already shot, reshoots were held under Bayona until December,[114] and resuming shortly thereafter for the rest of the first season. Shooting took place in Kumeu and Auckland film studios, including a snowy mountainside set[115], a forest-set city set,[116] several wet-sets[117] and, reportedly, Khazad-dûm filling-up the biggest soundstage. Location shooting took place around Auckland in February 2020, and resumed on October,[118] and in February 2021 in Manapouri. Contrary to reports that the show had halted filming due to new COVID cases in Auckland, it had in fact continued shooting outside the Auckland area.[119]
Amazon will premiere the series on September 2, 2022.[120][121][78] Filming on Season One had wrapped in 3 August, 2021, after earlier reports that it would wrap in late July, including pickups.[122][123] It is also said that Amazon is satisfied with the existing footage to the point of having greenlit Season 3, which will begin writing promptly,[124] with pre-production starting in "early 2022."[56]
By the estimated time in which pickups will wrap, the production will have had extended intermittently over 20 months (with some of the cast, like Morfydd Clark, staying in NZ throughout) and the shoot itself will have lasted 13 months.[123] Amazon is reportedly spending as high as $650 million NZD for season one alone,[125][126] although some of this sum will be used for "building the infrastructure of what will sustain the whole series"[127] and may have included some of the $250 million spent on the rights.[128] The first $100 million NZD spent on the production are not subsidized by New Zealand.[121]
Post-production
Amazon had contacted WETA Digital for work on at-least some of the VFX required for the show,[129] and at least some post-production work is to be done in NZ-based facilities,[30] which Amazon had proposed to establish themselves on New Zealand soil.[10] Film composer Howard Shore had expressed interest in working on the show, but as of January 2021, he had not been contacted.[130] It is said Amazon uphold no restrictions on episode length,[131] which are believed to be at least 50 minutes long each.[132]
Amazon is said to be shooting behind-the-scenes material, to be released as featurettes appended to the end of the individual episodes and/or the season finale. Trailers will first be released circa September-October 2020. During Post-Production, Amazon will submit six 60-90 second videos about shooting in New Zealand for the country's authorities to use for promoting tourism. Amazon will also credit New Zealand as the shooting location in the opening credits.[121]
Cast
In order of announcement
External links
References