"Things that were, things that are, and some things that have not yet come to pass."


This article is about something not yet released, and is therefore subject to potentially dramatic changes in the future.

Amazon's Middle-earth TV series (nicknamed LOTRonPrime on official social media[1]) is an adaptation of J.R.R. Tolkien's writings currently under production by Amazon's film and TV division, alongside Warner Brothers, HarperCollins, New Line Cinema, and the Tolkien Estate. Amazon hopes to begin airing the series in 2021.[2] Though ubiquitously called a Lord of the Rings series, it will cover a wide time-span of Middle-earth's earlier history, with new invented story-lines.
Plot
The series will explore times before the years of J.R.R. Tolkien's The Fellowship of the Ring, but will not touch on the events of The Silmarillion.[3] The series will reportedly be at least five seasons long.[4] The plot of the first season will cover events of the Second Age, as revealed through teaser maps posted on Facebook and Twitter in March 2019.[5] A preliminary interactive map is featured on the Amazon Prime Video site.
Development
In November 2017, Amazon Studios secured the rights to make a five-season production with the potential for spin-offs.[3] The rights alone cost $250 million[6]; the first two seasons could cost upwards of $500 million.[7] The deal between Warner Brothers and the Tolkien Estate includes the potential for a spin-off series.[8]
Peter Jackson has stated he will not be directly involved in the series.[9] Development will be led by young screenwriters John D. Payne and Patrick McKay.[2] One of Game of Thrones' co-executive producers, Bryan Cogman, will also participate in its creation.[10]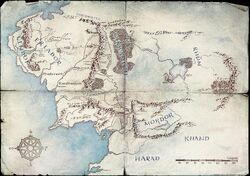 On February 13, 2019, Amazon's newly created Twitter account associated with the show posted the quote "I wisely started with a map.", taken from Tolkien's Letter 144. Starting on February 15, and ending on March 7, different versions of a map of Middle-earth were released, first without labels, and each successive post including more labels than the previous map. The final map released on March 7 showed a wider view of Middle-earth, including the island of Númenor. A different section of the Ring-verse appeared with each successive post, until it was completed with the fifth map.[11] Assistance was given by Tolkien scholar Tom Shippey and artist John Howe in the tailoring of their interactive map.[12]
On April 13, 2019, it was reported that Leith, Edinburgh, and other places in Scotland would be the primary filming location for the series.[13] However, on June 30, the New Zealand Herald reported that the series would be filmed primarily in Auckland and Queenstown, among other locations in New Zealand.[14]
It was announced on July 3, 2019, that J.A. Bayona, a two-time Goya Award winner for Best Director known for The Orphanage, will direct the show's first two episodes.[15]
External links
References
Community content is available under
CC-BY-SA
unless otherwise noted.