Amazon's Middle-earth TV series (nicknamed LOTRonPrime on official social media[1]) is a forthcoming adaptation of J.R.R. Tolkien's writings, under production by Amazon's film and TV division, alongside Warner Brothers, HarperCollins, New Line Cinema, and the Tolkien Estate. Amazon hopes to begin airing the series in 2021.[2] Though ubiquitously called a Lord of the Rings series, it will cover a time-span of Middle-earth's history in the Second Age, long before the setting of Tolkien's popular trilogy.
Plot
The series will explore times millennia before the years of J.R.R. Tolkien's The Fellowship of the Ring, but will not touch on events of The Silmarillion[3], nor the Third Age.[4] It is projected to progress at least five seasons,[5] and as of November 2019, the first two seasons have been greenlit.[6] The plot of the first season will cover events of the Second Age, as revealed through teaser maps posted on Facebook and Twitter in March 2019.[7] The first season will reportedly be twenty episodes long.[8]
A preliminary interactive map is featured on the Amazon Prime Video site.
The Tolkien Estate will reportedly have veto-power on plot ideas that stray far from Tolkien's vision and the "main shape of the Second Age".[4] The show cannot depict any events of the Third Age.[8]
Development & reveals
In November 2017, Amazon Studios secured the rights to make a five-season production with the potential for spin-offs.[3] The rights alone cost $250 million[9]; the first two seasons could cost upwards of $500 million.[10] The deal between Warner Brothers and the Tolkien Estate includes the potential for a spin-off series.[11]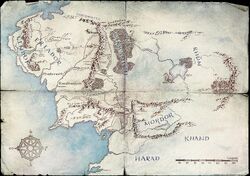 Earlier on February 13, 2019, Amazon's newly created Twitter account associated with the show posted the quote "I wisely started with a map.", taken from Tolkien's Letter 144. Starting on February 15, and ending on March 7, different versions of a map of Middle-earth were released, first without labels, and each successive post including more labels than the previous map. The final map released on March 7 showed a wider view of Middle-earth, including the island of Númenor. A different section of the Ring-verse appeared with each successive post, until it was completed with the fifth map.[12] Assistance was given by Tolkien scholar Tom Shippey and artist John Howe in the tailoring of their interactive map.[13]
On June 30, the New Zealand Herald reported that the series would be filmed primarily in Auckland and Queenstown, among other locations in New Zealand.[14] Shooting of the series will be based on location rather than in-season chronology.[8]
On July 22 of 2019, it was announced that Australian actress Markella Kavenagh had been cast in the series,[15] with some reports that she would portray an original character named "Tyra", or "Kyra". Three other script-names of characters, possibly placeholders, were revealed as well: Beldor, Aric, and Eldien. On September 4 of the same year, it was announced that English actor Will Poulter would portray a yet unspecified character,[16] though on December 12, it was reported that Poulter had left the series due to scheduling conflicts.[17] Poulter was reported to have been replaced by English actor Robert Aramayo on January 1, 2020.[18]
On January 14, 2020, Amazon revealed the full cast of series regulars via social media, including ten new cast members.[19] On December 3, 20 additional cast members were revealed.[20]
Filming had begun by March 2020. While production was halted due to the coronavirus pandemic, filming resumed in late September of the same year.[21]
Crew
For personnel involved, see also the Cast & Crew category.
Peter Jackson has stated he will not be involved in the series.[22] It was announced on July 3, 2019, that J.A. Bayona, a two-time Goya Award winner for Best Director known for The Orphanage, will direct the show's first two episodes.[23]
Development will be led by young screenwriters John D. Payne and Patrick McKay.[2] The show's full team of initial creators was revealed in mid-2019: executive producers Belén Atienza, Gene Kelly, Lindsey Weber and Bruce Richmond; co-producer Ron Ames; writers Gennifer Hutchison, Bryan Cogman, Jason Cahill, Glenise Mullins, Justin Dohle, Stephany Folsom, and Helen Shang; designers John Howe, Kate Hawley and Rick Heinrichs; VFX supervisor Jason Smith, and source material expert Tom Shippey.[24]
By April 15, 2020, it was confirmed that Tom Shippey is no longer involved with the project, for reasons that are unclear.[25] On December 7 of the same year, it was confirmed Bryan Cogman had completed his obligation to the series after contributing to the first season's scripts.[26]
Cast
In order of announcement
External links
References
Community content is available under
CC-BY-SA
unless otherwise noted.