Wiki Targeted (Entertainment)
Play Sound

Amazon's Middle-earth TV series (nicknamed LOTRonPrime on official social media[1]) is a forthcoming adaptation of J.R.R. Tolkien's writings, under production by Amazon's film and TV division, alongside Warner Brothers, HarperCollins, New Line Cinema, and the Tolkien Estate. Amazon hopes to begin airing the series in 2021.[2][3]
Though ubiquitously called a Lord of the Rings series, it will cover a time-span of Middle-earth's history in the Second Age, long before the setting of Tolkien's popular trilogy.
Plot
The series will explore times millennia before the years of J.R.R. Tolkien's The Fellowship of the Ring, but will not touch on events of The Silmarillion[4], nor the Third Age.[5] It is projected to progress at least five seasons[6] and a spinoff over a period of eight to ten years;[7][8] and, as of November 2019, the first two seasons have been greenlit.[9] In January 2020, Amazon announced that the first season would consist of eight episodes.[10] The Tolkien Estate will reportedly have veto-power on plot ideas that stray far from Tolkien's vision and the "main shape of the Second Age".[5] It could be that each season would have its own sub-title.
The plot will cover events of the Second Age. A preliminary interactive map, featured on the Amazon Prime Video site,[11] seems to point towards the show being set in the mid-Second Age, circa SA 1500-1701. This period pertains to the Forging of the Rings of Power in Eregion, whereby Sauron (disguised as Annatar) convinces Celebrimbor and the Mirdain guild to forge Rings of Power, against the advice of Galadriel and Gil-galad.[12]
A leaked story synopsis[13] also points in this direction, as well as towards concurrent events in other realms of Middle Earth, namely Numenore, Moria and Lindon: the former experiencing a debate in the royal courtyard (headed by Tar Telperien and her nephew and heir, Minastir) regarding intervention in Elvish affairs (as well the state of affairs in their Enedhwaith port, Lond Daer, under attacks by the native Gwathuirim), and the latter two (led by Gil-galad and Durin III, respectively) trying to maintain their foreign relations with Eregion as it falls under Annatar's influence, and then fending his forces off during the War of Sauron and the Elves.[12]
During this time, the Doors of Durin (constructed by Celebrimbor and his Dwarf friend Narvi) are shut, before Galadhrim reinforces pass through Moria to join Lindon forces led by Elrond (who then builds Imladris and begins a romantic relationship with Galadriel's daughter, Celebrian) in fending off Sauron's forces, before the Numenoreans under Ciryatur join from Lond Daer, as well.
While time-jumps, necessary to cover the events of the later Second Age (namely, Akallabeth and the subsequent War of the Last Alliance), had been rumored,[14][15] it is unclear whether the show will feature any, and whether or not such later events will be featured within the span of the show, or, rather, in the spinoff that Amazon reportedly optioned.[12]
Peter Jackson, having had conversations with the showrunners, was told the showrunners will "try to have a series and a world where it sort of fits with the films".[16] This had since been confirmed by the show's conceptual designer, John Howe, who said "The show runners are determined to remain faithful to the existing trilogies"[17] and that "its a continuation."[18]
Development & reveals
Rights
Tolkien never sold the rights to adapt his works for TV, having in fact rejected some early propositions in 1964.[19] The Rankin/Bass TV Specials were made by exploiting a loophole in the US publication of the books, which temporarily made them public domain states-side.[20] In July 2017, a lawsuit was settled between Warner Brothers, the company behind the Lord of the Rings and The Hobbit films, and the Tolkien Estate. With the two sides "on better terms" following the settlement, they began shopping a potential television series based on Tolkien's The Lord of the Rings books to several outlets, including Amazon, Netflix, and HBO.[21] By September, Amazon had emerged as the frontrunner and entered negotiations for the series.[4][22] In an uncommon move for programming developments at the studio, Amazon CEO Jeff Bezos was personally involved with the negotiations;[23] Bezos had previously given Amazon Studios a mandate to develop a fantasy series of comparable scale to HBO's Game of Thrones, which had made the company the lead contender for the project.[21]
In November 2017, Amazon Studios secured the rights to make a five-season production with the potential for spin-offs.[4] The rights alone cost $250 million[21]; the first two seasons could cost upwards of $500 million.[24] The deal between Warner Brothers and the Tolkien Estate includes the potential for a spin-off series.[25] New Line, the Warner Bros. division who produced the films, was included in the deal due to the potential for the series to use material from the films. The deal stipulated that production on the series begin within two years.[22]
Development
Early on during development, it was suggested the show would center around a young Aragorn,[26] a premise that had previously been a part of a possible "Lord of the Rings prequel" developed but never filmed by WingNut Films.[27] However, it was decided early on to switch to the Second Age, in spite of concerns by Amazon that it "covered too long a span."[26]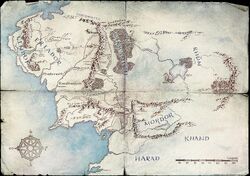 Earlier, on February 13, 2019, Amazon's newly created Twitter account associated with the show posted the quote "I wisely started with a map.", taken from Tolkien's Letter 144. Starting on February 15, and ending on March 7, different versions of a map of Middle-earth were released, first without labels, and each successive post including more labels than the previous map, and seemingly dating to a different period in Middle Earth history: mid-Third Age, early Third-Age, and late-Second Age.[12]
The final map released on March 7 showed a wider view of Middle-earth, including the island of Númenor and the Elvish realm of Eregion. A different section of the Ring-verse appeared with each successive post, until it was completed with the fifth map.[28] Assistance was given by Tolkien scholar Tom Shippey and artist John Howe in the tailoring of their interactive map.[29] Minor errata on the map were fixed after-the-fact, based on feedback from fans.[17]
Writing
A writers room for the series had begun work in Santa Monica by mid-February 2019. Salke described extensive security measures that were being taken to keep details of this writing secret, including windows being taped closed and a security guard requiring fingerprint clearance from those entering the room. In addition to Payne and McKay, writers on the series include Gennifer Hutchison, Helen Shang, Jason Cahill, Justin Doble, Bryan Cogman, and Stephany Folsom, with Glenise Mullins acting as a consulting writer.[30][31] The writers room was set to be disbanded once production on the series began, but would be reconvened during the four or five month break in filming that was scheduled following production on the first two episodes. The writers were expected to map out the second season and write the majority of its scripts during this production break.[32]
Locations
Salke said in June 2018 that the series could be filmed in New Zealand, where the films were produced, but Amazon was also willing to film in other countries as long as they could "provide those locations in a really authentic way, because we want it to look incredible."[33] Pre-production on the series reportedly began around that time in Auckland,[34] while location scouting for the series also took place in Scotland, with areas visited by the production including the Isle of Skye, Portpatrick, Scourie, Perthshire, and Loch Lomond.[35] Amazon and Creative Scotland held talks about the series' production being based at new studios that were under construction in Leith, Edinburgh.[36] In December, Amazon held a "crisis meeting" with David Parker, New Zealand's Minister of Economic Development, after the studio threatened to take the production out of the country due to the lack of available studio space in Auckland.[37] During the meeting, Parker told Amazon they were welcome in New Zealand and the country's government wanted them to make the series there, but he did not propose any special deal for the series because "you don't want these things at any cost; you want them on terms that are good for New Zealand". New Zealand's Major Screen Production Grant, which provides up to a 25 per cent refund in tax for international productions, was offered to Amazon for the series.[38] Amazon later recieved another $100 million boost from New Zealand.[8]
On June 30, the New Zealand Herald reported that the series would be filmed primarily in Auckland and Queenstown, among other locations in New Zealand.[39] Shooting of the series will be based on location rather than in-season chronology.[40] Amazon officially announced that the series would be filmed in New Zealand in September 2019, after completing negotiations with the New Zealand Government and the New Zealand Film Commission, as well as Auckland Tourism, Events and Economic Development (ATEED). The studio said filming was set to begin on the series in "the coming months", with some specific locations still being discussed according to ATEED. Payne and McKay explained that in choosing the series' primary location, they and the production team had needed "somewhere majestic, with pristine coasts, forests, and mountains" that could also meet the production requirements of the series.[41][42] Amazon maintains the right to shoot some material elsewhere around the world if necessarily.[8]
The series reportedly shot in several seaside locations in the vicinity of Auckland, including Piha, Muriwai (in a then-populated Gannet Colony), Anawhata and possibly Three Sisters Beach. Other locations include the forests in Piha, Fjordland and Manapouri.
Casting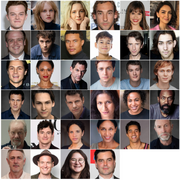 By July 2019, Amazon had embarked on a "multi-year search"[43] for actors. The showrunners stressed the "diverse" and "international"[43] aspect of the cast, with several roles calling specifically for "diverse"[44] actors and actresses. Ultimately, the announced cast features actors hailing from the UK, New Zealand, Australia, Sri Lanka and the United States. Between November 2019 and January 2020, various audition tapes,[45][46] as well as character descriptions,[44][47] had gradually leaked out.
On July 22 of 2019, it was announced that Australian actress Markella Kavenagh had been cast in the series,[48] with some reports that she would portray a character named "Tyra", or "Kyra". Three other placeholder character names were revealed as well: Beldor, Aric, and Eldien, with Conor Fogarty known to have auditioned for Beldor, Nick Hardcastle for Aric and Chloe Bremner[45] and Seána Kerslake for Eldien.[49] Auditions for other roles emerged later, with Joel Lambert, Chris Browning and Travis Johns auditioning for "Loda";[50] and Brian A. Wilson auditioned for "Hamsom." From the tapes, it is appearant that a couple of characters, including "Brac", are Gwathuirim villagers, reticent to accept Numenorean rule.[51]
On September 4 of the same year, it was announced that English actor Will Poulter would portray a yet unspecified character,[52] though on December 12, it was reported that Poulter had left the series due to scheduling conflicts.[53] Poulter was reported to have been replaced by English actor Robert Aramayo on January 1, 2020.[54]
On January 14, 2020, Amazon revealed a cast of ten series regulars (arranged alphabetically by surname) via social media.[55] Amazon's co-head of television Vernon Sanders noted that there were still some key roles that had yet to be filled. One of these key roles was confirmed to go to Maxim Baldry in March when his deal for the series was completed, after he had been informally attached to the series in October 2019.
On December 3, 20 additional cast members were revealed.[43] At least a couple of the newly-announced members were informally attached to the series from the same time as the first ten regulars. Namely, Maxim Baldry; as well as Simon Merrels,[56] cast in the otherwise-unknown role of "Tervyn."[57] Lloyd Owen is reportedly attached to the role of "Loda" which was also being cast during the early casting sessions.[58] Of the new cast members, seven are New Zealanders, with the rest of the cast members coming from Australia, Sri Lanka, the United Kingdom, and the United States.
Additionally, Amelie Child Villiers, a child actress noted for her similarity to Morfydd Clark, was said to have "filmed scenes for Amazon's Lord of the Rings series" before September 2020,[50] and it is rumoured Amazon might be withholding some "star" names for a later date.
On March 14, 2021, actor Tom Budge announced his departure from the show, citing the showrunners wanting to change direction regarding his character.[59] Reportedly "a studio decision",[60] a recast quickly commissioned by Amazon.[61]
Extras
Amazon had been casting extras of various ethnicities and body types. Several casting calls required "short people", naturally for Dwarven roles, described as "background extra & featured extra work (with opportunities to upgrade to larger roles)."[62] An Earlier casting call from October 2019 specified sizes of "4''6-4''1"[63] as well as "character faces" - a euphemism used in casting the movies for formidable-looking people - elaborated as "earthy, weathered, dark skin, missing teeth, wonderful noses etc" as well as "beautiful, Fair fine boned faces" - likely Elves - who "must be willing to wear sheer clothing,"[63] although it may be that this particular casting requirement was later written-out of the series. Another casting call for extras "comfortable with partial or full nudity",[62] that was thought to have been for The Lord of the Rings, is apparently in reference to the concurrent Auckland Netflix production, Cowboy Bebop. Some actors were cast under the guise of "warlords"[64] for unknown minor parts, as well as a "Mage Attendant."[65]
Crew
For personnel involved, see also the Cast & Crew category.
Shortly after the deal's conclusion, Amazon had contacted Peter Jackson to act in an advisory position during development. Although he initially said he was not involved, [66] Jackson was impressed with Amazon's "very good intentions"[67] and understood that Amazon will "try to have a series and a world where it sort of fits with the films; they want to keep the designs"[16] of his films. He wanted to get involved, however, he was too busy with Mortal Engines and They Shall Not Grow Old,[68] instead opting to "help put the creative team together"[67] and possibly advise with regards to the finished scripts.[68][16][69] He and co-writer/co-producer Philippa Boyens also agreed that "fresh eyes on that story is such a good thing."[16]
Amazon hired writers J.D. Payne and Patrick McKay to develop the series in July.[31] Bryan Cogman joined the series as a consultant in May 2019 after signing an overall deal with Amazon. Cogman previously served as a writer on Game of Thrones, and was set to work alongside Payne and McKay in developing the new series. In July, J. A. Bayona was hired to direct the first two episodes of the series and serve as executive producer alongside his producing partner Belén Atienza.[70] Later that month, Game of Thrones creators David Benioff and D. B. Weiss were in discussions with several outlets regarding signing an overall deal, including with Amazon who were interested in having the pair consult on The Lord of the Rings;[71] they ultimately signed a deal with Netflix instead.[72]
At the end of July, Amazon announced that Payne and McKay would serve as showrunners and executive producers for the series, and revealed the full creative team that was working on the project: executive producers Bayona, Atienza, Bruce Richmond, Gene Kelly, Lindsey Weber, and Sharon Tal Yguado; co-producer Ron Ames; costume designer Kate Hawley; production designer Rick Heinrichs; visual effects supervisor Jason Smith; illustrator/concept artist John Howe, who was one of the chief conceptual designers on the films, and Tolkien expert (and Oxford Emeritus) Tom Shippey as consultant.[30][31]
By April 15, 2020, it was confirmed that Tom Shippey is no longer involved with the project. Its unclear whether Shippey was only required during the development of phase, of whether his lack of involvement had other causes.[73] On December 7 of the same year, it was confirmed Bryan Cogman had completed his obligation to the series after contributing to the first season's scripts.[74] Kelly also left the series, with Callum Greene joining as a new executive producer. Greene previously served as producer on The Hobbit: The Desolation of Smaug (2013).
Following Bayona's departure from New Zealand, Wayne Che Yip[75] started directing episodes 3 through to 6 of the season, as well as serving as executive producer.[76] Charlotte Brändström, who had visited the set, is also believed to be slated to direct some episodes of the show.[77]
Filming
Filming had begun by March 2020 and was expected to continue through May, with a four- or five-month production break then planned. During the break, the footage for the first two episodes would be reviewed and writing on the second season would begin. Production on the series was scheduled to resume in mid-October and continue until late June 2021.
Production was halted prematurely due to the coronavirus pandemic, with filming resuming in late September.[78] While much of the opening two-episodes was reportedly already shot, reshoots were held under Bayona until December,[79] and resuming shortly thereafter for the rest of the first season. Shooting took place in Kumeu and Auckland film studios, including a snowy mountainside set[80], a forest-set city set,[81] several wet-sets[82] and, reportedly, Khazad-Dum filling-up the biggest soundstage. Location shooting took place around Auckland in February 2020, and resumed on October,[83] and in February 2021 in Manapouri. Contrary to reports that the show had halted filming due to new COVID cases in Auckland, it had in fact continued shooting outside the Auckland area.[84]
With Amazon keen on releasing the first episodes in 2021,[76] it is believed filming on Season One will wrap (barring weather-related delays) on 5th of August 2021 including three-weeks of pickup shoots in July, with early filming for Season two set to begin shortly thereafter.[85] It is also said that Amazon is satisfied with the existing footage to the point of having greenlit Season 3, which will begin writing promptly.[86] By the estimated time in which pickups will wrap, the production will have had extended intermittently over 20 months (with some of the cast, like Morfydd Clark, staying in NZ throughout) and the shoot itself will have lasted 13 months.[85] Amazon is reportedly spending well over $100 million for season one, with figures as high as $650 million NZD cited,[87][88] although commentators have expressed skepticism, positing that this figure either applies to the first two seasons, which will share sets and be filmed back-to-back, and/or includes money spent on acquiring the rights and on future marketing.[89]
Post-production
Amazon had contacted WETA Digital for work on at-least some of the VFX required for the show.[90] Film composer Howard Shore had expressed interest in working on the show, but as of January 2021, he had not been contacted.[91] Amazon had proposed to open a post-production facility on New Zealand soil.[8]
Cast
In order of announcement
External links
References
Community content is available under
CC-BY-SA
unless otherwise noted.